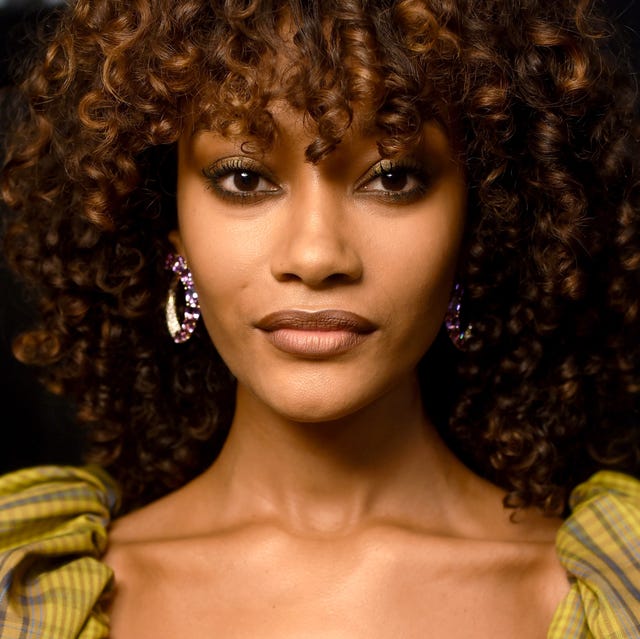 Albert UrsoGetty Images
We're all on the same journey to achieve the healthiest hair of our lives, but I'm here to let you in on a slightly upsetting secret: While soaking our hair in masks, using dry shampoos on no-wash days, and applying anti-frizz hair oils to our ends is all well and good, without a clarifying shampoo in the mix, none of that stuff is going to help. In fact, over time, it might actually be counting against you.
What is a clarifying shampoo?
If you're looking at your collection of hydrating shampoos in confusion, you're not alone. We've all been taught that moisture is the foundation of healthy hair, but a good cleanse can actually work wonders, too. "Clarifying rids your hair of suffocating build-up while nourishing the scalp," says colorist Lucille Javier. "It helps stimulate hair follicles, allowing for hair growth, and clears the scalp of dandruff, acne, and scabbing." You've probably used one without knowing it—salons often use them to prep your hair for services like a keratin treatment or relaxer to make your hair totally fresh and ready to take on new products.
Who should use a clarifying shampoo?
About once a week–or every other week, depending on your hair type–treating your hair to a deep cleanse can make all the difference. "It's quite simple," says Javier. "If you have an itchy, oily, or inflamed scalp, dry follicles, hair loss, or any scalp pain, it's time to detox." You might notice that the hair products you used to love are not cutting it anymore. That might not be because your products stopped working, but because they cannot penetrate the build-up that's slowly accumulated on your scalp.
So if you're tired of feeling like your hair looks lackluster, itchy, or you just want your hair to finally grow, it might be time to invest in a clarifying shampoo. Here are 10 of the best detox shampoos for the cleanest, shiniest, healthiest hair of your life.
Advertisement – Continue Reading Below
Best For All Hair Types
Detox Shampoo
If you're new to the clarifying shampoo world, the OUAI Detox shampoo is excellent for beginners. It's gentle enough to be used up to twice a week, but still has intense clarifying ingredients like apple cider vinegar to get your scalp and your strands squeaky clean.
Best For Hair Growth
System 1 Cleanser
For fine hair that lacks density, this clarifying shampoo allows the scalp to get the maximum nutrients and air needed to grow your hair. After just a few washes, you'll notice that your hair will start looking fluffier, more voluminous, and over time, longer.
Best For Oily Hair
Healthy Scalp Clarify & Shine Shampoo
Oily hair is most prone to becoming itchy and irritated, which is why this shampoo was specifically designed to give the scalp a reset, without stripping out healthy oils. Formulated with detoxifying pink grapefruit, oily hair can finally feel refreshed.
Best For Scalp Care
Purifying Scalp Scrub with Sea Salt
For truly intense detoxifying, this product is both a shampoo and a scalp scrub. It uses sea salt to clarify the scalp, and the gentle exfoliants help get rid of patches of dryness and scabs. Despite its intense results, it's still safe to use on sensitive skin.
Best For Volume
Apple Cider Vinegar Daily Clarifying & Soothing Scalp Shampoo
Hair that hasn't been clarified can often look weighed down and dull. This apple cider vinegar-infused shampoo gives such a thorough cleanse that you'll be left with voluminous, shiny hair.
Best For Gentle Exfoliation
Detoxifying Scrub Shampoo
Somewhere between a scrub and a shampoo, this product contains some exfoliating beads that remove build-up trapped on the scalp and on strands. All the benefits of a scrub, with the comfort of a familiar shampoo.
Best For Non-Dyed Hair
Sunday Shampoo
This clarifying shampoo from Bumble and Bumble is perfect for those days when you have a little more time to devote to your beauty routine. It uses ginseng root extract, rosemary leaf extract, and sage leaf extract to cleanse and stimulate the scalp. Keep in mind that this product is not meant to be used on color-treated hair.
Best For Long-Lasting Clean Hair
Perfect hair Day Triple Detox Shampoo
This clarifying shampoo from Living Proof is a great choice for all hair types to try. Activated charcoal absorbs excess oils, and a patented molecule helps to keep your hair cleaner long after you wash it.
Best For Dry Hair
Clarifying Shampoo
Clarifying shampoos, like clarifying face toners, can often leave your hair feeling stripped and dry. However, this formula from Moroccanoil contains a variety of nourishing and strengthening ingredients to help keep the hair hydrated during and after the deep cleanse, including argan oil, lavender, rosemary, chamomile, and jojoba extracts, keratin, and panthenol.
Best For Damaged Hair
Be Gentle, Be Kind Banana + Coconut Nourishing Superfood Shampoo
If you're looking to deep-cleanse your hair and simultaneously deposit a ton of nourishing ingredients into it, this shampoo from Briogeo is for you. The brand describes it as a "juice cleanse for your hair" so you can replenish the nutrients in it while also getting rid of all of the impurities. Plus, it's safe to use on color-treated, keratin-treated, chemically-treated, and relaxed hair.
This content is created and maintained by a third party, and imported onto this page to help users provide their email addresses. You may be able to find more information about this and similar content at piano.io
Advertisement – Continue Reading Below