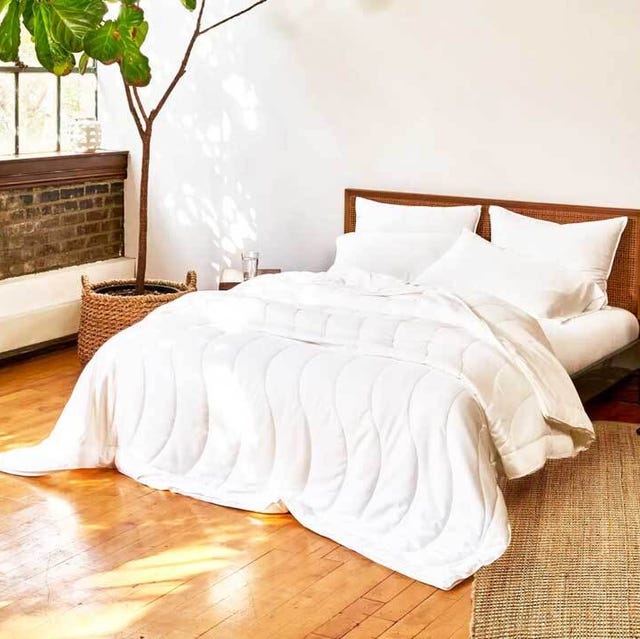 Courtesy
Summer is quickly approaching, which means we can finally look forward to beach days, summer picnics, and fun weekend vacations. Unfortunately, the arrival of summer also signals the arrival of sweaty nights for some of us (especially if you, like me, do not have an air conditioner that works for your space). But summer 2022 will be different for us, I promise. Because this year, we're thinking ahead and buying the perfect summer comforter.
If you really want to ensure things stay cool this summer, you can also invest in a cooling mattress pad and some cooling sheets. There are tons of options out there, from breezy linen sheets to soft bamboo sheets to eco-friendly eucalyptus sheets. The best part about these cooling comforters is that while they're especially perfect as a summer comforter, most of them can definitely be used year-round too. Here's a little sneak peek at the list…
Our top picks for the best summer comforters in 2022:
We've got luxe options if you feel like treating yourself (because you deserve it, of course), but we've also included some budget-friendly options if you're not trying to drop all your $$ on a comforter. These summer comforters are perfect for sleeping, lounging, and other bedroom activities. Add the perfect pillow, and we promise you'll get a good night's sleep every night. After all, you'll need your energy for all the fun plans on your cal this summer.
Advertisement – Continue Reading Below
Best Overall Summer Comforter
Brooklinen Down Comforter
I don't know about you, but the first place I look on any product page is the reviews. This comforter has toooons of rave reviews (like, more than 2,000 5-star reviews), so you know it's good. Several reviewers mention that they never get too hot sleeping with this breezy comforter. It comes in three options: lightweight, all-season, and ultra-warm. If you're looking specifically for a summer comforter, the lightweight is your best bet.
Glowing review: I've finally found the perfect summer comforter that is fluffy and comfy but does not smother and make me hot and sweaty. Highly recommend especially if you sleep on the warm side.
Best Lightweight Comforter for Summer
SlumberCloud Lightweight Comforter
Hot sleepers, this is the summer comforter of your dreams. It's made with *fancy* NASA-approved temperature-regulating technology, AND it's moisture-wicking so you don't wake up all sweaty. Talk about dreamy.
Glowing review: I am a hot sleeper and every comforter I've bought in the past would make me more hot, no matter what time of the year it was. I bought this comforter with the hope it would solve my problem and it absolutely did. … If you are a hot sleeper do yourself a favor and buy this lightweight comforter.
Best Inexpensive Summer Comforter
All Season Polyester Down Alternative Comforter
This lightweight comforter from Wayfair is breathable enough to keep you cool in the summer, but insulated enough to keep you warm in the winter. And at less than $50 for a full/queen comforter ($51 for a king), your wallet will be chilling, too.
Glowing review: The quality and price were great. This is s light weight, soft comforter that works great for warmer months. It's also an excellent low loft layer for cooler months. Would definitely buy again.
Best Eucalyptus Summer Comforter
Buffy Breeze Comforter
This is actually the best overall cooling comforter, according to our Cosmo editors. The temperature-regulating materials come from eucalyptus and other wood pulps. But don't worry, it still feels super-soft and lightweight. Also, Buffy is all about being eco-friendly, so this comforter is actually biodegradable and compostable, which is super cool.
Glowing review: Ordered Buffy Breeze because my boyfriend and I are both hot sleepers — it makes a huge difference in regulating our temperature! it's super soft and cozy, keeps us comfortable temperature but definitely better than our previous down-filled comforter.
Best Lightweight Summer Quilt
Jungalow Peach Hamsa Quilt Set
Sometimes the best summer bedding isn't a comforter—it can be a lightweight quilt instead. This gorgeous peachy-pink one from Justina Blakeney is breathable and features illustrations of hamsas, which symbolize protection, happiness, luck, health and good fortune.
Glowing review: Simply a lovely summer quilt set. It's the perfect weight for this time of year. The design along with the peach color will just make you smile.
Best Linen Summer Comforter
Belgian Flax Linen Comforter
Linen really is that girl — especially when it comes to summer bedding. This linen comforter from Pottery Barn is breathable and comes in a ton of different colors, so you can find the comforter that best matches your bedroom. Did I mention it's machine-washable??
Best Summer Comforter Set
Classic Move-In Bundle
If you're looking for a full summer comforter set, this bedding bundle has *everything* you need. It includes a comforter (you can choose from lightweight, all-season, or ultra-warm options), a duvet cover, a fitted sheet, a flat sheet, pillows, and pillowcases. Obviously, we'd recommend the lightweight comforter for summer bedding, but you can customize to your heart's content.
Best Summer Comforter for King Beds
Layla Down Alternative Comforter
This fluffy comforter is down alternative and quilted with a unique hexagon pattern. It's not *all* for the aesthetic, though — apparently, it helps keep the fill balanced so it doesn't bunch up in the corners. Also, it has an unusually generous return window: you'll get a 100% refund if you decide to return it within 120 nights of your purchase. That's plenty of time to decide whether it's the right summer comforter for you.
Glowing review: Everything you could ask for. The sleeping has never been better. No sweats and not too cold. The best comforter out there.
Best Cotton Comforter for Summer
All-Year Down Alternative Comforter
This lightweight, luxe comforter is made with certified organic cotton on the outside and filled with down alternative fiber and lyocell. The cotton shell is 200-thread count, which helps make it breathable and keep you cool. Higher thread counts tend to trap body heat, so you actually want a lower thread count for summer bedding.
Best Linen Summer Quilt
Organic Linen Quilted Linen Coverlet
Yeah, it's on the pricey side, but just think about how you'll have this for years and years to come. This linen quilt is pretty perfect as is, but you can have it made with wool fill, which helps wick away moisture, which in turn will help keep you cool all summer long.
Best Bamboo Summer Comforter
Bamboo Bay Down Alternative Comforter
I actually have this comforter and can confirm, it's amazing. It's lightweight and comfortable. If you're sharing a bed with someone who sleeps cold while you sleep hot (or vice versa), it somehow magically manages to keep you both comfortable.
Glowing review: It was nice and warm, but very breathable so no night sweats. It's not very heavy, but allows you to layer with other blankets if it does get too cold. The material is very silky just like the sheets which are also amazing.
Best Down Summer Comforter
Down Duvet Insert
This luxe comforter is SO. FLUFFY. But don't worry, it's still super breathable. It's made with a 100% cotton shell and filled with European white down. It comes in lightweight and all-season options, but if you tend to sleep hot, the lightweight one is probably your best bet.
Glowing review: I love a BIG fluffy down comforter. My partner sleeps really hot, however, so we went with the lightweight. Still very lofty in look and feel without the weight.
Best Summer Comforter for Queen Bed
COHOME Comforter
This has a 4.6 out of 5 rating across 11-freaking-thousand reviews on Amazon, so it's a good bet for your bed. Several reviews mention that it's fairly lightweight and doesn't get too hot, making it a good pick for summer.
Glowing review: If you're looking for a lighter weight comforter for summer, this is it! It's not thin at all, but not super plush either, which is perfect for summer.
What makes a great summer comforter?
Of course, bedding is all about personal preferences, but there are a few key things to keep in mind when shopping for summer comforters. You'll most likely want something that is lightweight and breathable. So the most important thing to look at is the fabric—go for materials that are light and moisture-wicking (i.e, cotton or linen). And if you're a hot sleeper, try a comforter that's made with temperature-regulating materials (all brands disclose this in the fabric content and product descriptions). You'll probably want to avoid any heavier materials, such as flannel or fleece.
How to choose the best summer comforter:
When selecting a summer comforter, there are a few things to consider:
Fabric. Opt for a lightweight fabric, like cotton, bamboo, lyocell, or linen, that's breathable and moisture-wicking. If you're a hot sleeper, select a comforter that's made with temperature-regulating technology for optimal coolness.
Down vs. down alternative. Most comforters are made with down or down alternative. Down alternative comforters are hypoallergenic and more budget-friendly, but down comforters can sometimes be a little cooler.
The fill. 400-600 fill is lighter and less insulated, so it may be better for hot sleepers. Others may find that 600-800 is the sweet spot. It's unlikely you'll want a summer comforter with 800+ fill, as that will provide the most warmth.
The price. It's easy to drop a ton of $$$ on bedding. And you might find it's worth it for the perfect summer comforter, especially if you're a hot sleeper who plans to use it all year-round. But if you're trying to stick to a budget, there are plenty of affordable options that make sense if you're only using them for a few months a year.
This content is created and maintained by a third party, and imported onto this page to help users provide their email addresses. You may be able to find more information about this and similar content at piano.io
Advertisement – Continue Reading Below