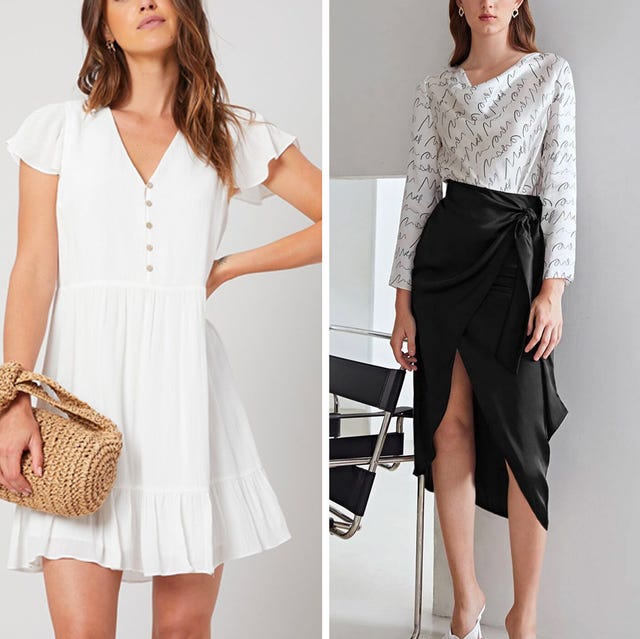 Each season always brings a few new trends along with it, but the evidence typically points to closets coughing up the same go-to silhouettes and fabrics once the mercury starts rising. For summer, that means lightweight pieces that feel like you're wearing nothing; naturally cool silk and breathable cotton; and ready-to-layer options that can be built up or down depending on the temperature.
If you're nodding along with all of the above and already identifying a few key holes in your wardrobe, now's the time to get things sorted. We combed through the current haul from MOTF—the brand's range of high-end, expertly crafted pieces—to identify the items that could enter your closet this year and stick around for years to come. Case in point: the brand's new Art Silk Collection that pays homage to world famous artists and emerging modern talents alike. Whether it's the watercolor hues of a Monet-inspired silk slip dress or the flowers of a Hannah Broger cami, each piece in the collection is meant to be a wearable work of art that fuses individual expression with timeless style. Read on below for a few of our favorite summer finds from the MOTF collection.
Advertisement – Continue Reading Below
1
Silk Blend Ombre Slip Dress
The name literally says it all. Inspired by the classic underpinning, a silk slip dress is timelessly simple and perfect for steamy days (and nights). And this Monet-inspired print from the MOTF x Art Silk Collection is wearable art that effortlessly channels those cool French girl vibes on a hot summer day.
Linen is lightweight, extremely breathable, and a natural fabric. From the flaxen khaki color to the braided neckline, this is an elevated version of your basic tank.
The LWD trumps its noir counterpart during the warmer months, and this breezy, swingy silhouette is the perfect option for basically anywhere you'd want to wear one. It's made of a special viscose, too, sourced from certified, controlled wood and pulp sources that generate up to 50 percent less emissions than standard viscose.
The same viscose is used for this asymmetrical tank. Simple and striking, it's beyond versatile, working with a slim skirt or baggy denim shorts—basically, anything in your closet.
Perfect for wearing on the weekend, to formal events, layered under a blazer in your air-conditioned office—really, anywhere, this breathable silky stop is a wardrobe workhorse. This Hannah Broger-inspired artist collaboration from the MOTF x Art Silk Collection is one that amps up the edge, too.
No matter how hot it is outside, someplace, somewhere, will have the AC cranking enough that you'll wish you'd thought to tuck a lightweight sweater in your bag. Let this zip-up cardigan, made of recycled polyester and wool, fulfill that role for you.
There's something oh-so-French-girl about a basic striped shirt, explaining why the graphic lines have remained a closet classic for basically the last century or so. You can always fit another in your collection, too, and we love stocking up so we're ready to wear them with everything (jean shorts, over a bathing suit, and tucked into wide-leg pants).
With a draped silhouette echoing casual sarongs and poolside towels, the wrap skirt always feels spot-on during summer. Silk charmeuse makes this style feel a little more luxe because it is—invest in it now and keep it in your closet for years.
9
Linen Straight Fit T-Shirt
There's nothing that doesn't work with a white tee, from the more casual pieces in your wardrobe to the most dressed-up. Linen keeps this one physically cooler while also creating the semi-sheer look that's a hallmark of perfect vintage finds.
Think about wearing a military-inspired utility jacket just like you might a denim jacket. Casual and versatile by nature, it brings fancier pieces down a notch and fits in perfectly with all your basics. The linen-cotton blend of this style means it's breathable and cute.
11
SILK LINE DRAPED BODYSUIT
Try summerify-ing your wardrobe with a silk bodysuit. It looks and feels lighter, especially when made with the high-end "A" grade of the natural thermo-regulating material, and can be worn in a variety of settings depending on how you wear it (go for an artsy print like this Van Gough-inspired one from the MOTF x Art Silk Collection).
This content is created and maintained by a third party, and imported onto this page to help users provide their email addresses. You may be able to find more information about this and similar content at piano.io
Advertisement – Continue Reading Below