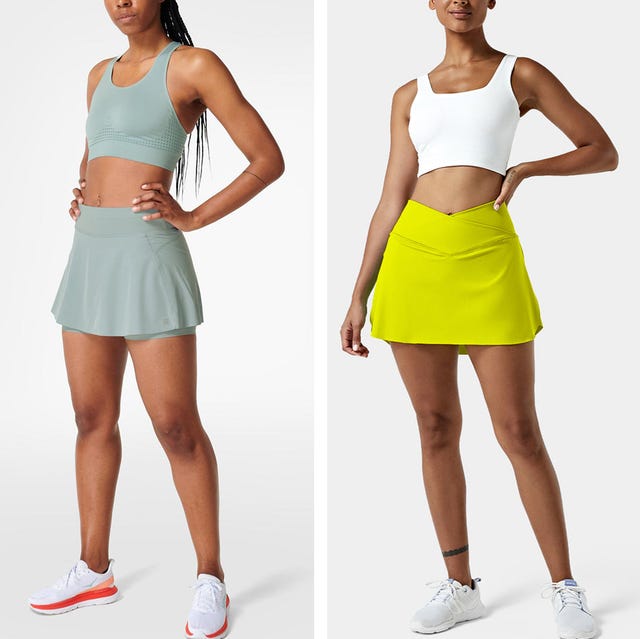 Courtesy
I can confidently say that I never thought too much about skorts. Until recently, that is. As of late, the skirt-short hybrid has made a resounding comeback, and in the words of Lizzo's summer sizzler: "It's about damn time."
Let's get straight to the point: skorts just make so much sense. All skirts should come ready-to-wear and lined with shorts built in. We've all been in that precarious position of walking down the street on a windy day and fighting for dear life to not have an upskirt moment. Suffice to say, it never looks quite as graceful as Marilyn did hovering over that subway grate.
So, whether you're an athlete looking for new gear or you're just jumping on the influencer-led trend, you've come to the right place. Because, in addition to now being my official petition for all skirts to be made into skorts, this is also your go-to guide for the best skort styles in the market. Below, find 11 options worthy of adding to your summertime wardrobe.
Advertisement – Continue Reading Below
The Tried-and-True Classic
Swift Running Skort
If you're just dipping a toe into the skort waters, start with this standard activewear design, available in black, white, and frosty blue.
The Fashion-Forward Skort
Simple Skort
I can't get enough of this mod shift silhouette and gingham print. And the mix-and-match belts available for accessorizing? Chef's kiss.
The Skort Dress
Sportbody – The Dress
The ultimate garment for mindless dressing. It's flattering, practical, comfortable, and comes in a slew of colors. I'll take one for each day of the week, TYVM.
The TikTok Favorite
Everyday Cloudful Air Crossover Side Pocket 2-in-1 Tennis Skirt
Say what you will about TikTokers, but their recommendations don't miss. Case in point: you won't regret trying this high-low skort that offers a slightly more coverage in the back.
The Pleated Staple
White Daisy Tennis Skirt
Nothing says "country club chic" like a pleated white tennis skort. As a fun bonus, the shorts underneath are floral printed.
The Micro Mini
Grace Knit Mini Skort
It's leg day every day in this itty-bitty number.
The Day-to-Night Option
Transcend Skort
The design of this tulip skort is nothing short of genius. Available in classic black or bright pink, you could totally get away with wearing this to the office after sporting it to your morning pickleball sesh.
The Inclusive Style
Earth Weekend Wrap Skort
Warm neutrals are having a major moment in fashion right now, which is why we love this chocolate brown wrap version, but be sure to check out all of Girlfriend's various skort offerings.
The Designer Pick
Printed Performance Golf Skort
This precious floral skirt adorned with buttons is a hole in one, whether you're a PGA pro or just in charge of the cooler.
The Wardrobe MVP
Tiffany Ecostretch Active Skort
This subtle skort will go with literally everything, making it a true wardrobe unicorn.
The Amazon Steal
Women's Tennis Skirt
When in doubt, go for the product with more than 8,000 five-star reviews on Amazon.
This content is created and maintained by a third party, and imported onto this page to help users provide their email addresses. You may be able to find more information about this and similar content at piano.io
Advertisement – Continue Reading Below