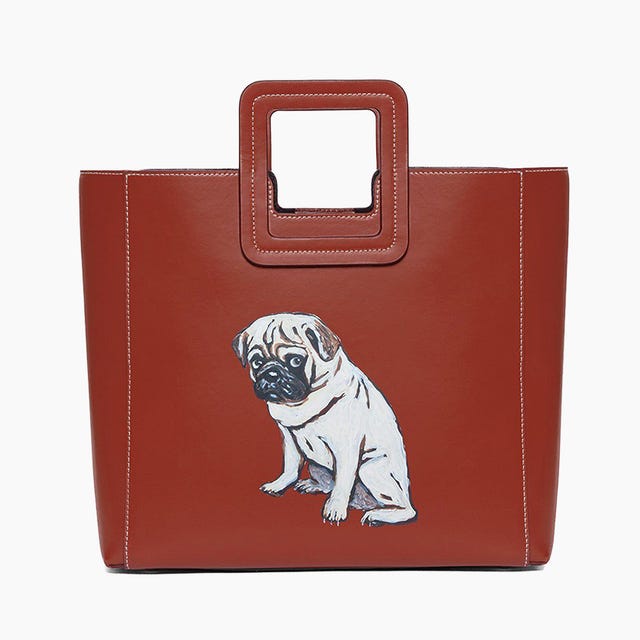 Courtesy
Picking a gift for someone who really, really loves their dog is simple: Find something that celebrates said canine in some way, shape, or form. Whether it's jewelry they can wear on the daily or customized art, you can't go wrong if it reenforces the idea that, yes, their dog is nonparallel and the greatest thing to walk on four legs. (And if you're shopping for a dog-lover who can't own a pup at the moment, we've got them covered too.) Ahead, 12 gift ideas for the pooch-obsessed.
1 of 13
Custom Pet Portrait
If you aren't a dog-person, the idea of a portrait might be hard to understand. Don't try to: The person receiving it will love you forever.
2 of 13
Custom Shirley Handbag
Get their dog hand-painted on a bag. Trust us.
3 of 13
Dasher Dog Table Lamp
Know someone that owns a dachshund? Drop everything and buy this.
4 of 13
Ziggy Mini Petal Pendant Charm
Let a dog person display their love daily with an engraved charm (splash out for the matching bracelet too if they've been very good).
5 of 13
Why Dogs Do That: A Collection of Curious Canine Behaviors
Dog-owners love discussing why their animals eat this, roll in that, etc. Engage in the conversation with a book dedicated to providing all the answers.
6 of 13
Wireless Smart Home Camera
Dog parents who like to keep a close eye on things when they're away can never have too many cameras. This one underpromises with its price tag and shows up swinging.
7 of 13
Bowl Set
Yes, bowls for food and water are technically going to be used by the dog, but selecting a design-minded set (AKA one not intended for animals) is a gift for the person seeing them every day.
8 of 13
Lagom Throw
Dog people love curling up with their canine, shedding be damned. Help them get cozy with an ultra-soft blanket.
9 of 13
Black Dog Collar
Show them you know their dog's worth it by splashing out on a customized leather collar.
10 of 13
Wicker Baskets, Set of 2
Owning a dog comes with a lot of stuff. Pick a home decor gift that your friend can put to good use.
11 of 13
Blondie The Chihuahua
If they don't have their own animal to immortalize just yet, pick up a stylish print of their breed of choice.
12 of 13
Faux Boxwood Garden Dog
A faux pooch is the perfect thing for someone who wants a dog in but can't make it happen (here's looking at you, landlords and allergies).
13 of 13
ASPCA Donation
For a non-physical gift, consider donating to a local animal shelter or the ASPCA in your loved one's name. It's a gesture any dog-lover will absolutely appreciate.
Advertisement – Continue Reading Below
This content is created and maintained by a third party, and imported onto this page to help users provide their email addresses. You may be able to find more information about this and similar content at piano.io