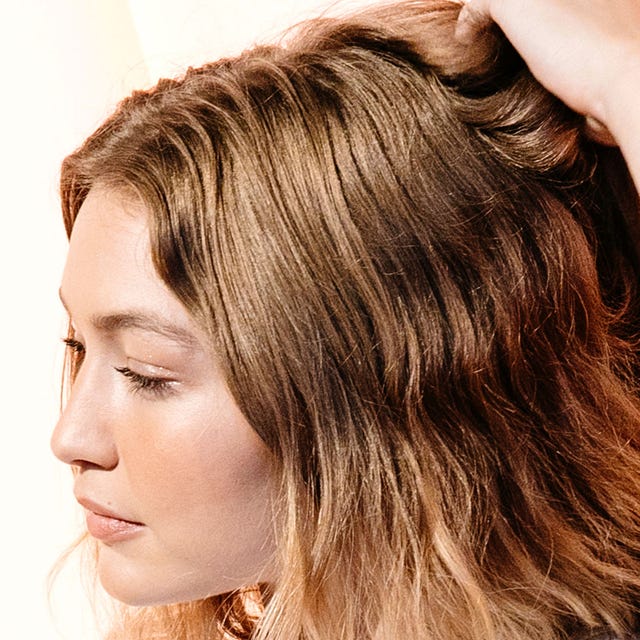 Getty Images
Fewer things are worse than dry lips, dry skin, and of course, dry hair. Countless formulas promise to beat the dry and hydrate your strands, but not all products deliver. If you suffer from chronically dehydrated hair, then you've probably stockpiled a drawer full of hair masks, hydrating oils, and more than a few shampoos and conditioners. But sometimes that cleansing step is the hardest to get right. After all, we're used to using stripping shampoos in an effort to rid our scalps of buildup, but the right balance of an actual clean head of hair and intense moisture can be tough to find.
Some formulas are riddled with alcohol, silicone, and sulfates that ultimately make your hair even drier. Fear not, because Ebony Bomani, educator and stylist at The Mane Choice, has a few tips to find the best shampoos for dry hair. Bomani recommends looking for hydrating ingredients like aloe vera, coconut oil, and emollient oils that attract moisture. She also encourages devising a hair regimen. "Try to minimize the frequency of shampooing and air dry whenever possible to optimize hydration level," explains Bomani. "Never be afraid to use a little oil on the ends once the hair is dry to lock in longer-lasting moisture." Shop the 16 best shampoos for dry hair on the market, below—and consider thirsty hair a thing of the past.
Advertisement – Continue Reading Below
1
For Natural Hair
Raw Shea Retention Shampoo
This sulfate and paraben-free shampoo repairs heat damaged strands with the help of sea kelp and argan oil. Ideal for natural hair during the transition period, your strands will be strong and long in no time.
2
For All Hair Types
Hydrating Shampoo
Moroccanoil Hydrating Shampoo is ideal for all hair types that suffer from excessive dryness. Ingredients like argan oil and hydrating red algae moisturize the hair and deliver immediate results.
3
For Extremely Damaged Hair
Restore Shampoo
Part of Living Proof's Restore System, this shampoo reverses hair damage completely. (The system also includes a Living Proof Restore Conditioner and Mask.) Your hair will look and feel brand-new.
4
For Color-Treated Hair
No.4 Bond Maintenance Shampoo
It's no secret that Olaplex is the best of the best when it comes to healing dry, damaged hair. This shampoo is so hydrating that you'll notice a difference in your hair texture immediately.
5
For Long-Lasting Hydration
Moisture Recovery Shampoo
Packed with hydrating jojoba oil, this shampoo doesn't just make your hair feel healthier in the moment: Even days after your last cleanse, you'll still feel a noticeable difference in the shine, health, and hydration of your strands.
6
For Intense Moisture
Don't Despair, Repair! Super Moisture Shampoo
Formulated without silicones, this shampoo will never make your hair feel squeaky and fragile. Instead, with continued use, you'll notice your hair feeling stronger and more able to withstand the effects of hot tools.
7
For Curls
Hydration Shampoo
Curly hair is notoriously dry, so this shampoo uses aloe vera, coconut oil, and honey to gently cleanse your scalp without stripping out healthy oils that your hair needs.
8
For Fine Hair
Hydrasource Shampoo
So often hydrating shampoos end up weighing down finer hair textures. This shampoo does the opposite, giving strands the moisture they need while still allowing for volume.
9
For Thick Hair
Shampoo for Moisture & Control
If you have a ton of hair, you need a shampoo that can handle that mane. This product contains amino acids and natural extracts to dramatically reduce flyaways and strengthen the hair from the inside out.
10
For Frizzy Hair
Shampooing Nourishing Shampoo
You simply won't want to get out of the shower once you wash your hair with Leonor Greyl's Nourishing Shampoo. The creamy and foamy concoction transforms frizzy dry hair to strong, soft, and shiny after only a few uses.
11
For Overworked Hair
Hydrating Shampoo
If your hair is dry because of excessive heat damage, this shampoo is the one for you. The key ingredient of Vitamin E conditions the hair from the root to the ends, making hair healthier and stronger after every use. Bonus: The formula smells amazing thanks to a combination of guava, coconut, and a bit of vanilla.
12
For Dyed Hair
Hydrate Shampoo
Gentle enough to not damage your color-treated strands, but strong enough to cleanse and hydrate medium to thick hair types, this shampoo is the ultimate in hydration and color protection. It's also packed with jojoba, green tea, and sage to fight breakage and previous hair damage.
13
For Chemically Treated Hair
Moisturizing Shampoo
The combination of amino acids and plant extracts gently cleanses the hair without drying and creating further damage. The shampoo's smell of basil and peppermint also enhances the whole washing experience.
14
For a Green Option
Coconut Milk Moisturizing Shampoo
Live Clean Coconut Milk Moisturizing Shampoo is made from 97 percent plant extracts like coconut milk and apricot oil that work together to replenish dry strands. It's also cruelty-free and comes in a fully recyclable container, so you'll have a positive effect on the environment and your hair.
15
For Super-Soft Hair
BioRenew Coconut Milk
Come for the cleansing abilities, stay for the creamy texture. Herbal Essences utilizes coconut to hydrate strands and soften hair. One Amazon user used the shampoo after chemotherapy treatments damaged their hair and noticed how it rebuilt the hair follicles and left hair smooth and shiny.
16
For a Drugstore Steal
Nutritive Solutions Daily Moisture Shampoo
This content is created and maintained by a third party, and imported onto this page to help users provide their email addresses. You may be able to find more information about this and similar content at piano.io
Advertisement – Continue Reading Below