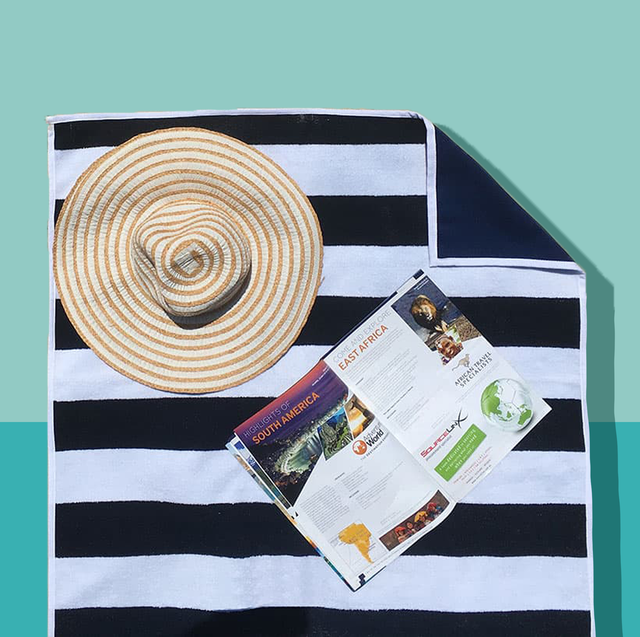 Amazon
For drying off after swimming, lounging on the sand, or laying out in the sun, a beach towel is a summer must-have. That said, not all beach towels are created equal. Do you prefer a fluffy option you can wrap yourself up in for maximum warmth post-dip in a chilly sea? A colorful, flat-weave Turkish set so chic, it doubles as a beach cover-up? Or are you more about a functional, quick-dry piece you can bring along for swimming laps? Whatever your preference, we've rounded up our top-tested picks along with top-rated sellers across retailers and consumer favorites to find the best beach towels to keep you dry, sand-free, and cozy this summer—whether you're headed to the beach or just the neighborhood pool. Swim season is just around the corner, after all. Why not get prepared a little early this year?
Advertisement – Continue Reading Below
1
DEMMEX Organic Cotton Diamond Weave Turkish Towel
With 25 colors to pick from, you'll be able to match your (affordable!) towel to your favorite swim. This GOTS-certified pick is pre-washed, so it won't shrink, and is lightweight enough to double as a sarong if you need a cover-up in a pinch.
2
Turkish Towels Mediterranean Beach Towel
Play off the bright colors of the beach with this long-fiber cotton towel, which was hand-loomed in Turkey. Despite the fact that it's more compact, it's just as absorbent and quick-drying as the fluffiest options out there—though this one also gets softer with each wash, and is designed to prevent mildew or odor build-up.
3
Bergama Turkish Cotton Beige Towel
The best thing about this Turkish-made piece? Its versatility: Use it as a beach towel, a picnic blanket, or even a runner for your al fresco tablescape. Its large size and lightweight fabric makes it a smart multipurpose buy you'll be glad to have on-hand.
When it comes to plush textiles, we trust the company behind some of the softest bath towels on the market—and Brooklinen's beach version is just as great. Punchy pattern aside, this 1970s-inspired pick has a terry 600 GSM back that makes it thick and absorbent.
5
Kiton Diamond-Print Beach Towel
Bring your colorful style to the pool with you, courtesy of Kiton's two-tone design. Made in Italy from a mostly cotton blend, this vibrant pick features an orange and purple palette with delicate diamond detailing on the border.
6
Lacoste Kane Cotton Beach Towel
Soft velvet on one side, absorbent terry on the other, Lacoste's squiggle beach towel is the best of both worlds. It's fast-drying, machine-washable, and ultra-lightweight, so you can pack it up and bring it with you to the park or the seaside without a hassle.
7
Johnny Was Grace Bright Beach Towel
Another reversible option we love? This splashy pastel beach towel from Johnny Was, which highlights a quilt-inspired pattern on one side and pretty florals on the other. It's machine-washable and comes in its own little bag, so you can transport it back and forth without spilling sand into your beach tote.
8
Brooklinen Artist Series Beach Towel
Designed in partnership with artist Cheryl Thuesday, this abstract printed towel is limited-edition and worth every penny. Not only will it up your beach style, but it features both velour and terry fabric for a winning combination of coziness and absorbency.
9
Poolside Two-In-One Towel Tote
Introducing the most useful summer accessory: A tote that folds out into a beach towel. Machine-washable with a jacquard print, it's made from 100% cotton and, in bag form, can hold all your essentials like SPF bottles and magazines.
10
Amazon Basics Cabana Stripe Beach Towel (Pack of 2)
Sunny yellow stripes will never go out of style. Available as a set of two, this budget-friendly option is a great value—and with almost 6,000 5-star reviews, it's customer-approved as well.
11
Dock & Bay Quick-Dry Beach Towel
After a day at the beach, you want a quick-dry towel. We found this pick to be quick-drying and sand-resistant; plus, it holds up great in the wash. It comes in 21 bold striped colors, in large and extra large sizes, and we want one of each.
12
BolBom Cabana Striped Bath Towel (Pack of 6)
These 100% cotton towels are plush and water absorbent at a fraction of the cost of most beach towels. Over 5,000 Amazon reviewers have given these towels five stars. Make sure to follow the care instructions and to wash before use (like any new towel). With the classic terry cloth fabric, they'll feel like your favorite bath towels.
13
Bdsign Oversized Beach Towel
If you're heading to the beach this summer, you need this oversized beach towel, that measures 6 feet x 6 feet. The microfiber material will dry quicker than a cotton beach towel, and it's thinner and rolls up into a compact size for easy carrying. It's ideal for social distancing at the beach, or in public parks.
14
Thick Round Beach Towel Blanket
For the perfect beach Instagram, a cute towel is a must. This on-trend round towel has 14 cheeky patterns like anchors, flamingos, and beachy florals with tassels around the edges. Made of microfiber, it is quick-drying while still being soft. With such cute designs, many reviewers also use it as a picnic blanket, wall hanging, or throw. Note that this towel must be hand washed.
15
Microfiber Quick Dry Beach Towel
Designed to keep you dry, this quick drying beach towel from Your Choice is made of mostly polyester with a bit of added nylon for strength. It's available in 11 fun shades with two different sizes. Because it's thinner than traditional terry cloth towels, it can easily be rolled up to go in its included travel case. After the beach, throw it in the washing machine for simple cleaning.
16
Rainleaf Microfiber Towel
When traveling, your towel should take up as little space as possible. This pick packs down tightly into an included carrying case to keep your load extra light. The towel is made from microfiber fabric so it is light and quick-drying. We love the convenient snap loop for hanging and the small corner pocket that can hold all of your essentials.
17
Lands' End Rugby Stripe Beach Towel
When your average-length beach towel doesn't cut it, this XL option by Lands' End is ideal as it is 78" long instead of the typical 60″ length beach towel. It is a plush terry cloth design with shorter loops to prevent snagging so this towel will last through many future beach trips.
This content is created and maintained by a third party, and imported onto this page to help users provide their email addresses. You may be able to find more information about this and similar content at piano.io
Advertisement – Continue Reading Below