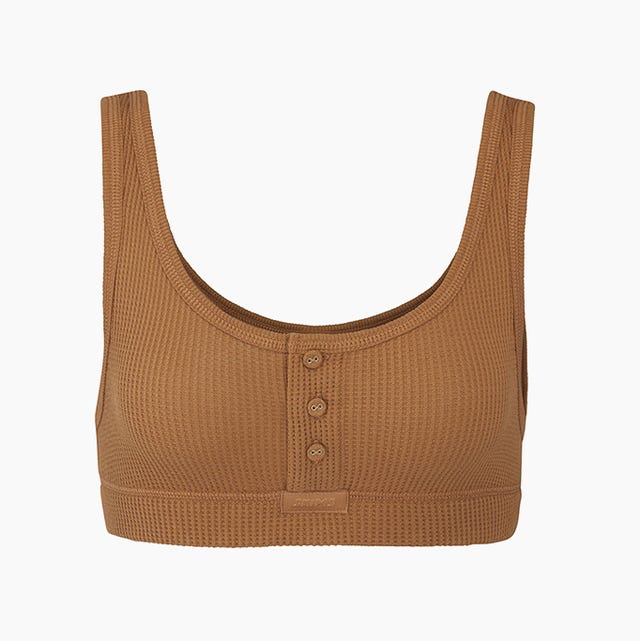 Courtesy
I don't know about you, but I take my sleep very seriously. In fact, over the years, I've perfected my exact conditions for optimal snoozing. The room should be dark and cool. Perhaps a window is cracked to keep the air circulating. I, in contrast to my chilled quarters, am snug as a bug. Warm, but not too warm beneath the heft of my covers, from which approximately half of my right foot peeks out. My pillowcase? Silk. Skincare routine? Complete. Pajamas? The softest fabric known to man—even down to my bra.
Yes, dear reader, it's true: some people do sleep in bras. I know this fact is unimaginable to many, but bear with me. Bra wearers tend to fall into two camps: There are those who live for the moment when they get home after a long day and can finally free themselves of the prison upon their chest, and those who earnestly feel more comfortable wearing a bra all the time, even to bed. People with larger busts, for instance, often need the support that a bra provides around the clock. Others simply prefer to have a bra on. A hot take, perhaps, but a take nonetheless.
No matter your stance on the subject, you know that there are good bras and bad bras. Even if you're willing to put up with a subpar bra during waking hours, sleep is sacred. Bedtime is not to be messed with or disturbed by anything­, least of all an inferior brassiere. Ahead, find the best bras for sleeping in.
Advertisement – Continue Reading Below
Wear It Everywhere
The Cotton Tank Bra
Everlane's ultra-soft cotton bra is as hassle free as they come and offers the perfect day-to-(good)night support.
Wonderfully Waffled
Waffle Henley Bra
Nothing says "cozy" quite like a waffle knit. The buttons and scoop neck on this style make it cute enough to wear sans sleep shirt, and Skims has plenty of matching bottoms if you want to make it a set.
Great For Nursing
Plum May Crossover Nursing Bra
For those middle of the night feedings when you're only half awake, you'll be grateful for this perfect nursing bra from Girlfriend.
Soft as Butter
Super Soft Scoop Bralette
Your pajamas should be the comfiest, most luxurious-feeling items you own. This scoop neck bralette is so soft to the touch, you'll actually look forward to wearing it.
Red Hot
Women's Flirt Demi Lace Bra
If you're looking to bring a little va va voom into the boudoir, look no further.
Bye-Bye, Sleep Sweat
Ebb to Street Bra
This low-impact option from Lululemon is designed to wick away sweat. I'm looking at you, hot sleepers.
Balconette Beauty
Loulou Balconette Bra
Sometimes, you just want a bra that makes you feel pretty, even if you're sleeping alone. A feminine balconette style will do just that.
Pick Your Print
U-Back Bralette
MeUndies make some of the stretchiest and softest undergarments on the market with no shortage of fun patterns and designs, including seasonal ones. Channel your inner Zoë Kravitz with this Catwoman print. (Latex suit and sex appeal sold separately.)
Wireless Support
Simone Seamless Underwire Sports Bra
This bra offers more support than a basic bralette, but without any wiring that may be uncomfortable to sleep in.
Flower Power
Plumeria Bouquet Bra
Why shouldn't you be stylish in your sleep? How you do anything is how you do everything, after all.
Matching PJ Set
T-Shirt Bra
Although this bra can be worn anytime, it's hard to resist the charm of it paired with these matching shorts. There's just something about a coordinated pajama set that makes you feel put-together.
Seamless Racerback
Butter Soft Racerback Bralette
With a super flattering cut and the right level of support, you might forget you're even wearing this bra, which is perfect for getting those restful eight hours.
Oh-So-Slinky
Tous Les Jours Longline Bra
What's sultrier than a silky black bra? Answer: absolutely nothing.
Front Closure
Women's Racerback
When it comes to bras that close in front, this style strikes the right balance of value and comfort.
Need a Lift?
True Body Lift Triangle Bra
Whether your cup size requires support or you're looking to enhance what you've got, this wireless option promises up to one inch of boost.
Built-In Support
Women's Longline Sports Bra
Equal parts padded bra and tank top, this is the ideal two-in-one.
Wild Child
The Balconette
Partially sheer mesh and leopard print? It's the best of both worlds.
Budget-Friendly Multi-Pack
Padded Sleep Bras, Seamless Yoga Bras, 3 Pack
Padded, seamless, and wire-free with medium support, these bras get the job done.
Date Night-Ready
Women's Lace Unlined Plunge Bra Underwire Bralette
Forget that new club, there's no hotter nightlife than the one in your bedroom. Available in 13 stunning colors, this bra is the ultimate wingman for nights when you and your boo opt to stay in.
This content is created and maintained by a third party, and imported onto this page to help users provide their email addresses. You may be able to find more information about this and similar content at piano.io
Advertisement – Continue Reading Below