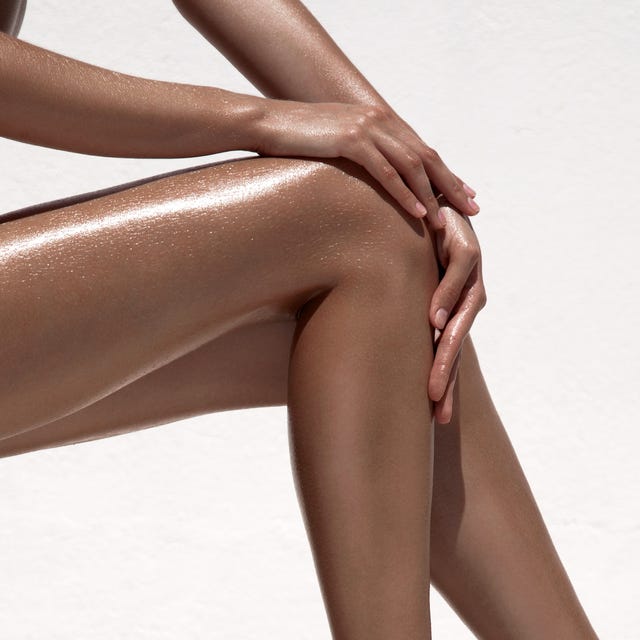 yuriyzhuravov
Call it an initiation, but chances are, anyone who ventures into self-tanning has at least one bad experience in the process. Maybe there was a Cheeto-orange tint left behind, patches of dark color around your knees and elbows, general streaking, or that distinct, pungent self-tanner smell. If this sounds like you, it might be time to invest in a self-tan removal product. Still, despite any previous mishaps, the promise of a bronze that looks like you've just returned from the Riviera always keeps us coming back. Especially in the dark, sunless winter, getting a little glow is a welcome change, whether that comes in the form of self-tanning drops or a great tinted sunscreen.
Good news: the latest self-tanning products seem to be competitive, with each formula more innovative than the last. No potentially irritating chemical additives, zero streaking or staining the bedsheets, and most important of all, a final color that looks natural—not like an Oompa Loompa. It might be tempting to go for a sun-induced glow instead of choosing the faux route, but damage from the sun's UVA and UVB rays can be aging to the skin, lead to burns, and possibly cause skin cancer. That's why sunless tanner is a smart alternative, topped off with a great SPF. There are lotions, serums, mists, oils, and drops. No matter which format you prefer, below, find 20 of the all-around best self-tanners of 2022.
Advertisement – Continue Reading Below
Best For Lightweight Finish
Glow Clear, Color Correcting Self-Tanning Mousse
This clear, lightweight mousse absorbs into skin almost instantly—which, as any self-tanner aficionado knows, is key to preventing color streaking and transfer onto clothing. But the real selling point here is its color-correcting technology (peach for light skin tones, green for medium and violet for dark), which promises a natural-looking (re: not orange) final finish. Bonus: among its vegan, cruelty-free and gluten-free ingredients is a trifecta of antioxidant-rich, skin-nourishing oils, including coconut, chia seed and avocado oils.
Best For No Streaks
Sunless Tanner
This 100% vegetarian formula promises zero streaking—which dozens of passionate Amazon reviewers can confirm. It's also formulated with hydrating ingredients including shea butter and sweet almond oil, and without common chemical red flags like gluten, parabens, phthalates, and synthetic fragrance. Oh, and it's under $10.
Best Crowd Favorite
Self-Tanner
With more than 17,000 Amazon reviews and a 4.3-star rating, this self-tanner lotion wins the popularity contest. The formula forgoes chemical additives for all-natural ingredients, including DHA derived from sugar cane, aloe vera, shea butter, green tea extract, and coconut oil. It's already a super-nourishing body moisturizer—and the self-tanner aspect is the big bonus.
Best For A Budget
Skincare Sublime Bronze Hydrating Self-Tanning Water Mousse
Not ideal for already tan skin
This drugstore self-tanner is L'Oréal Paris' newest product in their impressive (and extensive) self-tanner lineup and is the best for its money. The mousse is enriched with vitamin E to simultaneously smooth and soften skin while delivering streak-free color.
Best Tanning Water
Airbrush Legs Tanning Water
Doesn't leave a sticky residue
Only lasts about two to three days
A colorless self-tanner might seem weird, especially if it looks like water, but this option from Sally Hansen is a spray-on oil that reacts with your skin to create a buildable tint with no streaks or worry. The universal shade works for all skin tones and activates in 1 hour.
Best Overnight Mask
Stay-Cay Glow Gradual Bronzing Overnight Face Mask
Some reviewers said it left stains on their bedsheets
An overnight mask might sound like a pillow-stained nightmare in waiting, but bliss has cut out that worry with this mask. The fast-dry formula sets before you hit the sack and jojoba and coconut oil moisturize skin while you snooze. The mask is safe for all skin types. Simply sleep and then wash it off in the morning.
The Shower Tan
Natural Glow In-shower Lotion
Not ideal for very pale skin
Yes, you can use this sunless tanner directly after a shower. All you do is prep your skin with an exfoliant, shake off any excess water, apply the lotion to your skin as normal, and then pat your skin dry. With over 5k reviews and 4 stars on Amazon, this one is a great addition for a quick tan with no stress.
Best For Nourishing Skin
Sunless Tanner
Can feel greasy on oily skin
Vitamin C, E, and D work together in this sunless tanner to give skin lasting moisture and deep nourishment. The formula has lactic acid which keeps skin smooth and streak-free. Plus, there's no fragrance or dyes to make you orange and stinky.
Best Tan Primer
Clear Color Enhancing Primer
Requires other products for a deeper tan
The golden rules of using a sunless tanner is to exfoliate the skin beforehand, make sure it's dry, and apply the tint in even thin layers. This spray by Vari adds another prep step that you'll want to add to your routine for a long laster and more vibrant color. The spray primer only needs 60 seconds to soak into the skin before applying your favorite sunless tanner.
Best Exfoliating Prep
Sol Sugar Body Polish
Reviewers say it can be hard to squeeze product out sometimes
Prepping your skin is important before using a sunless tanner, and almost all instructions recommend exfoliating! Not all exfoliates are safe for your skin or the environment, but this sugar body polish from colourpop is safe for both.
Best For A Glowing Face
Overnight Facial Glow
Made specifically for the face and décolletage, this overnight facial cream is applied at night so you wake up with a subtle tint that is buildable without any splotchiness or streaks.
Best Tanning Mist
Bronze Glow Self Tanning Tinted Mist
Not everyone has time to apply sunless tanner and that okay, it can be very time-consuming. This Ulta brand tanning mist allows for an easy and quick application without the fear of not applying evenly or creating streaks. Expect a glow to show within four to six hours.
Best Eco-Friendly Star
Sunless Tan Firming Lotion
Seventy percent of the ingredients in this eco-friendly self-tanner lotion are organic, including a form of DHA (the color-inducing ingredient in all self-tanners) that's derived from beet sugar. The product also promises to tighten and tone skin simultaneously thanks to ingredients like caffeine, alaria esculenta seaweed (to support skin elasticity), and pea extract (to boost hydration).
Best Oil Hybrid
The Body Illuminating Self-Tan Drops
Mix a few drops of this self-tanner (which feels like a serum-oil hybrid) with your favorite body moisturizer in the palm of your hand, then apply just as you would any other body cream. Watch a gradual, natural-looking color develop within a few hours. Though it's on the more expensive side, a little bit goes a long way, so one bottle should last a while. These drops also allow you to customize your color intensity; Add two to three drops into the mix during the summer months or while on vacation, and pump it up to four or five in the winter, for example.
Best For A Natural Finish
Self Tan Classic Bronzing Mist
Need mitt for application
Mists are generally a safe bet for a streak-free application and an airbrushed finish for experts and novices alike. Applying lotion can be difficult on areas like your back, but sprays are ideal for covering those hard-to-reach areas. This ultra-fine tanning mist from St. Tropez is one of the best we've found. It goes on evenly, isn't sticky or heavy, and delivers a natural finish to all skin tones.
Best Fast-Acting Tan
Brazilliance PLUS+ self tanner
Some reviews said it left skin dry
This self-tanner claims to have you looking bronzed within four hours of application. The formula is also unique because it contains a combo of aloe, citric acid, and squalene to smooth and exfoliate your skin while adding color.
Best For Deep Skin Tones
Self Tanning Sunless Lotion
Takes a while for results to show
Here's another tanner that works for deeper skin tones. Bonus: The drugstore find is under $10, so stock up for winter.
Best Medium Skin-Friendly Pick
2 HR Express Self Tanning Mousse
Results don't last as long as some of its competitors
Most tanners are unfortunately created with fair-skinned people in mind, but brands like Loving Tan are making the market more inclusive. If you have medium to deep skin, try this self-tanner which comes in original, medium, and dark levels. Not only do you get immediate results, but you can tint commitment-free because the tan can wash off after just two hours.
Best Tanning Wipe
Alpha Beta® Intense Glow Pad Self-Tanner for Face
Dr. Dennis Gross Skincare
Can be hard on sensitive skin
Like semi-permanent bronzer, these convenient, quick-drying wipes gradually add color and glow to your face over time.
Best Multi-Use Product
Click & Glow
Design is not user friendly
Aptly named, this on-the-go sunless tanner can be added to your favorite SPF or moisturizer to create a subtle glow on the face and neck. Bonus: These tanner drops are full of nourishing ingredients for your skin like: vitamin C, hyaluronic acid, and aloe vera.
This content is created and maintained by a third party, and imported onto this page to help users provide their email addresses. You may be able to find more information about this and similar content at piano.io
Advertisement – Continue Reading Below