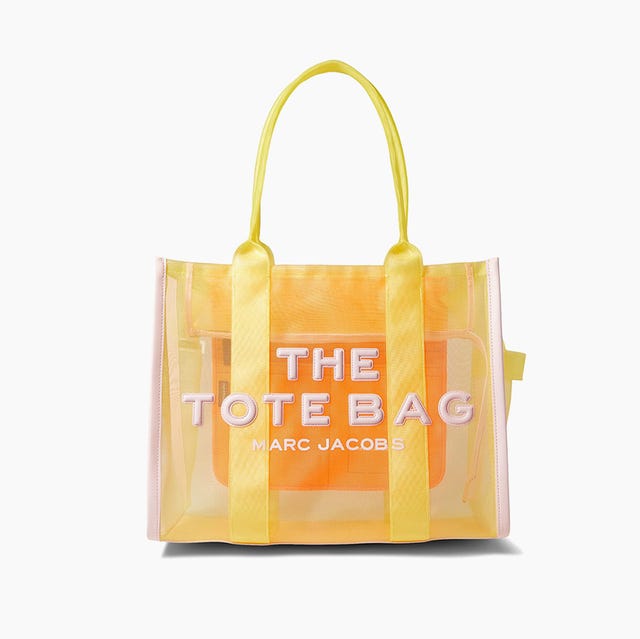 Courtesy
You could settle for a basic reusable shopping bag or the ubiquitous New Yorker tote to carry your essentials to the beach… but that doesn't mean you should. Instead, why not opt for something more fashionable? Resortwear and summer styles have officially hit our online shopping carts, and the season's beach bags are the stuff of sartorial dreams. If you weren't planning on refreshing your bag stash, think again. From fisherman's totes and sand-proof fabrics to designer collections and funky patterns, here are 23 of the chicest beach bags to carry your belongings⁠—wherever this summer takes you.
Advertisement – Continue Reading Below
Net shopping totes are hands down our favorite grocery bags, but they double as the best beach bags, too—mainly due to the fact that they expand wide enough to fit your towel, a jumbo tube of SPF, and all your snacks.
Here's a bag for the straw tote-averse.
This chic tote looks like it belongs on a yacht.
Logo lovers can bare it all with this semi-transparent tote. Plus, it's water-resistant, rendering it ideal for all your seaside adventures.
Shopper Bag in Crochet Knit
Go ahead, tell everyone you made this yourself. It'll be our little secret.
This woven tote is deceptively affordable, but looks designer.
If Kim Kardashian can wear an Hermès Birkin to the beach, you can carry a Chloé shopper.
For the beach-goer with all neutral swimwear, add a pop of color with this punchy pink.
L.L. Bean's totes are so durable, you'll own yours for life.
Baggu's extra-large shoppers are great for chronic overpackers.
We dare you to not take a million outfit pictures with this bag. (It's impossible.)
Here is an elevated version of the wicker tote. You're welcome.
The classic crochet hobo bag gets a fun update with hearts and cherries.
Rainbow raffia is a bright idea.
The Mini Elena Woven Handbag
At first glance this looks like a straw tote, but it's actually woven leather. Chic.
More practical? Keep this packable tote in your car for groceries and unexpected beach trips.
Sacca Leather-Trimmed Striped Canvas Backpack
This backpack deserves a spot on your grid, stat.
This slouchy raffia shoulder bag will go with everything.
This oversized tote will fit everything you need for your next beach picnic.
Ribbon-Detailed Toquilla Straw Bucket Bag
Don't knock a structured beach bag until you've tried it.
Channel all the Americana vibes at the boardwalk with this denim bag.
Monstera Holo Holo in Seaweed
Not only is this bag water- and sand-proof, it's also reversible.
Take note—these are multi-colored stripes done right.
This content is created and maintained by a third party, and imported onto this page to help users provide their email addresses. You may be able to find more information about this and similar content at piano.io
Advertisement – Continue Reading Below