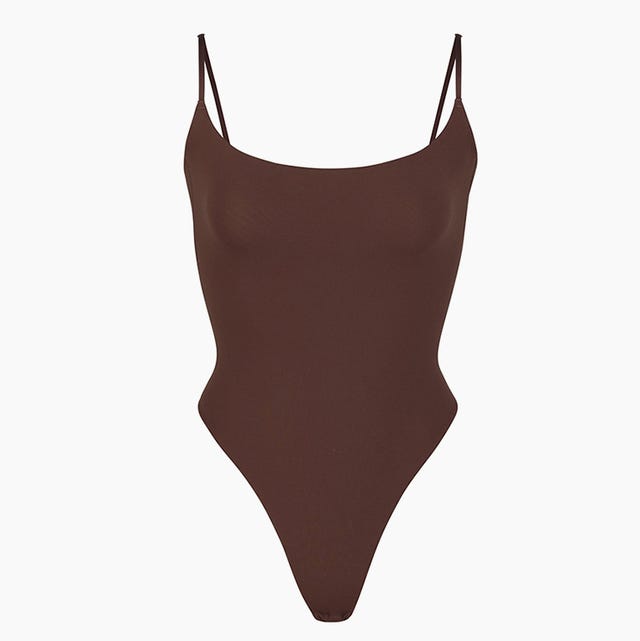 Courtesy
The camisole has long been a wardrobe staple. Paired with wide-leg jeans and sneaks back in the '90s, a slip skirt and mules in the early aughts, or dare we say it, even layered over a T-shirt as a young Ashley Tisdale (among too many other Disney stars) so famously donned on red carpets, the camisole's history is rich to say the least. But even today, the workhorse of a garment proves as useful as ever. It's a layer, it's an undergarment, it's a top all on its own. Wear it to work with a blazer, fall asleep in a cotton tank, or hit the town trimmed in lace. There's a cami for every occasion, and thank goodness for that. We narrowed it down to the 23 best camisoles that meet all your needs, here.
Advertisement – Continue Reading Below
The Shapeshifter
Thinstincts Convertible Camisole
Spanx is a celebrity pick for red carpet appearances, so why not wear one on a weekday? The brand's surprisingly comfortable camisoles will flatter without restriction.
The Trending Cut
Silk Rib Asymmetric Strappy Tank
We're seeing a lot of interesting silhouettes that upgrade the classic spaghetti strap style this season. The asymmetric straps on this one is a prime example of the trend.
The Seamless Fit
Seamless V-Neck Cotton Camisole
Whether you wear this alone or as a layering piece, keep a simple camisole like this Hanro number in your closet. It's smooth as silk and feels like a second skin.
The Summer Staple
Flow Top
You should know the little white cami well—she's delicate, dainty, and a total dream. Summer is around the corner and every wardrobe needs this sweet pick.
The #1 Basic
Butter Camisole
Commando, hands down, makes the best simple cami. It's easy to layer under sheer tops without adding bulk, and comes in neutral colors.
The Cowl Neck
Allusion Camisole
Reminiscent of the '70s, the draped cowl neck gives you a little something more than the typical silk tank. It flatters the décolletage and vamps up any outfit.
The Bulk Buy
Women's Slim-Fit Camisole, Pack of 4
For those who wear a camisole every day of the week, buy in bulk.
The Fashion Find
Black Selena Crinkle-Jacquard Linen-Blend Top
Buzzy brand Cecilie Bahnsen has you covered if you're searching for an elevated camisole. This voluminous babydoll fit is far from basic.
The Ruched Racerback
Ruched Front Seamless Cami
Who doesn't love a good racerback neckline? This top is comfortable enough to work out in, but versatile enough to dress up and wear out on the town.
The Office Uniform
Raw Edge Tank
Camisoles might not be right for every office, but this style is safe for work with its high V-neck and thick straps.
The Secretly Supportive Style
LiftWear Cami
Consider this your new secret weapon. Honey Love's camisole features molded bra cups, sans any underwire, to maximize both support and comfort. It also has tummy-flattering panels and adjustable straps.
The Wild Card
Watercolour Leopard Print Lace-Trimmed Silk Cami
We love a silk camisole, made even better in a leopard print. Pair it with leather pants to really up the ante.
The Bodysuit
Fits Everybody Cami Bodysuit
Perfect as a standalone or layering piece, Kim Kardashian's basic cami bodysuit is a wardrobe staple available in an array of neutral shades. A bodysuit is great for it's unfussy nature—and because you won't have to constantly retuck it into your pants.
The Day to Night
Dinner & Drinks Lace Cami
This romantic little number is ideal for dressing down with a pair of jean shorts and sneakers, or dressing up with a cigarette trouser and strappy heels.
The Crop Top
The Cropped Square-Neck Cami
For those adventurous enough to bear your midriff, this cropped camisole is for you. Add your favorite cardigan on top if it feels a little too risqué by itself.
The Extra-Long Pick
First-Layer Tunic Cami
If you prefer more coverage over your derrière, choose an extra-long camisole like this budget buy from Old Navy.
The Pop of Color
Bow-Detail Camisole Top
Looking to diversify your mostly black and neutral closet? A punchy red will do the trick and is just as versatile as your tried-and-true monochromes.
The Oh-So-Smooth
Soft Smoothing Tank
Whether it's a matter of chest support or you just want to cover your bra straps, spaghetti straps aren't for everyone. Instead, opt for the thicker straps on this Skims top.
The Sweet and Flirty
Janae Ruffle Cami
Have you ever seen a top so cute? The smock weave, the frilled hem, the keyhole, the bow! It's impossible to pick the best part.
The Bustier Cami
Basel Bustier
One of this year's hottest trends is undoubtedly the bustier. A camisole-bustier hybrid makes the style a little more wearable.
The Little Black Cami
The Racer Top
Unsure of what to wear on your next night out? The easiest, low-key cocktail look is a lace cami with anything. Our favorite comes from a brand that specializes in them, New York-based Cami NYC.
The '90s Throwback
Bralette Cami 2.0
Channel your younger self with this adorable top, made from vintage deadstock fabric.
The Easy-Breezy Cami
Airism Camisole
Tight, stretchy camisoles can feel restrictive and sweaty. Uniqlo solved that issue with a lightweight fabric that breathes so well, even athletes wear them.
This content is created and maintained by a third party, and imported onto this page to help users provide their email addresses. You may be able to find more information about this and similar content at piano.io
Advertisement – Continue Reading Below