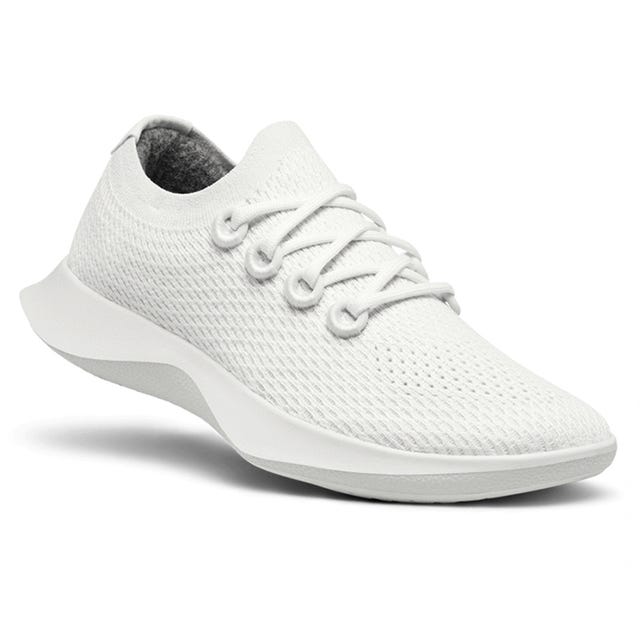 Courtesy
A smart shopper knows that the best investments aren't the fussy trend pieces adorned with every embellishment, but the clean silhouettes with just a hint of flair that'll stay in style forever. No matter your personal preferences or preferred aesthetic, everyone should have a reliable white sneaker in their arsenal. Because the white sneaker's appeal is never-ending. They're the ever-dependable shoe that can be paired with almost any outfit. (Aren't the best pieces in your wardrobe the ones that you just know will look good no matter what?) Whether you're adding a casual touch to a power suit or sundress, or you're on the hunt for the perfect trainers to team with joggers or jeans, you've come to the right place. Below, you'll find an array of styles, each with their own distinct look and two things in common: they're all white sneakers, and they're all fabulous options for your next purchase.
Advertisement – Continue Reading Below
Air Force 1 Basketball Sneaker
Popularized by hip-hop titans like Nelly, and beloved by cool kids and Insta-girls everywhere, AF1s are the epitome of tried-and-true. And they're darn comfy.
When you want a no-fuss sneaker that delivers on all its claims, Superga will never disappoint.
If "less is more" was a sneaker, it would be the Everlane Court. The shoe is made with less plastic, less waste, and less energy than your average style.
This iconic white sneaker is the crème de la crème of Adidas's lineup—and it ages like a fine wine.
Call us childish, but the easy, one-and-done slip-on sneaker is a lazy girl's dream—and Rothy's makes the dreamiest ones on the market. Plus, it's made with machine-washable fabric for easy cleaning.
Next Big Shine Lace-Up Sneaker
This silhouette might an unexpected departure from Skechers' classic styles, but the brand's signature comfort and ease remain. A cushioned footbed and the classic white shade could make this your sneaker of the summer (or year).
Run Star Hike High Top Sneaker
You're probably familiar with the classic high-top Converse. Allow us to introduce you to its edgier sister. Featuring a rigged sole, this iteration was made specifically for hiking trails (or, you know, whatever).
There's a lot to say about these shoes, but we'll let the reviews do the talking. "Comfortable and light walking shoe. Lives up to New Balance quality," one user wrote.
If Sex and the City were a shoe, it would be this classic Tory Burch style. Carrie Bradshaw circa 2022 would totally agree.
This gem from Reebok has proven it's as versatile now as it was in its heydey. Pair it with a dress or tracksuit to test its true powers.
Cariuma sneakers just make you feel good. Not only are they super light and flexible on your foot (read: no breaking in period), but also each shoe is crafted from self-regenerating bamboo and recycled plastics, so you know you're doing your part to help the environment.
If it's good enough for Meghan Markle, it's good enough for us.
When wearing Allbird's signature Tree Dashers, the last thing you'll have to worry about is smelly, uncomfortable feet. Designed with eucalyptus trees and the brand's own SweetFoam sole, you'll never want to take these off.
A light-as-air sneaker designed with a sock-like upper that hugs your foot like a blanket. What more can be said?
Alpargata Lace-Up Lug Sneaker
This sneaker lifts you a little more off the ground than the classic flat that Toms became famous for. The rugged sole gives you grip and security; plus, it's made of 26 percent eco materials.
Alexa, play "Sk8er Boi" by Avril Lavigne.
Double Decker Canvas Sneaker
A no-fuss shoe with more fans than the average Instagram influencer.
Hidden Heart High Top Sneaker
Are you even a true hypebeast if you don't own the Comme des Garçons Converse adorned with a heart logo?
An easygoing shoe that's just as soft and reliable as Ugg's best-selling boots.
Introducing: your new favorite footwear. Vagabond has perfected the classic, crisp white sneaker with these leather platforms. Wear them with midi skirts, party dresses, leather pants, jean shorts—okay, we'll stop. Point is, you can wear them with literally anything.
Chuck Taylor All-Star High Tops
Still, there's nothing quite like opening a box of crisp white high-tops. Just ask Converse connoisseur Kamala Harris.
For a designer option, invest in Alexander McQueen's bestsellers that feature an exaggerated, tapered sole.
Icons never die, which is why Puma's signature Cali Star sneaker has never faded into oblivion.
Back at it again! Vans' slip-ons were iconic long before "Damn, Daniel," and have only gotten more stylish since. The platform version offers a little extra boost, too.
It's basically an unspoken rule that every sneakerhead has to have at least one Air Max in their rotation. The Nike icon has been dipped in an array of colors since it was first released in 1997, but the white rendition easily becomes the star of any outfit.
Leave it to Adidas to always push the envelope with its silhouettes. For the Ozelia, the heritage brand looks to the past to marry '90s chunkiness with futuristic details to create a shoe that is guaranteed to garner compliments.
This content is created and maintained by a third party, and imported onto this page to help users provide their email addresses. You may be able to find more information about this and similar content at piano.io
Advertisement – Continue Reading Below