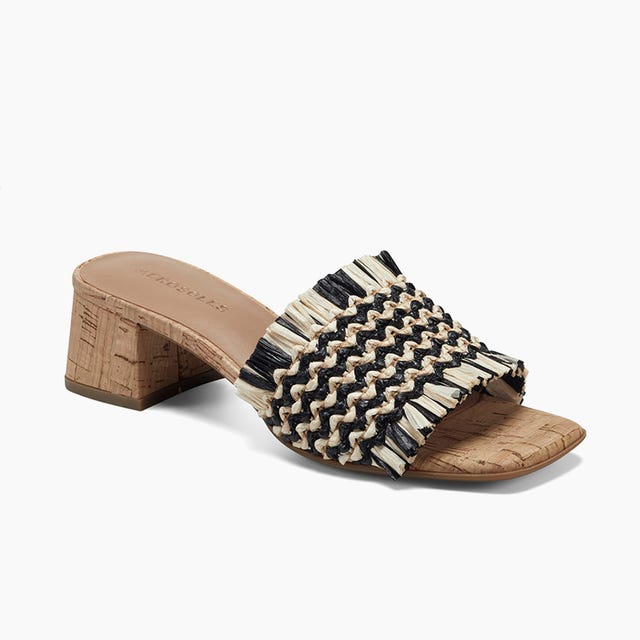 Yousra Attia
We live in strange and ever-shifting times. But there's something comforting about the start of summer fashion season, when we trade our scuffed-up boots for dainty sandals that let our feet finally breathe again.
Still, that doesn't make shopping for said sandals any less of an Olympic sport. Finding the perfect pair of comfortable, well-fitting slip-ons while scrolling through an endless array of options is fun at first, and then it's exhausting. Thankfully, we're giving you the best of both worlds: Below, you'll find a whopping 60 selections to scroll through at your leisure, but curated to help you find the exact sandals you're looking for.
Best of all, we've pared our picks down to the trendiest styles of the season, featuring lace-up, knotted, and woven straps, natural fibers, platform and square-toe soles, vibrant colors, and sculptural heels. Whether you're hunting for flip flops, mules, wedges; gladiator, fisherman, or strappy sandals, you'll find your new favorite pair in our edit of summer sandals here.
Advertisement – Continue Reading Below
The woven strap trend is practically inescapable this summer. Test it out with a low block heel for minimal ankle-wobbling.
The colorblocked straps and cushioned footbed make these sandals pretty but practical for everyday use.
Brands like Cult Gaia and Loewe are mixing up the classic rectangular heel in favor of bold (and sometimes bizarre) new shapes. We love this bubble heel paired with transparent, jelly-like straps.
Two-Strap Heeled Slide Sandal
For maximum style and minimal discomfort, slip on these timeless two-strap heels.
Those pencil-thin straps might seem daunting, but they're worth it.
these textured mules run large, but they're loved for their comfy cork heel and stylish square-toe.
A good pair of espadrilles are a summer capsule wardrobe must-have.
Strappy, but not too strappy. Add a teeny block heel, and you've got a sophisticated minimal sandal ready for cabanas and conference rooms alike.
Ideal if you'd rather not wear flip flops to the office.
These gorgeous mules are made for showing off.
Samantha Flat Strappy Lace-Up Sandal
If your summer wardrobe is all about comfort, skip the heels in favor of these easy-going flats.
Ah, yes, the exact colors of my childhood bedroom. Welcome, Y2K re-emergence.
We envision sunny days ahead with these adorable, twisted-strap sandals.
Miranda Platform Ankle Strap Sandal
These chunky lavender platforms belong with a Juicy Couture tracksuit, once upon a 2000. Thankfully, they're back on trend for 2022.
If you're heel-averse, you can still dip your toes—literally—into the woven strap trend with a pair of cushioned flats.
Perfect for a beach wedding—or dreaming about a beach.
Sorel sandals are renowned for their comfort, and these stretchy straps can be dressed up or down with ease.
Elastic Strap Slip-on Sandals
Hallelujah: A comfortable pair of breezy slip-ons.
Gilda Embellished Leather Sandals
These studded straps with an edgy sculptural heel make this shoe worthy of Kourtney Kardashian's pop punk phase.
Like your beloved Tevas, but Fendi-fied.
Gloria Strapped Heel Sandals
Add these to your summer rotation.
Espadrille Platform Slide Sandal
Finally, your straw hat and platform slides can match.
Paired with a cozy linen dress, these flats will look effortlessly cool.
It's summer: Embrace the drama.
Balabou Ankle Wrap Sandal
The hand-dyed fabric and wooden heel of these Brother Vellies sandals make these a rare gem.
These snakeskin slides come with a toe separator to give pesky mules a better grip.
Ginza Leather and Suede Platform Flip Flops
You didn't seriously expect to escape this article without seeing these cult-favorite flip flops from The Row, did you?
Sigrid Chain Heel Sandals
Another variation of the chain trend, this time as a sculptural heel.
We promise these pillowy slides will carry you gracefully from the pool to your dinner reservation.
Garavani VLOGO Textured-Leather Slides
Here's a pair of designer slides that won't break the bank.
These Loewe sandals first grabbed my attention when they graced the runway in September 2021. They're the perfect blend of sophistication and camp.
Quilted jackets are enjoying their time in the spotlight, and so are puffy shoes.
Wavy Crocheted Platform Slides
Pastels for summer might not be groundbreaking, but that doesn't mean these strappy heels aren't an absolute necessity.
These water-friendly cuties are quick-drying and supportive, making them a must-pack for vacation.
Another twist—pun intended—on the sculptural heel trend.
These woven-strap flats work just as well with a bikini as they do a pair of cropped denim.
For those in big cities, wearing sandals on your commute to work can be…hazordous. Minimize that risk with a pair of sturdy slingbacks.
Not yet ready to sport nail polish tubes and snowglobes on your feet? This sculptural heel is minimalist but eye-catching.
Gucci Rubber Logo Platform Slide
If you're gonna wear pool slides, why not make them Gucci?
It's a universal truth that every shoe recommendation list must have at least one scarlet heel.
Proxima Twisted Leather Sandals
This pale yellow hue is surprisingly versatile. Treat it like a neutral.
The fisherman sandal is a major trend for 2022; stay on top of it with this classic rubber-soled Marni pick.
These sweet sky-blue sandals will make every outfit happier.
Clogs can look like hooves, yes—but not these silver-studded beauties from Veronica Beard.
The gladiator sandal is still going strong, and we're partial to this affordable pair that will go with everything.
A sky-high heel and a crisscrossing coral strap make for one eye-catching shoe.
Summer is the time to embrace bold color in your wardrobe. These tangerine Off-White slides will do the trick.
These gleaming golden mules belong on a pedestal, and your feet.
You've probably noticed funky straps are a big staple in 2022's shoe closet: Now that you've tried woven, knotted, twisted, and lace-up straps, test out these scrunchie ones next.
This simple clog will neve go out of style.
Easy-going but on-trend? That's the sweet spot.
The plastic Birks are arguably better than the original suede.
Dare we say: The perfect club sandal?
Gemini Calf Hair Wedge Lace-Up Sandals
Why choose a boring wedge when you don't have to?
Foundations Matte Flip Flops
Chic flip flops do exist, and they're only $50 from TKEES.
These barely-there sandals are perpetually popular with the Insta-crowd.
This content is created and maintained by a third party, and imported onto this page to help users provide their email addresses. You may be able to find more information about this and similar content at piano.io
Advertisement – Continue Reading Below