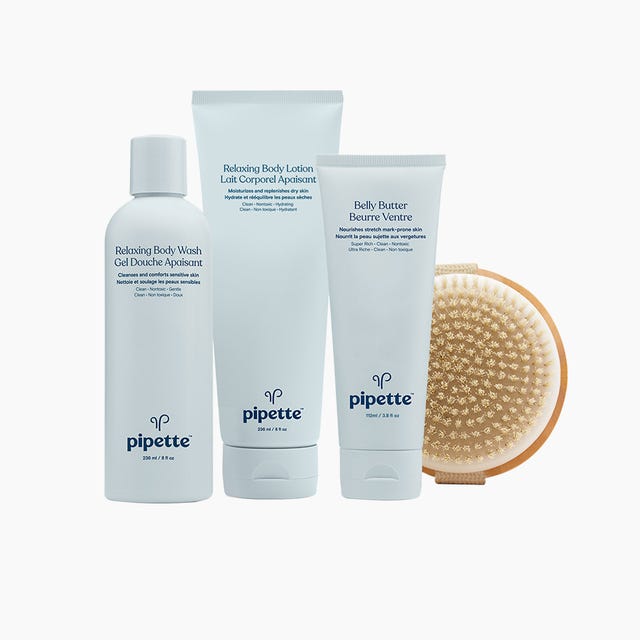 Pipette
Like many to-do's before your baby arrives, creating a registry can be both exciting and stressful. When prepping for my first, I remember poring over product reviews as I built my wish list. It's a relief that now as a soon-to-be mom of two, I already have my tried-and-true favorites.
There are a couple of things I learned from my first go-round that I gladly share anytime I'm asked for some advice. One is to seek out products that will be gentle on the baby's skin. I found that zeroing in on items with clean ingredient lists and that are made from sustainable materials was an effective way to narrow down the options. Protecting your baby's sensitive skin is key, especially in those first few months. Second, opting for products that are organic and sustainably sourced is not only beneficial for the environment, but it's also healthier for baby. There's no worry that chemicals or additives will come into contact with a little one's delicate skin. Plus, most organic fabrics are softer to the touch than their synthetic alternative. One more thing: Don't forget mama. New moms need caring for too, so be sure to choose some items that are pampering and feel like an indulgence to use or wear.
With that in mind, keep reading for my top gifting ideas—including nontoxic body care and soft, sustainable accessories—for mommy and bébé.
Advertisement – Continue Reading Below
1
For a stylish diaper bag
Stevie Backpack
This convertible bag is everything I was looking for: It's functional, cute, and made with vegan leather. You can wear it as a backpack, which means your hands can carry more precious cargo. And the size is perfect for toting around the essentials—diapers, change of clothes, bottles. Bonus: It doubles as a laptop bag so it won't collect dust when your little one is potty trained.
2
For baby's delicate skin
Baby Oil
As part of her bedtime routine, I use this lightweight oil to give my little girl a full-body massage that promotes relaxation. It's a special bonding moment for us. I love this oil because the star ingredient is squalane, which is lightweight, yet ultra hydrating. I also love that the formula is plant-based and fragrance-free.
3
For a self-care moment
To Mama, With Love
The name says it all. This gift set contains four pregnancy- and postpartum-safe body-care products—a body lotion, body wash, belly butter, and dry brush—for a quick restorative routine we mamas need. I start by dry brushing my legs, arms, and torso in an upward motion, then I cleanse in the shower and luxuriate in the aromatherapeutic scent of the wash. Afterwards, I hydrate with the belly butter (it contains shea butter and peptides to target stretch marks and also nourishes skin on growing bellies) and lotion that feels oh-so-luxe on my skin.
4
For washing baby's clothes
Baby Laundry Detergent
Believe it or not, the need for a stain-fighting detergent is more critical in the first few months of your baby's life than during the toddler years. This plant-derived and dermatologist-tested option is my top pick as it's equally as tough on mess as it is gentle on my baby's skin. The one-hand pump dispenser is key for quick and easy laundry days and the gallon-sized bottle will get you 256 washes.
5
For keeping baby cozy
Soothe Swaddle Wraps
My husband and I struggled to use muslin blankets to swaddle our baby, so when we discovered these pre-wrapped, velcroed alternatives made with breathable, organic cotton, we made the switch. It makes middle-of-the-night diaper changes a (relative) breeze and we don't have to worry about it unraveling during sleep.
6
For good hair days without the effort
Dry Shampoo
Let's face it: time is a commodity in the early days, but your hair doesn't have to suffer. This all-natural dry shampoo keeps my roots feeling fresh between the rare days when I can sneak in a shampoo.
7
For sensory development
Friendly Faces in the Forest: Baby's First Soft Book
These charming little books are an easy favorite, and one that I love to gift to friends. The soft cloth is made of sustainable materials, machine-washable and safe for play. Plus, your baby will love the sweet illustrated stories.
8
For playtime
The Play Gym
Offering a full year of playtime, this activity gym doesn't disappoint. Your baby will learn focus skills and will be exposed to sounds, colors, and textures that are great for their developing brain. The entire set, including the removable accessories, are made of baby-tested materials like 100% organic cotton and silicone, and made without flame retardants or PVC.
This content is created and maintained by a third party, and imported onto this page to help users provide their email addresses. You may be able to find more information about this and similar content at piano.io
Advertisement – Continue Reading Below