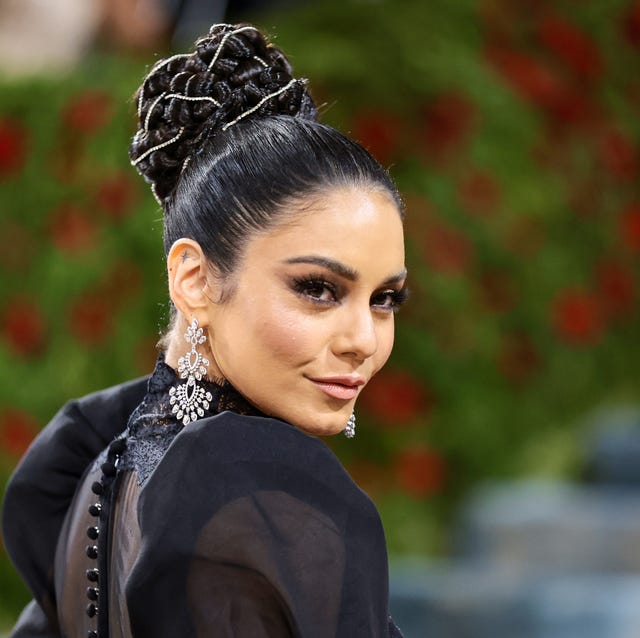 Jamie McCarthyGetty Images
The Met Gala is an illustrious evening, made for the express purpose of showing off. The Oscars or Grammys can claim to be about uplifting their individual art forms, but the Met Gala knows its purpose in the realm of star-studded events: This is a night about being seen—and not just seen but ogled, applauded, and admired. The celebrities who manage a look that fits the year's theme and dazzles in its own right earn a pass to the halls of fashion legend. And it doesn't hurt if they get some good press along the way.
Tonight, celebrities gathered at the Metropolitan Museum of Art to clink champagne glasses on behalf of the Met's new exhibit, "In America: A Lexicon of Fashion," with the night's dress code tied around Gilded Glamour. Below, all the looks of the evening—and the designers who dreamed them up.
1 of 150
Vanessa Hudgens
Vanessa Hudgens in Moschino.
2 of 150
Emma Chamberlain
Emma Chamberlain in Louis Vuitton.
3 of 150
La La Anthony
La La Anthony in LaQuan Smith.
6 of 150
Francesco and Bee Carrozzini
Francesco and Bee Carrozzini in Alexander McQueen.
7 of 150
Wendi Murdoch
Wendi Murdoch in Giambattista Valli.
8 of 150
Blake Lively and Ryan Reynolds
Blake Lively in custom Versace.
9 of 150
Blake Lively
Blake Lively in custom Versace.
10 of 150
Melissa King
Melissa King in Thom Browne.
11 of 150
Caroline Wozniacki
Caroline Wozniacki in Christian Siriano.
13 of 150
Samuelle and Annie Leibovitz
14 of 150
Vanessa Nadal and Lin-Manuel Miranda
15 of 150
Priscilla Presley
Priscilla Presley in Prada.
17 of 150
Kaia Gerber
Kaia Gerber in Alexander McQueen.
18 of 150
Kacey Musgraves
Kacey Musgraves in Prada.
20 of 150
Janelle Monáe
Janelle Monáe in Ralph Lauren.
21 of 150
James Corden and Julia Carey
22 of 150
Leslie Odom Jr.
Leslie Odom Jr. in Fendi Men.
24 of 150
Evan Mock
Evan Mock in Head of State.
28 of 150
Quannah Chasinghorse
Quannah Chasinghorse in Prabal Gurung.
29 of 150
Amber Valletta
Amber Valletta in vintage Azzaro.
30 of 150
Mindy Kaling
Mindy Kaling in Prabal Gurung.
Advertisement – Continue Reading Below
This content is created and maintained by a third party, and imported onto this page to help users provide their email addresses. You may be able to find more information about this and similar content at piano.io