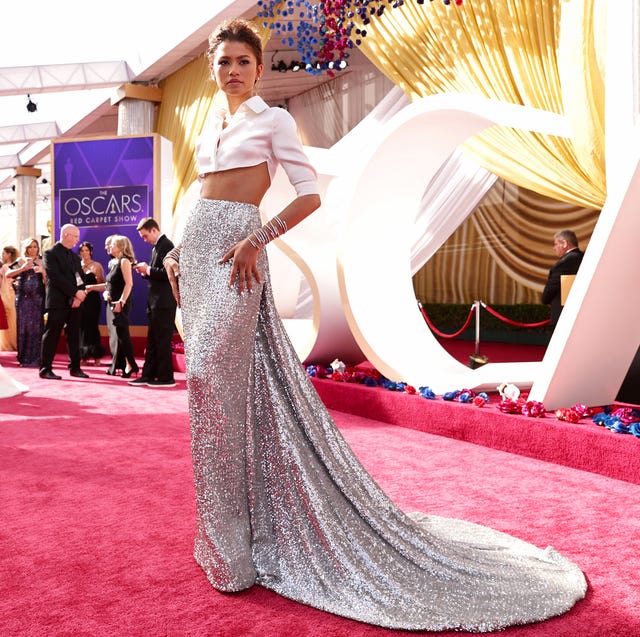 Emma McIntyreGetty Images
Yes, the films are essential, their contribution to culture irreplaceable. But let's not kid ourselves here: One of the biggest draws of the Oscars is not the awards but the clothing—the shameless opulence in which Hollywood stars dress themselves as they applaud one another's artistry. The Oscars provide a chance to wear the most legendary designers in one of the most legendary venues: Los Angeles's Dolby Theatre.
Some of the biggest moments in the annals of fashion took place on the Academy Awards red carpet, and tonight, during 2022's Academy Awards, the celebs clearly yearned to make history again. Only time will tell if tonight's gowns will have the staying power of, say, Gwyneth Paltrow's bubblegum taffeta dress of 1999, but never say never. After multiple awards shows darkened by the ongoing coronavirus pandemic, tonight's wardrobe brought a welcome dose of radiance. Ahead, you'll find all the looks of the evening, from Laverne Cox's gorgeous all-black look to Rachel Zegler's Dior dress.
1 of 121
Zendaya
In Valentino and Bvlgari jewelry.
2 of 121
Megan Thee Stallion
In Gurav Gupta and Lorraine Schwartz jewelry.
3 of 121
Shawn Mendes
in Dolce & Gabbana and Vacheron Constantin watch.
4 of 121
Lupita Nyong'o
In custom Prada and De Beers jewelry.
5 of 121
Jessica Chastain
In Gucci and Gucci High Jewelry, makeup by Charlotte Tilbury, and manicure by Julie Kandalec for essie.
6 of 121
Olivia Colman
in Dior Haute Couture, Chopard jewelry and Charlotte Tilbury makeup.
7 of 121
Dylan Meyer and Kristen Stewart
8 of 121
Andrew Garfield
In Saint Laurent and an Omega timepiece.
10 of 121
Zoë Kravitz
In Saint Laurent and Kwiat jewelry.
11 of 121
Maggie Gyllenhaal
In custom Schiaparelli and Maria Tash jewelry.
13 of 121
Billie Eilish
In Gucci, Fred Leighton jewelry and Charlotte Tilbury makeup.
14 of 121
Maya Rudolph and Paul Thomas Anderson
Maya in Valentino and Freck Beauty makeup.
15 of 121
Lily James
In Atelier Versace Couture.
16 of 121
Vanessa Hudgens
In Michael Kors Collection
17 of 121
Caitriona Balfe
In custom Louis Vuitton, Van Cleef & Arpels jewelry and Charlotte Tilbury makeup.
18 of 121
Ashton Kutcher and Mila Kunis
19 of 121
Nicole Kidman
In Armani Privé, Harry Winston jewelry., and an Omega timepiece
21 of 121
Kourtney Kardashian and Travis Barker
Kardashian in vintage Mugler, Aquazzura shoes, Lorraine Schwartz jewelry and Noble Panacea skincare. Barker in Maison Margiela.
24 of 121
Jesse Plemons and Kirsten Dunst
In vintage Christian Lacroix Haute Couture and Fred Leighton jewelry.
25 of 121
Rachel Zegler
In Dior Haute Couture and Tiffany & Co.
27 of 121
Halle Bailey
In Roberto Cavalli and Chopard jewelry.
29 of 121
Simu Liu
In Versace and an Omega timepiece.
30 of 121
Jessie Buckley
In custom Erdem and Chopard jewelry.
Advertisement – Continue Reading Below
This content is created and maintained by a third party, and imported onto this page to help users provide their email addresses. You may be able to find more information about this and similar content at piano.io