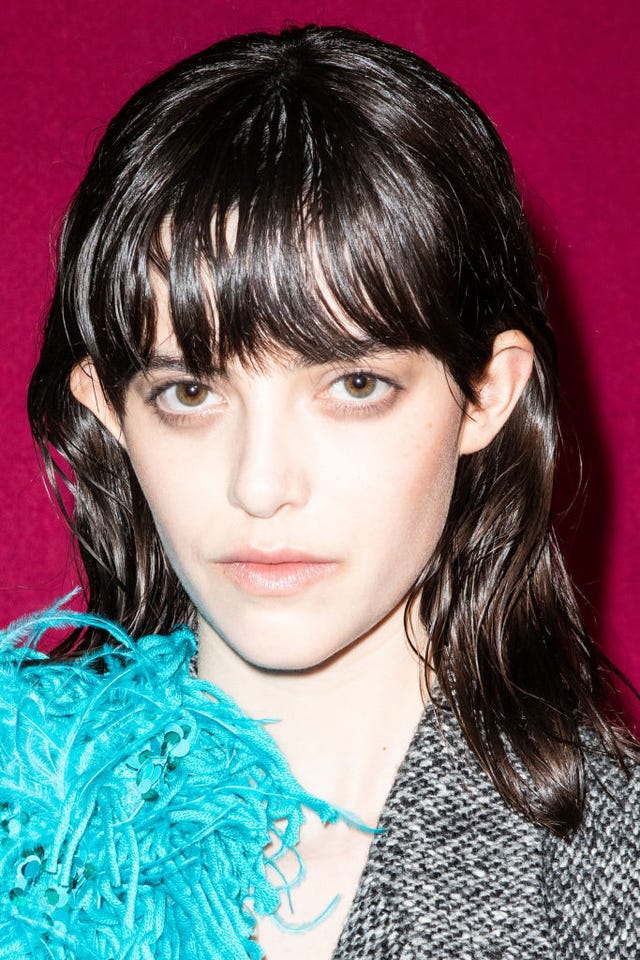 Rosdiana CiaravoloGetty Images
As the proud owner of substantially damaged hair, courtesy of a bucket-full of bleach and some nimbly-wielded hot tools, I'm always on the hunt for a treatment that will restore my locks to their virginal, damage-free state. I've come to accept that no miracle cure will zipper-up my split ends or un-fry the scorching, but that doesn't mean all hope is lost. One of the most effective treatments to repair the damage has been staring me in the face for years.
Protein treatments are everywhere, but there's a chance you may not even know you're using one. A lot of hair products that contain keratin are delivering a form of protein, which can replenish the natural protein in your hair that gets destroyed from excessive styling, coloring, and other factors. If you're curious about restoring a bit of life back into your hair, we've assembled a team of experts to walk through exactly what a protein treatment is, and how to use one.
What are protein treatments for hair?
"Our hair is naturally made up of keratin, a type of protein," says Nancy Twine, Founder & CEO of Briogeo. This protein is what forms hair and creates its structure. Think of it as a building block. "When hair is damaged, keratin leeches out, leaving hair prone to breakage," says Dr. Erin Falco, Lead Scientist at Virtue Labs. That's why hair that has been repeatedly exposed to chemicals or hot tools can start breaking or look dull. Introducing a protein replacement can fill the gaps. "Treating your hair to a naturally powerful protein treatment, like rice water, helps to replenish the hair with the vital proteins it lost while reversing this damage and strengthening your hair," says Twine.
What are the benefits of a protein treatment?
While protein treatments aren't a cure-all for intense damage, they can alleviate some of the negative effects you might be noticing. "When your hair doesn't have enough protein, your strands lose their elasticity, shine, and fullness—that's why protein-deficient hair tends to feel and look dry, brittle, and weak," says Twine. "Ultimately, protein deficiency can hinder us from achieving our healthy hair goals by causing breakage and recurring split ends. A well-balanced protein treatment that gives you a dose of strengthening protein plus a surge of moisture is best for helping make your dry, broken, weak hair stronger, longer, and healthier."
Can you over-use protein treatments?
"Some proteins can build up on hair leaving it dry and dull," says Dr. Falco. "Protein overload" happens when you consistently use protein treatments, without balancing it out with proper amounts of hydration and moisture. "Like with everything in life, a well-balanced healthy hair routine that features both protein and moisturizing treatments, depending on what your hair currently needs, is key," says Twine.
Some brands try to eliminate the possibility of "protein overload" by creating treatments that don't build up. "Virtue's Alpha Keratin 60ku is 'self-regulating' [so] it acts as a navigation system seeking out the holes of damage, filling them in, and rinsing out where not needed," says Dr. Falco.
How do you know if you need a protein treatment?
A simple strand test is often the easiest way to know if your hair is craving protein or hydration, notes Twine:
Pull out a single strand of your hair. Between two fingers, pull it tight.
If your hair stretched a bit before snapping, you are a good candidate for a protein treatment.
If your hair snapped without stretching, an intense moisturizing treatment might be a better option.
If your hair stretched and then returned to its normal shape, you have an even balance of protein and hydration.
Even people with healthy hair can still use protein treatments, says Debby Vellozi, Head of Product Development, Virtue Labs. As long as you don't overuse them. Once you're sorting out the right balance needed for your hair texture and current state, line up the perfect product to help replenish and restore your compromised hair. Here are some suggestions.
This content is created and maintained by a third party, and imported onto this page to help users provide their email addresses. You may be able to find more information about this and similar content at piano.io