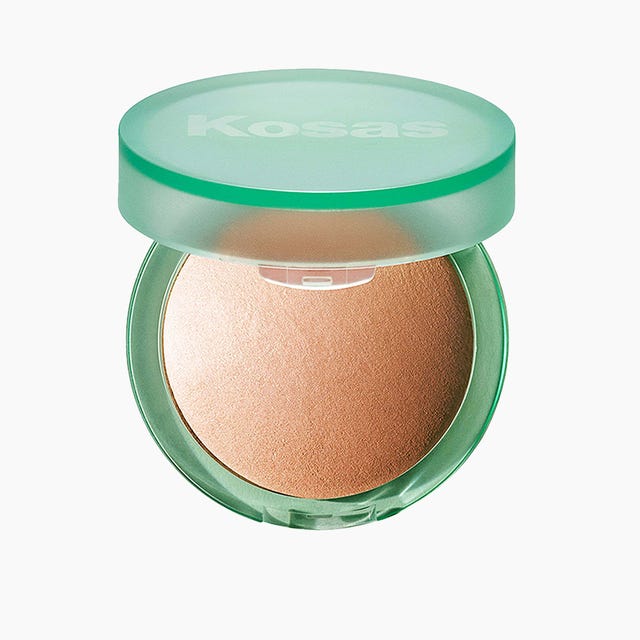 Courtesy
Memorial Day weekend has passed, you've traded your turtleneck for a bold Hawaiian T (just me?), and it's time to get ready for warm-weather makeup. That means packing on the dewy products, giving me all the glow and a touch of powder here and there to mask the fact that I'm sweating nonstop. Luckily, everyone's favorite clean beauty brand Kosas is ready to give us all our summer essentials at a discount. From June 2nd until June 9th, everything on Kosas's site is 20% off. Of course, that also includes their bundles to get markdowns on top of markdowns. There are so many wonderful products to choose from, but for now, here are the 11 Kosas products we desperately need this summer. From all-time favorites to brand-new launches, shop the Kosas sale now before everything sells out.
Advertisement – Continue Reading Below
1
Revealer Skin-Improving Foundation SPF 25
Kosas
$42 $33.60 (20% off)
A foundation that's actually good for your skin? Say no more. This product is medium coverage and will give your skin that dewy glow that we all want. Plus, it has SPF 25 and contains skin-loving ingredients like squalane and niacinamide.
Kosas
$28 $22.40 (20% off)
For a little extra coverage, join the ranks of people obsessed with this creamy concealer. A little goes a long way, and you'll be obsessed with how flawless and hydrated your skin will feel when you have this on.
3
Cloud Set Setting Powder
Kosas
$34 $27.20 (20% off)
Setting powders are summer essentials if you don't want to look like a melting wax figure, but so many powders are more cakey than cute. This baked powder expertly banishes oil and sets your base without leaving a powdery residue.
4
The Clean Start Set: Tinted Skincare Lineup
Kosas
$98 $78.40 (20% off)
If you insist on looking flawless, go the whole way and buy this set that has all of Kosas's bestselling base products at a reduced rate. Take it from me, none of these products will disappoint and they play so well together.
$26 $20.80 (20% off)
Clean mascaras get a bad rap, but if you want long, feathery lashes that won't drop mascara flakes onto your cheeks like a bread crumb trail, try out this version. It lasts all day–even through the hot, sticky summer.
Kosas
$22 $17.60 (20% off)
Bold brows are always in, and this tinted gel makes it easy to apply and impossible to mess up. Forget spending hours in front of the mirror drawing in individual hairs–this guy can do it quickly, effortlessly, and it even makes your brows more voluminous, too.
7
The Clean Start Set: Brow Team Trio
Kosas
$56 $44.80 (20% off)
If you want to insight jealousy or you're just brow obsessed, this set has all of Kosas eyebrow products for easy maintenance. With an eyebrow pencil, tinted gel, and clear gel, you're basically guaranteed to have the best brows in your group chat.
Kosas
$22 $17.60 (20% off)
Glosses and lip oils are having a moment, and this version bridges the gap between lip care and a full-on editorial moment. With hydrating ingredients like avocado oil and shea butter, a quick swipe of this product gives you that pouty '90s look we all desire.
Kosas
$34 $27.20 (20% off)
You know that tanning is bad for you, but I understand that sometimes we just need a little glow. This baked bronzer gives you that just-back-from-vacay sheen to your skin, without sunburns, UV rays, or suspicious freckles.
Kosas
$42 $33.6 0 (20% off)
For makeup minimalists, this tinted face oil will even your skin tone without you needed a foundation brush, sponge, or any other applicator other than your fingers. Just rub it in like you would your skincare, and marvel at how glowing your face suddenly becomes.
11
5 Minute Face-to-Go Kit
Kosas
$35 $28 (20% off)
If you're trekking into the office, a little daily makeup can make you feel refreshed and ready for the day. But who has the time or inclination to do a full face on a hot summer day? Instead, this set of easy, clean products can make you look wide awake and gorgeous, in just a few swipes.
This content is created and maintained by a third party, and imported onto this page to help users provide their email addresses. You may be able to find more information about this and similar content at piano.io
Advertisement – Continue Reading Below