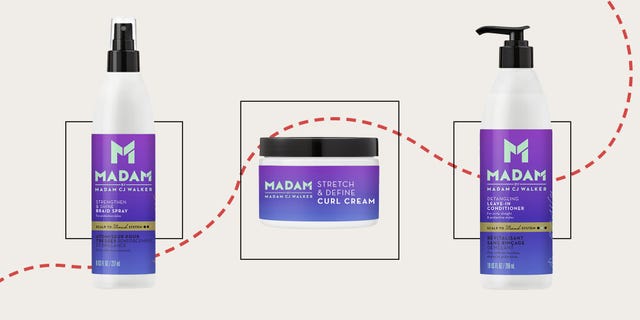 MADAM by Madam C.J. Walker
I spent most of my adult life with a mid-length to-short razor-cut bob, with and without extensions and sometimes relaxed. A few years ago, I decided that I'd not only outgrown that look, but the way I styled it, which was compromising the health of my strands. So I decided to go completely natural and embrace my thick, coily, kinky, curly, but also fine hair. I didn't do a big chop as many with natural hair tend to do; instead, I let my relaxer grow out, got haircuts as it did, and looked for gentle products to help me along the way.
Learning how to style and care for my natural hair has been a journey, partly because I'm a frequent traveler. My hair has to be ready for any condition, from dry airplane air that can leave even the most moisturized hair crying for hydration to humid, tropical weather that's a recipe for frizz. Then of course there's rain, high winds, and everything in between.
In planning ahead for my itineraries, I've learned how important it is to have versatile products in my arsenal that help me achieve various looks without causing damage. A brand that fits the bill is MADAM by Madam C.J. Walker and its reparative scalp-to-strand hair care system. Here's how I styled my hair on my most recent trips and the products I packed that really helped.
The Destination: Costa Rica
The Look: Protective Braids
Preparing my hair for the heat and humidity of Costa Rica was a challenge. The country is known for beautiful beaches, tropical birds, and monkeys—but also the fact that it rains at some point nearly every day. That's why before the trip, I went to a local braiding shop and opted for protective plaits. I'm so glad I did! At almost 98% humidity, wearing my natural hair out would have been a disaster.
After each day's tour, which included birdwatching, boating, and visiting botanical gardens, I would give my scalp a quick refresh (try the MADAM by Madam C.J. Walker Wonderful Hair & Scalp Balm-to-Oil or Healthy Scalp Treatment that help protect and moisturize the area) then spritz the MADAM by Madam C.J. Walker Strengthen & Shine Braid Hair Spray from crown to ends. The formula gave my braids just enough sheen, kept my scalp moisturized, and helped with flyaways.
The Destination: Lima, Peru
The Look: Shiny, Elongated Curls
To get to Machu Picchu, I had to fly into Lima, Peru. The city has windy, arid, salty air that can dehydrate even the most moisturized hair. To manage that, my routine began by washing and conditioning and applying a curl cream (like the MADAM by Madam C.J. Walker Stretch & Define Curl Cream) to help accentuate my coils. I gently stretched my curls to elongate my strands and then finished with the MADAM by Madam C.J. Walker Split End Smoothing Serum. It helps refresh and add shine to frazzled, wind-blown hair.
The Destination: Montego Bay, Jamaica
The Look: Sleek Updo
With Montego Bay's yearly average temperature hovering around 80 degrees, it's important to keep your cool. Opting for an easy updo is a great way to do it. After shampooing, I applied a generous amount of MADAM by Madam C.J. Walker Detangling Leave-In Conditioner and worked it through my damp hair to loosen any tangles before pulling my hair into a bun. For a more sleek dinner-do, I added the MADAM by Madam C.J. Walker Humidity Shield Styling Gel to my damp hair in sections. I like that the gel provides both hold and flexibility so I'm able to manipulate my hair into a slicked-back updo without flaking, a crispy finish or frizz.
The Destination: Paris, France
The Look: Natural Curls
Since Paris has mild temperatures and just a bit of humidity in the spring, I decided to wear my hair in its natural curly, kinky state. The night before flying, I started my hair travel routine with the MADAM by Madam C.J. Walker Revive & Reset Sulfate-Free Shampoo and Instant Repair Deep Conditioner. Just like it's important to add extra moisturizer to your face before flying, it's key to give natural hair a hydration boost to help prevent breakage before a long and dry flight. The moisture also helps prevent frizz and keeps curls defined.
This content is created and maintained by a third party, and imported onto this page to help users provide their email addresses. You may be able to find more information about this and similar content at piano.io