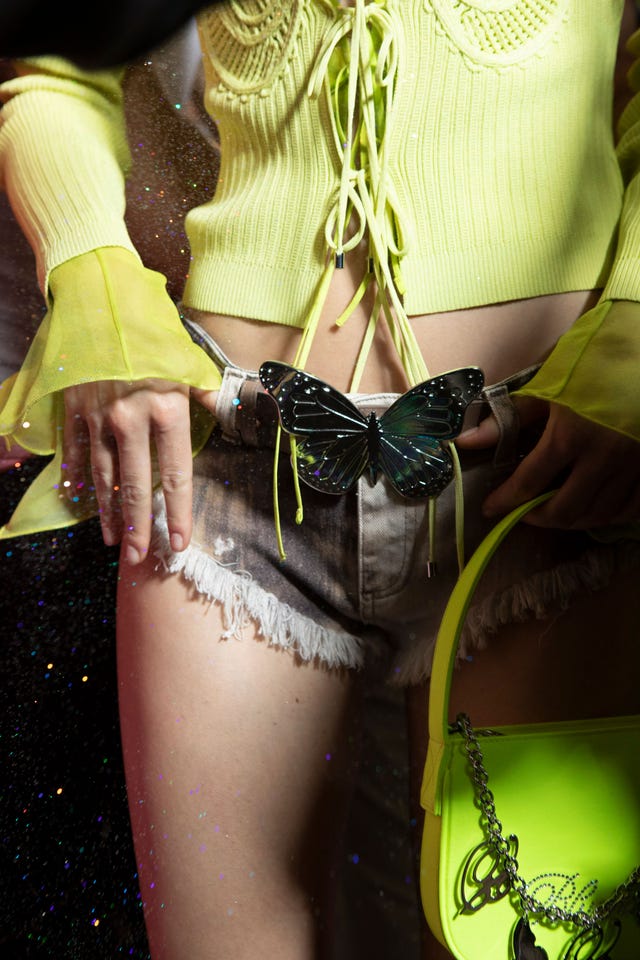 IVAN LATTUADA/Courtesy of the designer
Miu Miu's model army marching down the runway in cropped sweaters and low-slung miniskirts. Emily Ratajkowski showing off abdominal acreage at the most recent CFDA Fashion Awards. Julia Fox flaunting her midriff as openly as she does her love life. These are the moments that strike fear in the heart of any '90s kid. When early-aughts trends found their way back into the limelight, those of us who experienced them the first time around were understandably wary of low-rise anything coming back into style. But spring 2022 brought an onrush of exposed hipbones and lower midriffs from Blumarine, Balmain, and more. Even Molly Goddard, beloved for her princessy frocks, had low-rise denim in the mix.
Perhaps what we're seeing is the inevitable cresting of the body-con wave. "Coming out of the pandemic, everyone is dressing to get laid," says designer and social media consultant Chelsea Fairless, a co-creator of the Every Outfit on Sex and the City Instagram account and podcast. While Carrie Bradshaw's perilously low-slung Prada skirt was once the Platonic ideal of the style, it wasn't a beacon of sex appeal. We might say, " 'Wow, that is the most-toned stomach I have ever seen in my life,' " Fairless points out, but "there is not a lot of erotic cachet tied to it."
Low-Rise 1.0 insisted on the labor inherent in "achieving" the perfect six-pack (think Britney Spears's 1,000 crunches per day); the 2.0 version is, mercifully, more body-positive, not to mention a whole lot sexier. Instead of obsessing over a given body part's "perfection," we're putting it all out there, treating it as just another erogenous zone on the menu. And though '00s fashion advice often steered curvy women toward a limited number of silhouettes deemed flattering, these days TikTokers of all sizes proudly flaunt their stomachs.
Younger millennials and Gen Zers are looking at the trend with fresh eyes, whether it's Euphoria's Alexa Demie and Sydney Sweeney in belly-baring crop top pantsuits or Bella Hadid dodging the paparazzi in torso-skimming cargoes. ELLE beauty editor Margaux Anbouba is among that cohort. "I entered tweendom at the peak of the low-rise pants era," she recalls, "but my conservative Syrian dad was firmly against pants that started below my belly button." The revival feels "almost like I can live out cool-girl fashion in an era when I'm totally in charge of my own closet." While she initially assumed the silhouette wasn't for her ("I don't have much of a torso, and I'm very hourglass-shaped"), she found that "when the front is tailored in a V shape, I actually really love the way it looks"—citing Cher, Paris Hilton, Spears performing at the 2001 Super Bowl, and a more left-field inspiration: outfits Christina Applegate wore in the cult rom-com The Sweetest Thing. She even bought a pair of vintage silver pants and had them tailored to channel Spears's look.
While Fairless sees a lot of labels that "only make sense on Dua Lipa," there is, mercifully, a range of options. Throw a filmy dress over your jeans, like Goddard's models, or pair your abbreviated skirt with a business-casual sweater, Miu Miu–style. As temperatures rise this season, we can all be the 2001-era Britneys we want to see in the world.
This article appears in the April 2022 issue of ELLE.
This content is created and maintained by a third party, and imported onto this page to help users provide their email addresses. You may be able to find more information about this and similar content at piano.io