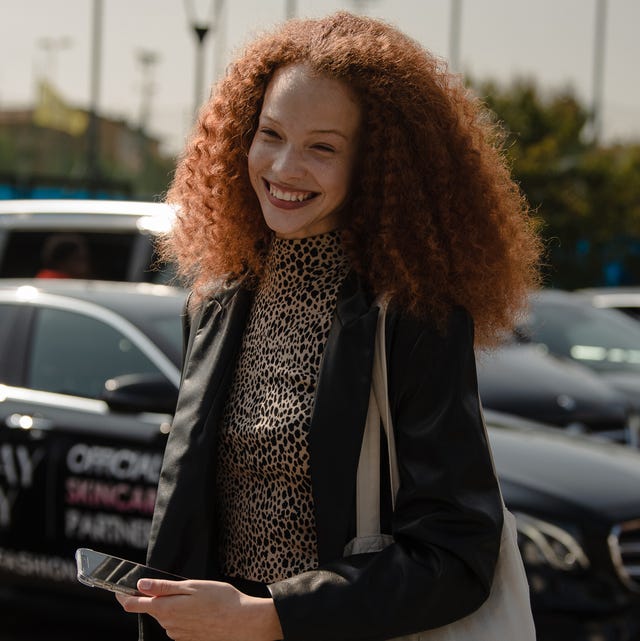 Tyler Joe
Hair is likely the most overworked yet under-appreciated part of our body. Like your skin, you put your hair through a lot to achieve your desired look: constant heat, protective styles, and various products. Not to mention all the sporadic hair dyeing and chops/trims you likely gave yourself during lockdown. Simply put, we owe our hair a lot. But how much TLC are you giving your hair in return? Shampooing and conditioning your hair is just scratching the surface of what your hair really needs. Enter: leave-in conditioners.
After cleansing and conditioning your hair, leave-in treatment is the next product in the lineup that serves many purposes, from detangling hair with ease to adding an extra burst of hydration after constant manipulation to creating a barrier to avoid any damage from heat styling. When used with other styling agents like gels or butters, leave-in works hand-in-hand with the other products to deliver beautiful results that allow your hair to flourish.
Many people sleep on the power of leave-in conditioners, but here are 20 reasons why you shouldn't. From celebrity hairstylist-approved picks to drugstore holy grails, scroll down to match with your perfect leave-in conditioner.
Advertisement – Continue Reading Below
1
Best All-In-One
All In One Leave in Conditioner
Fragrance can be overpowering
Built around Morocconoil's star ingredient, argan oil, this leave-in conditioner fortifies weakened strands, protects against heat, and hydrates.
2
Best Quick Fix
Frizz-Free + Shea Butter Leave-in Conditioning Mist
A leave-in conditioner in the form of a mist makes wash-day more manageable and less time-consuming. Besides the intoxicating smell, the leave-in mist keeps frizz at bay so your curls can shine.
3
Best for Everyday Health
Detangling Leave-In Conditioner
MADAM by Madam C.J. Walker
Easily combs through hair
While every product in the line promotes healthy scalp care, this leave-in, in particular, focuses on building up the hair's barrier to protect it from damage and any other stressors that can impede your hair's progress.
4
Best for Moisture
Honey Infused Leave-In Conditioner
With honey as the main ingredient, you know you're getting moisture, hydration, and strength all in one bottle.
5
Best for Protective Styles
Protective Styles Moisturizing & Strengthening Leave-in Conditioner with Biotin
Whether you're about to install a protective style or you're taking down an old one, reach for Taliah Waajid's leave-in treatment, formulated with coconut milk, aloe, biotin, and more to keep your hair resilient no matter what style you put it in.
6
Best For Strengthening
Daily Leave In
The best part of this leave-in is the spray applicator. Refresh your hair mess-free with this treatment, which is formulated with biotin and sunflower seed oil for strength.
7
Best For Salon Results
Nutritive Blow-Dry Primer for Dry Hair
Usually, leave-in conditioners are reserved for your hair after styling. However, Kérastase's leave-in treatment is meant to be used before applying heat, as it doubles as a moisturizing leave-in and a heat protectant.
8
Best For Wash Day
Leave-In Conditioner
Pattern Beauty's leave-in conditioner is a wash-day savior. When you need to smooth any knots or tangles, this product has just enough slip to glide effortlessly through your strands and leave your hair soft, luscious, and bouncy.
9
Best Drugstore
Elvive Dream Lengths Heat Protection Leave-in Conditioner
Split ends and breakage often mean it's time for a cut. Thankfully, L'Oreal created a nourishing cocktail of oils and vitamins to repair damage to avoid a massive haircut.
10
Best Splurge
Gold Lust Nourishing Hair Oil
If you need a leave-in conditioner that's insanely nourishing and treats damaged hair, try Oribe's Gold Lust Nourishing Oil. "This is a treatment for dry or damaged hair," says celebrity stylist Charles McNair. "It can be used as an overnight treatment, applied before a blowdry or even after to add some shine to the hair."
11
Best For Taming Frizz
Farewell Frizz Rosarco Milk Leave In Conditioning Spray
Briogeo's Farewell Frizz stands out from the rest thanks to its spray bottle applicator. No more messy wash days, just spray the product throughout your hair and watch your hair flourish.
12
Best For Humidity
No Frizz Leave-in Conditioner
"This lightweight conditioner is perfect for all hair types and is great to keep hair bouncy and moving even on the most humid days," says Tracee Ellis Ross' hairdresser Yene Dametew.
13
Best For Thirsty Curls
Thirsty Kurls Leave-in Conditioner
The Kurlee Belle Leave-In Conditioner gives your hair the same relief drinking water on a sweltering hot summer day gives. Because it has such great slip, your thirsty coils will be more manageable to manipulate and softer than ever.
14
Best For Detangling
Leave In Conditioner/Detangler
This miracle product transforms limp, dull hair with African medicinal herbs and essential oils to strengthen and hydrate your hair.
15
Best For Curls
Pomegranate & Honey Leave In Conditioner
Mielle Organic's cult-favorite leave-in conditioner is the reliable product your hair can always count on. Dry ends? Frizzy hair? Shapeless curls? Babassu oil, honey, and a slew of other natural ingredients work together to fight damage.
16
Best For Weightless Feel
Whole Blends Leave-In Conditioner Legendary Olive
Who says you can't find fantastic hair products at the drugstore? Hairstylist Tommy Buckett's favorite leave-in conditioner is Garnier's Whole Blends Replenishing Legendary Olive Conditioner. "I love Garnier's Whole Blends Replenishing Legendary Olive Conditioner because it's lightweight and can be used as a styling product, plus it adds major shine."
17
Best For Heat Protection
it's a 10 miracle leave-in product
A staple in every hair stylist's bag, the it's a 10 miracle leave-in does exactly what the name suggests—works miracles. The multipurpose product moisturizes and protects the hair, especially before heat styling. The spray also adds sheen without weighing the hair down.
18
Best For Intense Moisture
25 Miracle Milk Leave-In Conditioner
Need some serious hair TLC? Then Mizani's 25 Miracle Milk Leave-In Treatment is a must. According to celebrity hairstylist Mann Nance, this product is nothing short of a miracle. "Not only does it condition hair, but it also provides 25 useful benefits such as improved moisture, strength, and overall hair health. It's also a wonderful primer that preps hair for various styles."
19
Best For Frizz Prevention
Detangling and Frizz Fighting Leave in Conditioner
This leave-in is infused with thermal protection to fight frizz and tame flyaways. But it's the smell that really pulls you in, leaving your hair smelling like a bed of roses.
20
Best For Detangling
Leave-In Conditioner
Don't you love a product that makes detangling easier? Vernon Francois' leave-in is formulated with African tulip tree extracts and amino acids to define curls, tame frizz, and nourish strands with just a few spritzes.
This content is created and maintained by a third party, and imported onto this page to help users provide their email addresses. You may be able to find more information about this and similar content at piano.io
Advertisement – Continue Reading Below