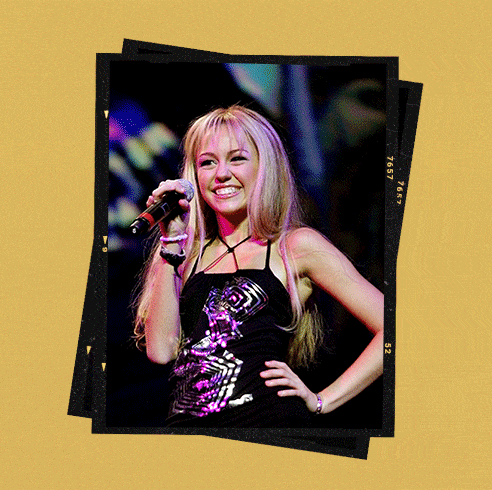 Courtesy
Millennials have grown up alongside Miley Cyrus. We first met her as Disney Channel's undercover popstar Hannah Montana in 2006. Since then, she's shed the blunt-banged blonde wig and fully grown into Miley—she's an animal lover, founder of The Happy Hippie Foundation, and continuing to make music on her own terms. She also joined Hims & Hers as a creative advisor for the skincare arm of the brand this year.
"My relationship with my skin has come a long way," says Cyrus, who looked back at some of her best beauty looks over the years with ELLE. "I struggled with acne, triggered by juggling school, work, filming, not to mention all the stage makeup, when I was younger. I finally realized that something that works for someone else might not work for me, so I saw a dermatologist and learned that there isn't a one-size-fits-all solution to skincare. It was because of these experiences that I became obsessed with Hers and their approach to providing easy access to personalized care—no matter where you are on your skincare journey."
Now, she's on a regimented skincare plan (which includes Hers Rx Acne Cream) and says, "I basically have it down to a science these days." Another important focus for Cyrus is her mental health. "Taking care of yourself from the inside out is so important. Your beauty routine is a form of self-love because it means you're taking time out of your day to check in with yourself, mentally and physically."
Below, Cyrus' shares the behind the scenes of her best beauty moments.
Advertisement – Continue Reading Below
The Hannah Montana Concert, 2006
"I learned about routine and dedication when it comes to skincare while on set of Hannah Montana. It's so important to keep up with a consistent skincare routine, and to be dedicated in order to get the results you want.
Wearing a wig on set taught me to respect drag queens at a very young age! The art of creating a glamorous alter ego and looking at wigs costuming and make up as more than just self-decoration, but also armor."
"I did my own space buns for this show. I loved the way my hair looks like antennas, which was perfect because the performance was supposed to be out of this world!"
"I was channeling Elvis Presley with this look. I love the way he represents sexuality and rock 'n' roll! I wanted to do something classic that represented my record "Younger Now," which had a lot of classic country influences."
"My shag cut is inspired by the '60s & '70s punk princesses. Tom Ford is always so sleek and chic, so I want to make him proud when I am representing him. My favorite products to take care of my hair are clear oils and purple shampoo, which keeps my color on the cooler side!"
This content is created and maintained by a third party, and imported onto this page to help users provide their email addresses. You may be able to find more information about this and similar content at piano.io
Advertisement – Continue Reading Below