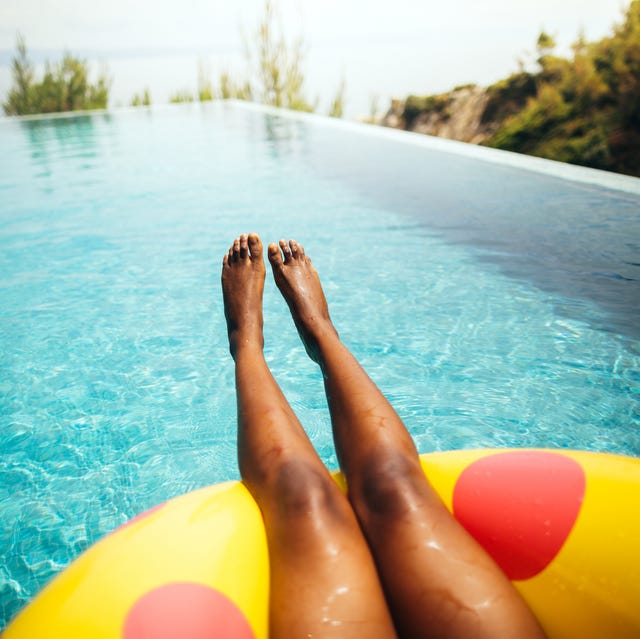 AleksandarNakicGetty Images
I won't lie to you: I've taken numerous trips to salon for in-office hair removal, from sugaring to waxing, but I always return to my first true love, depilatory creams. Depilatory creams, aka hair removal creams, come in a lotion-like consistency that you can glide on your legs, armpits, and in some cases, your face, to remove unwanted hair. It breaks down the hair cuticle to completely remove it from the surface quickly. Best of all? It's painless.
Oh, and the options are endless. Want to remove hair without disrupting your shower time? What about that embarrassing patch of peach fuzz that you want gone before an important event or date? All of these and more are possible with my favorite picks, ahead.
Advertisement – Continue Reading Below
1
Best Overall
Nair Cocoa Butter Hair Remover Lotion
Ingredients include cocoa butter and vitamin E
Can get chemical burns if you leave on too long
It's unreal how silky-smooth your legs feel immediately after wiping this cream off, thanks to its nourishing addition of cocoa butter and vitamin E that works in as little as three minutes.
2
The Time-Saver
In Shower Botanic Inspirations Legs and Body Hair Removal Cream
Cut your shower routine in half with Veet's In-Shower cream, which uses naturally-sourced aloe vera to soothe the skin while the cream works its magic.
3
Best For Sensitive Skin
Shower Power Sensitive Formula Hair Removal Cream with Coconut Oil and Vitamin E
For extremely sensitive skin, Nair developed a cream infused with natural coconut oil and vitamin E that absorbs into the skin without leaving it irritated.
4
The Peach Fuzz Fighter
Hair Remover Kit
Moisturizing lotion is soothing
Perfect for travel, Sally Hansen's Hair Remover Kit gets rid of even the most stubborn facial hair with just two easy steps.
5
The Mutli-Tasker
Brighten & Smooth Leg Mask
100% natural clay and charcoal
Our legs are probably the most overlooked part of our body because it's usually hidden under layers of clothes, but with summer approaching, they now need all the love they can get. Enter Nair's 3-in-1 Leg Mask. This clay mixture is literally a mask for your legs; it minimizes hair regrowth, moisturizes, and removes hair at the same time.
6
Travel Size
Bikini Zone Hair Removal Treatment Kit
Lasts longer than shaving
Does not work for all hair types
We get it, you're busy. Bikini Zone gets it, too. They created this travel-size hair removal treatment kit containing a formula that can gently remove your hair in 4 minutes and a hair growth inhibitor to reduce the growth rate of hair.
7
Salon Quality
Hair Removal Cream
With aloe vera and vitamin E, this foam formula will painlessly remove hair and leave you with smooth, moisturized skin.
8
Let's Face It
Nad's Facial Hair Removal Cream for Painless Hair Removal
Not great for stubborn hair
Let's face it: you want to ensure that any hair removal cream you use for your face, you want to ensure it won't irritate your skin as it's more sensitive in comparison to your legs. This formula is gentle enough to prevent aggravation while still getting the job done.
9
Great For Beginners
Nair Bladeless Shave Whipped Créme
Luxurious whipped créme formula
Not the most pleasant smell
New to hair removal cream? Opt for Nair's Bladless Shave, this formula looks and feels just like shaving cream and gives the same results of shaving sans razor!
10
Best For Thick Hair
Neomen Hair Removal Cream
Aggressively shaving your legs can lead to hyperpigmentation in sensitive skin or if you shave too frequently. Fight discoloration and remove unwanted hair with Heomen Hair Removal Cream. Containing aloe vera and Vitamin E, this powerful combo will moisturize your skin while combatting hyperpigmentation.
11
Best For Multipurpose Hair Removal
Wax Ready Strips, Face and Bikini Hair Removal Wax Strips, 40 Count
Not great for sensitive skin
Hair removal can be sticky and complicated but these Nair Wax Ready Strips make hair removal so fast and easy. If you want one product that can do it all, these are great for both the face and the bikini area.
12
Best Vegan Formula
Women's Body Hair Removal Cream
Doesn't smell as great as advertised
This is the formula for you if you want a hair removal cream that doesn't test on animals and will remove hair easily.
This content is created and maintained by a third party, and imported onto this page to help users provide their email addresses. You may be able to find more information about this and similar content at piano.io
Advertisement – Continue Reading Below