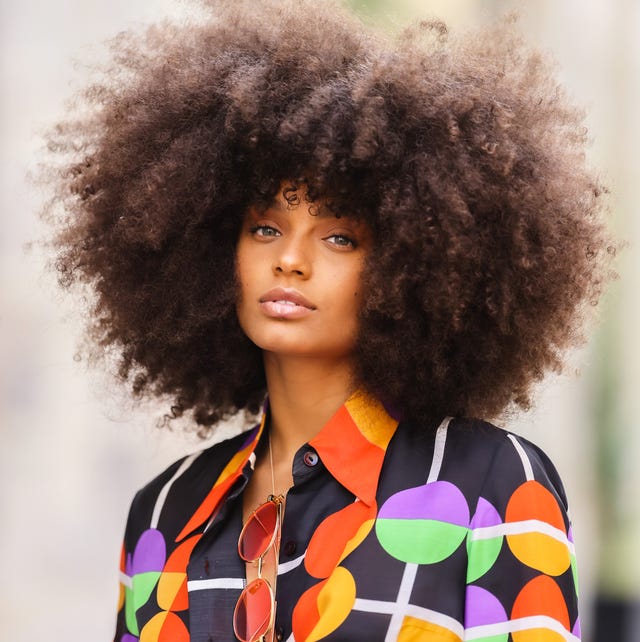 Edward BerthelotGetty Images
Dry hair can lead to so many difficulties, like frizz, breakage, and plenty of split-ends. While we have hair oils, masks, and leave-in treatments that can alleviate and treat many of these issues, sometimes the simplest solution is best. When our face feels dry, we apply moisturizer. Why don't we do the same for our hair?
Whether it's labeled as a moisturizer or a leave-in conditioner, it's a holy grail product that rehydrates and shields your hair from the brisk winds, rough towels, harsh ingredients, and touchy-feely hands it encounters daily (cue: Solange). Protect your hair against these terrors with the 10 best moisturizers ever, below.
Advertisement – Continue Reading Below
Best For Beginners
Gold Series Pro-V Hydrating Butter Cream
A little goes a long way with this thick cream from Pantene's Gold Series. The butter-soft blend melts into the shaft for manageable and soft hair.
Best For Curly Hair
Shea Yogurt Moisturizer
Not recommended for fine hair
All of your favorite hair care ingredients—shea butter, sweet almond oil, argan oil, coconut oil and more—are blended to perfection and topped off with a yummy, citrus scent.
Best For Very Dry Hair
Double Butter Rich Daily Moisturizer
As I Am's Coconut CoWash is every naturalista's holy grail but the DoubleButter Cream is coming for the top spot. Enriched with the finest butters (shea and cocoa) and a slew of essential oils, this blend helps to retain moisture and leaves hair soft for days.
Best For A Budget
Shea Butter & Pure Coconut Oil Leave-In Conditioner
Suave Professionals collaborated with over 5,000 women to deliver a moisture-rich collection for women with natural curls, coils, and waves. The Nourish and Strengthen Leave-In Conditioner feels like butter when applied to hair. Thanks to its star ingredient, shea butter, the deeply nourishing formula leaves hair smooth from root to tip.
Best Multi-Use Hydrator
Retention/Strength Dual Treatment
We love a multi-use product! This treatment can be used as a detangler, conditioner, or leave-in hair mask. Hydrating coconut milk and avocado de-frizz curls and restore moisture for extra bounce.
Best For An Investment
Leave-In Conditioner
Not great for tight, kinky, coils
You can trust Tracee Ellis Ross's Pattern Beauty to deliver the softest, most hydrated curls. Bonus points for the delicious jasmine, bergamot, and sandalwood scent.
Best For Fine Hair
Rosarco Milk Reparative Leave-In Conditioning Spray
Spritz on this lightweight conditioning spray made with rosehip, argan, and coconut oils to eliminate frizz and detangle coils.
Best For Color-Treated Hair
Jamaican Black Castor Oil Strengthen & Restore Leave-In Conditioner
Jamaican black castor oil is the star of this intensely nourishing leave-in conditioner, formulated to revive color-treated and permed hair.
Best For Adding Volume
Baomint Moisturizing Curl Defining Cream
Customize your curls thanks to the buildable formula found in Adwoa's curl cream. Apply the product based your hair's density and desired volume.
Best For Curl Definition
Curlaide Moisture Butter
May not be suited for fine hair
Packed with natural ingredients like green tea, organic rice milk, and jojoba oil, this moisture butter smooths and softens hair for pillow-soft curls.
What kinds of products can you use to moisturize dry hair?
"There are so many products you can use to moisturize hair, depending on your exact needs," says Eisenlohr. "Masks, leave-in conditioners, heat protectors, oils, and creams are all great. But you really shouldn't settle for one moisturizing product and hope that does the trick. You really need a combo starting from inside the shower all the way through heat styling and finishing products. If your hair is truly dry and in need of serious help, you need to take a look at all your products and involve several steps to further moisturize your hair."
What causes dry hair?
"Dry hair can be a result of your natural hair texture," says Eisenlohr. "Curly hair is, of course, at the top of the list for being dryer from the get-go. But also fine color-treated hair is always going to be in need of some regular moisturizing as it is weakened easily even by everyday wear and tear. Your hair type will play a big role in dryness, with types 3 and 4 (very curly hair) taking the lead. Because the follicle doesn't lay flat, it's prone to breakage and dryness more than other types."
This content is created and maintained by a third party, and imported onto this page to help users provide their email addresses. You may be able to find more information about this and similar content at piano.io
Advertisement – Continue Reading Below