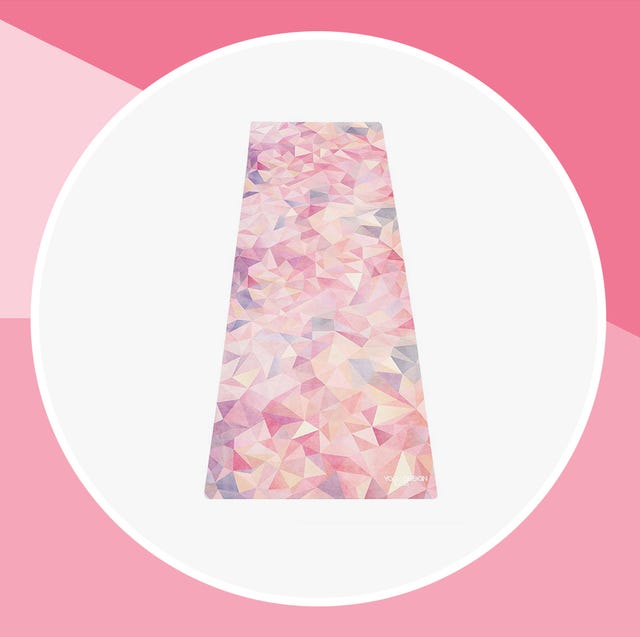 Amazon
A yoga mat is a yoga mat is a yoga mat, right? Not quite. While all yoga mats look the same, there are some important factors to consider when shopping for the right mat for you and your practice: grip, cushion, material, and weight. Read on for the best yoga mats to shop right now.
Advertisement – Continue Reading Below
1
Best for Newbies
Healthyoga Yoga Mat
Best for yoga beginners, this eco-friendly yoga mat has alignment lines on the top layer to help you make proper adjustments with your hands and feet as you're moving through poses. The double layer also provides grip so you don't slip and are able to maintain balance. We love that it also comes with a velcro strap so you can carry it with you wherever you go.
2
Top Pick
Manduka EKO Superlite Yoga Travel Mat
When we asked about the best lightweight yoga mat, yoga teachers kept coming back to one mat in particular: the Manduka eKO LITE. While it isn't super heavy, it has enough weight to keep it in place during your practice. And it only gets better with use. It's also lightweight enough (5.1 pounds) that Alicia Hansen, a Cleveland-based yoga teacher, likes to take it on the road. "I've put it in my checked luggage for a cross-country trip, unfolded it and it settles back out in no time. It's also one of the more affordable Manduka options, which my wallet appreciates too."
3
Best Non-Slip
B Yoga The B Strong Yoga Mat
This anti-microbial, ultra-thick rubber mat gets rave reviews for its sturdiness: because it's made for high-intensity workouts, it has a great grip and is non-slip. Pro tip: Roll the mat with the logo side facing out when you're done to maintain its grippiness.
4
Most Luxurious
Manduka PRO Yoga and Pilates Mat
Most pros agree that if you're going to invest in a yoga mat, invest in the Manduka PRO, which has been dubbed the Cadillac of yoga mats. It's super cushioned and easy-to-clean (and quick dry) too. "The closed-cell surface is designed to prevent dirt and sweat from absorbing, which can lead to funky smells over time," says Quinn Suplina. Plus, Manduka offers a lifetime guarantee.
5
Best For Hot Yoga
Lululemon The Mat 5mm
When you practice hot yoga, you need a mat that not only supports your body, but can also handle a sweat-drenched practice. Say hello to The Mat from Lululemon. A textured top layer absorbs moisture to help sturdy your grip during sweaty practices while an antimicrobial additive helps prevent mold and mildew on the mat. It also gets a thumbs-up for its velvety feel and gorgeous designs.
6
Best For Travel
Jade Yoga Harmony Yoga Mat
Yoga mats aren't exactly the most travel-friendly accessory, but if you travel frequently and plan to keep up with your practice, you want a mat that you can easily take with you. Your best bet: Jade Yoga's Voyager Mat. It's only 1.7 pounds and folds into the size of a yoga block. "This mat is incredibly compact, yet durable with a great grip. I fold it to fit into my backpack or suitcase and it never creases," says Sara Clark, a YogaGlo instructor and mindfulness coach. Plus, Jade Yoga plants a tree for every mat sold.
7
Most Stylish
Yoga Design Lab The Combo Yoga Mat
We love the bold colors and patterns on the yoga mats from Yoga Design Lab. But they don't just look stylish—they're also eco-friendly, machine-washable, and feature a mat + towel 2-in-1 design, perfect for sweaty sessions.
8
Most Cushiony
Gaiam Premium Dry-Grip Yoga Mat
If you tend to get sore hands or feet from a lack of cushioning, you'll love this super dense yoga mat. It's extra cushiony, making it ideal for handstands and balances. The stay-dry top wicks away moisture, so you won't have to worry about slipping during your hot yoga class.
9
Best Value
Gaiam Classic Print Yoga Mat
Yoga mats can get pricey, going upwards of even $100! The Medallion Yoga Mat by Gaiam is a wonderfully affordable option that yogis can get behind and trust. Feel your feet connect with the earth thanks to its 4mm-thick width, which gives you enough cushion without throwing you off center. Its double-sided texture also provides traction, so you'll be able to get into a downward-facing dog or a triangle pose without slipping.
10
Most Portable
BalanceFrom GoYoga Mat With Carrying Strap
This best-selling yoga mat on Amazon has more than 53,000 nearly perfect 5-star reviews. With a 24-inch width and a 71-inch height, this mat is perfect for people of all sizes. Plus, it's 1/2-inch thick so it provides cushion and support for those with back pain or sensitive spines, hips, knees, and elbows. Even better, it comes with an adjustable strap so you can easily travel with it or store it in a small nook for workout gear. Use it to do yoga, bodyweight exercises, Pilates, and more.
11
Most Sustainable
Gurus Eco-Friendly Cork Yoga Mat
Anyone with sweaty hands and feet can attest to slipping on a yoga mat at least once, but this Gurus travel mat is made of sustainable cork. Unlike foam mats, the cork material reacts to the sweat on your body by becoming more grippy, giving you extra traction even if you're doing an impressive handstand. And because cork is naturally antimicrobial, you won't have to clean it as much.
This content is created and maintained by a third party, and imported onto this page to help users provide their email addresses. You may be able to find more information about this and similar content at piano.io
Advertisement – Continue Reading Below