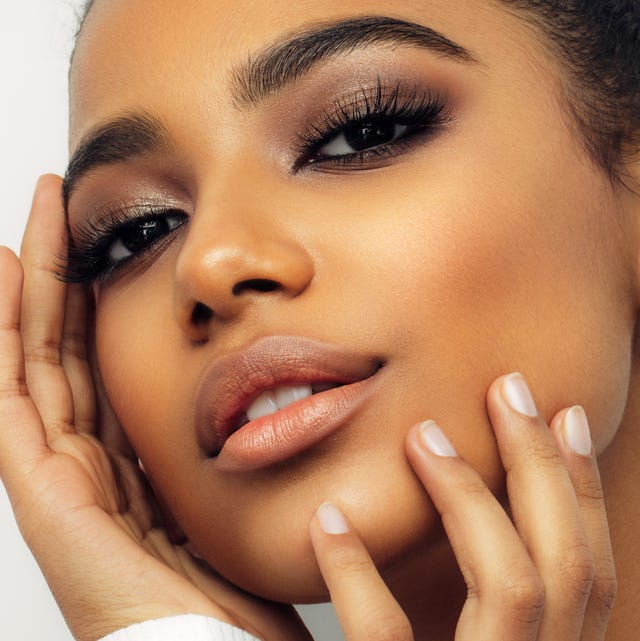 CoffeeAndMilk
If you ever stare into the abyss that is a magnified mirror, odds are you've had the horrifying thought, "Have my pores always been this big?" I would love nothing more than to magically erase my pores, but I'm sorry to tell you, that's just not possible. What is possible is to gradually shrink and minimize them, through a mixture of effective cleansing, exfoliating, and, yes, covering them. While sometimes enlarged pores are just genetic, if you've been skipping steps in your skincare routine, odds are, your pores are becoming more prominent. Clogged pores can lead to blackheads and acne, which is why it's important to stick to a routine that keeps your skin clean and soothed.
Here, find the 19 best more minimizing products on the market, from toners, masks, and blurring primers.
Advertisement – Continue Reading Below
Best For Every Skin Type
Skin Perfecting 2% BHA Liquid
Paula's number-one product worldwide is also a cult favorite. This is your miracle in a bottle if you're looking for a more even skin tone with added vibrancy. Just make sure you commit to it. A number of people report minimal results at first, but you should see a major difference with time.
Key Ingredients: Salicylic Acid (BHA) | Green Tea
Best For A Budget
Peach Sake Pore Serum
It's all about the sake! The boozy rice wine enhances circulation, tightens skin, and modulates oil production. Peach, the other standout ingredient, is rich in vitamins A and C, both of which help brighten and minimize the effects of sun damage.
Key Ingredients: Peach Fruit Extract (Organic Acids, Pectin, and Vitamins A & C) | Rice Ferment Filtrate (Sake) | Licorice Root Extract | Centella Asiatica Extract
Best For Dewy Skin
Solution Exfoliating Skin Perfector
When it comes to clearing out our pores and making them look nearly invisible, a chemical exfoliator is a must. This one is our favorite for the intensive trifecta of salicylic, glycolic, and lactic acids that works overtime to detox and tighten pores, while staying gentle enough not to cause any irritation or redness.
Key Ingredients: Salicylic Acid (BHA) | Glycolic Acid Brightening (AHA) | Lactic Acid (AHA) | Gluconolactone (PHA) | Anti-Stress Aloe
Best For Shrinking Pores
Intensive Pore Minimizing Toner
87 percent of the people who used this product noticed that their pores appeared smaller and more refined after consistent use. For best results, apply morning and night, then move on to other serums and moisturizers.
Key Ingredients: DMAE | Copper Complex | Salicylic Acid
Best For Oily Skin
Effaclar Pore-Refining Serum with Glycolic Acid
May not be suited for dry skin
Make like the French girls do and try this cult-favorite serum. The combination of AHAs, glycolic acid, and hyaluronic acid makes it great for oily skin. It not only helps with pore size but also corrects signs of aging.
Key Ingredients: Glycolic Acid | Hyaluronic Acid (HA) | Lipo-Hydroxy Acid | La Roche-Posay Thermal Spring Water
Best For Fine Lines
Pore + Wrinkle Perfecting Serum
May not be suited for sensitive skin
Shrink pores with a powerful blend of glycolic, salicylic, and lactic acid.

Key Ingredients: Lactic Acid (AHA) | Glycolic Acid (AHA) | Salicylic Acid (BHA) | Niacinamide (Vitamin B3) | Allantoin
Best For Even Skin
Facial Treatment Clear Lotion Toner
We love an all-around product. This toner will minimize pores while improving skin texture and encouraging cell renewal. Formulated with alpha-hydroxy acids, which gently remove dead skin cells, unclog pores, and reduce the appearance of fine lines.
Key Ingredients: Pitera™ | Alpha-hydroxy acid | Salicylic Acid
Best For Sagging Skin
Precision Lifting & Pore-Tightening Concentrate
A concentrate with yeast extract and geranium will tighten skin for a lifted appearance.
Key Ingredients: Micro-filtered yeast extract | Geranium Essential Oil | Salicylic Acid
Best For A Matte Finish
Pores No More Pore Refiner Primer
May not be suited for dry skin
Keep your makeup in place with this two-in-one pore refining primer that mattifies the skin, and creates a smooth canvas.
Key Ingredients: Oil-Absorbing Spheres | Red Clover Flower Extract | Derivative of Salicylic Acid
Best Pore Minimizing Mask
Rosé Resurfacing Facial Mask
May not be suited for sensitive skin
Pores are no match for the AHA and BHA found in this Insta-worthy jar.
Key Ingredients: AHA/BHA Rose Complex | Glycolic Acid | Lactic Acid | Salicylic Acid | Resveratrol | Coptis Japonica Extract
Best For A Deep Clean
AHA/BHA Exfoliating Cleanser
May not be suited for sensitive skin
Marked Amazon's Choice, this cleanser spotlights the holy grail of ingredients when it comes to cleaning out your pores.
Key Ingredients: Lactic Acid | Glycolic Acid | Citric Acid | Malic Acid | Jojoba Oil | Salicylic Acid
Best For Breakouts
DRx Blemish Solutions Acne Eliminating Gel
Eliminate breakouts and unclog pores with a powerful combination of salicylic acid, niacinamide, and monk's pepper.
Key Ingredients: Salicylic Acid | Niacinamide (B3) | Salicylic Acid | Monk's Pepper
Best Detox Mask
Charcoal Detox Mask
If your skin needs a detox, try this clarifying mask made with charcoal, argan oil, and shea better.
Key Ingredients: Activated Charcoal Powder | Argan Oil & Shea Butter | Sodium Hyaluronate | Bentonite & Kaolin Clay
Best For Smooth Skin
Resurfacing Compound
Created by blogger Tina Craig, this day and night treatment gives you smoother, tighter skin after a single application. It also helps to reduce dark spots, making it the perfect multitasker in your routine.
Key Ingredients: Antioxidants | Stabilized Vitamin C | Stabilized Vitamin E | Peptides | Stable Retinol | Hyaluronic Acids | AHAs
Best For Dull Skin
Papaya Bright Face Mask
May not be suited for extremely sensitive skin
If you live in a busy city, you probably have pollution in your pores (yuck). This mask is so clean it's edible, and so effective at detoxing your skin that you'll be obsessed.
Key Ingredients: Lucuma Fruit Powder | Papaya Fruit Extract | Sea Buckthorn Juice Powder | Marshmallow Root Extract
Best For Blackheads
Deep Cleansing Charcoal Pore Strips
May not be suited for sensitive skin
The perfect product to clear the congestion. These strips target clogged pores and draw out oil for the deepest of deep cleans.
Key Ingredients: Natural Charcoal
Best Exfoliating Wipes
Alpha Beta® Extra Strength Daily Peel
Dr. Dennis Gross Skincare
It's a favorite of Chrissy Teigan—and been a best-seller for 20 years—for a reason. The super-effective two-step acid peel is inspired by the treatment you'd get in a dermatologist's office. The pre-dosed pads have a potent mix of AHA and BHA to instantly gives you a smooth, best-skin-day-ever glow.
Key Ingredients: Glycolic Acid | Witch Hazel | Salicylic Acid | Lactic Acid | Malic Acid | Citric Acid | Ascorbic Acid
Best Oil-Control Strips
Pore Treatment Strips
May not be suited for sensitive skin
Is there anything more satisfying than peeling off a pore strip and seeing… well, you know. These active strips not only refine pores, but also help control oil production for smoother, more matte skin.
Key Ingredients: Hydrocolloid Polymer Technology | DMAE | Vitamin A
Best For A Quick Fix
Pore Perfecting Powder Foundation SPF 15
May not be suited for dry skin
This silky powder foundation leaves skin smooth and matte while instantly evening out imperfections.
Key Ingredients: Aloe | Vitamin C and E
What causes enlarged pores?
"Pores are openings in the skin that are connected to sebaceous glands (oil producing glands) and hair follicles," says Dr. Lal. "They play a major role in helping things get in and out of your skin. Depending on how oily your skin is you may have more prominent pores than others." Depending on your skin type, your pores may appear enlarged. "Pores are larger in people who make more skin oils," says Dr. Lal. "Men tend to have larger pores than women. The central face including the nose have more prominent pores. Congestion from skin products, pollutants, excess oil all make pores appear bigger."
Is it possible to shrink your pores?
"While you can't completely shrink pores, you can minimize the appearance of your pores," explains Dr. Sobel. "Over time pores can be reduced in size," says Dr. Lal.
How can you minimize the appearance of pores?
"The first thing you can do is wash your face regularly," explains Dr. Lal. "This will help decongest your pores especially if you use a cleanser with salicylic acid or benzoyl peroxide. Using a toner with witch hazel or niacinamide can also help cleanse your pores." For long-term solutions, a retinol can also help. "The best long term way to reduce pore size is by using a topical retinoid. Retinoids shrink your sebaceous glands and thereby reduce your pore size.
It's also important to consistently remove any makeup. "Removing makeup at the end of the day before washing your face is essential at preventing your pores from being clogged with oils and dirt," says Dr. Lal. "Gentle exfoliation will help remove excess oil from your pores as well. You must be consistent with your skincare."
This content is created and maintained by a third party, and imported onto this page to help users provide their email addresses. You may be able to find more information about this and similar content at piano.io
Advertisement – Continue Reading Below