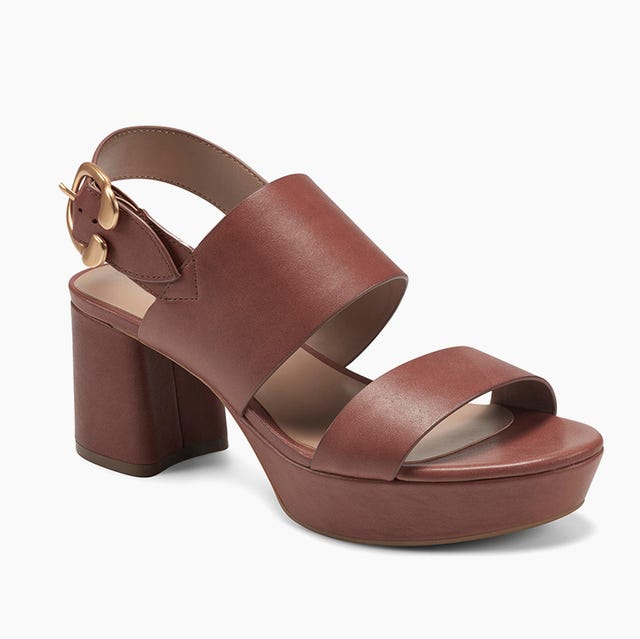 Courtesy
Our feet have been experiencing some serious high heel hibernation ever since the coronavirus pandemic hit more than two years ago. But at last, the days of night clubs and social events seem to be returning (knock on wood?), and we can finally say goodbye to the Zoom uniform of business on the top and barefoot on the bottom. While we're certainly excited to get back to our favorite platforms and pumps, our forced break from them has changed one thing—our priorities.
Comfort matters to people now more than ever, as evidenced by the rise of athleisure, matching sets, and literally any pants that aren't rigid denim. Heels aren't going anywhere, but comfort has definitely shifted to the forefront. We know "comfortable heels" sounds like a bit of an oxymoron. Even the patroness saint of pumps, Sarah Jessica Parker​, admitted that no heel will last you for hours on end. But has that ever stopped you from wearing a pair of strappy stilettos to a swanky party? Our guess is no. With that in mind, we spoke to celebrity podiatrist Dr. Suzanne Levine, DPM about what makes a comfortable high heel, from heights to materials. We also got her insight on bunions and the importance of stretching your feet. Lucky for us, Levine is a heel lover herself and doesn't discourage them. On the contrary, she enables us: "High heel shoes are not good for you, but we love them anyway."
All feet are different. You should try on each shoe, walk around in them, and make sure they are comfortable for your own feet. The key is moderation, and alternating heel heights depending on your activity. For standing up to eight hours, your ideal heel height should stay at two inches; increase the height, and you limit the time you can spend on your feet. "It's like having your cake, but not making it a daily activity," says Levine. "It doesn't have to be done every day or in excess, but there is nothing wrong with wearing a fabulous pair of heels." Amen to that.
Our edit ahead includes tips for finding the best heels that will last you all night (or until that acceptable hour when every woman removes their heels on the dance floor). Read on for more intel from the pro, along with ELLE editors' personal favorite heels that strike the balance between style and comfort, below.
Advertisement – Continue Reading Below
If height is what you're after, platforms should be your best friend. They allow you to stand much higher for extended periods of time due to the chunkier heel and thick support throughout the forefoot. The gradual arch can be more comfortable despite standing five inches off the floor. These gold platforms are a '70s classic and will be your go-to shoe year-round. Wear them with tights for a winter wedding then go bare with a springtime dress.
After 30 years of practice, Levine is finding that bunions are genetic. "High heel shoes do not cause bunions," she says. "You're getting the bunion no matter what—aggravating the bunion is another thing." Look for a deeper, wider toe box to accommodate the foot, and avoid putting pressure on the widest area where shoes can irritate bunions or cause ingrown toenails. These Suzanne Rae shoes offer a great solution, plus the brand is rooted in environmental responsibility.
Bette Suede Pointed-Toe Ankle Booties
Boots give a sense of security because your foot and ankle are fully enclosed. These are made of a soft suede leather and can be dressed up with a skirt or dressed down with jeans.
You know what they say: everything in moderation. That also applies to the coveted pair of four-inch stilettos your heart desires. "If women take care of themselves, they can wear high-heels," Levine says. "I think it's important for women to wear what they'd like to wear, even if it's for a short period of time."
Remember to stretch and exercise your feet, use creams, and take breaks. It is helpful to buy over-the-counter metatarsal pads for the balls of your feet for added cushion. "My patients don't give [heels] up, but you have to do something to counteract them."
Maryna Off White Pointed-Toe Mules
ELLE.com's news and strategy editor, Alyssa Bailey, loves how these block heels maintain comfortability as she transitions them from day to night. "I've been wearing these Lulus ones for a while now… They don't break the bank, but they're great for walking around the office—even walking to dinner after—and look really chic."
Loafers typically have a wider and deeper toe box. The platform on this Jeffrey Campbell pair makes them look more dramatic than they feel.
"Don't go cheap," Levine says. "I've seen shoes that go for $25 with wooden or hard plastic bottoms—they're not good for your feet." Rubber or leather soles are best to absorb the shock and weight of your body as you walk. Don't confuse affordable for cheap, though. These are made with rubber soles and have earned the stamp of approval from ELLE's deputy editor Kayla Adler.
The Italian Leather Day Heel
Everlane's heels are chic, sustainably made with quality materials, and the perfect height for everyday wear.
Transparent Heeled Sandal
"Legs instantly look miles longer in these invisible heels," says ELLE beauty editor Margaux Anbouba. "Other reasons you need to own a pair: they match with everything, add a touch of edge to every outfit, and the padded base and lucite block heel make the fit so comfortable that I've bounced up subway steps super late to a date with no problem." Consider us convinced.
Infatuation Platform Calf Boots
This pair is Meg's favorite. "They're affordable and I'm pretty sure I could walk for miles in them—seriously," she says. "Plus, I feel like a Bratz doll when I wear them, and that's really the fantasy, isn't it?"
ELLE.com deputy editor Claire Stern calls these strappy platforms a personal favorite and with good reason. Breathable materials like natural leathers that will give is important to achieving comfort. Cushioning on the foot bed, especially on the ball of the forefoot, will allow you to stay on your feet longer. These are made of real leather and have an insole lined with memory foam.
"Some people actually do better with a heel if you have a high arch to begin with," says Levine. "Your foot is almost meant to be in a heel if you think of a Cinderella foot." Blessed with high arches? Avoid super flat shoes, but don't go crazy with stilettos every day. Enjoy wearing heels and be sure to mix up the heights and shapes to find your most comfortable fit. These edgy booties come backed by Amazon reviewers' rave comments about how comfy they are.
While it is important to accommodate your toe box, that doesn't mean pointy shoes are out of the picture. "You can still have the look, but you've got to be careful about the styles," says Levine. As long as the widest part of the shoe does not create too much pressure, you can still go for a sleek and sexy point. These timeless pumps start with a wider toe but taper into a pointed shape.
Cecilia 85 Block Heel Slide Sandal
Footwear designer Marion Parke happens to be a foot and ankle surgeon. Her footwear collection is designed with anatomy in mind without sacrificing style and elegance.
Point Toe Pumps for Women
"If you start exercising [your feet] at a younger age, you probably won't develop as many foot abnormalities like bunions, corns, and hammer toes which develop over time," explains Levine. "You'd see a different foot by age 40." Stretch your heel cords every day and try exercises like picking up a pencil with your toes, which strengthen your intrinsic muscles. These stylish pumps are perfect for date night, so when you excuse yourself to powder your nose, take a minute to stretch your toes. It sounds ridiculous, but it will prolong a night on your feet.
These gorgeous heels are a fresh twist to the classic Mary Jane. They have a modest rounded square toe and are made of vegan leather. Let this pair be a seasonless staple in your wardrobe for years to come.
"The biggest problem with the heel is that if you misstep, you can easily twist your ankle and you tend to go over the outer border of your ankle," explains Levine. "If you can, have a thicker strap to lend more support." This edgy pair has a super secure strap and a chunky heel to boot.
Women's Two Strap Heeled Slide Sandal
With a super chunky block heel, memory foam cushioning, and dual strap security, these heeled sandals are as comfy as they come.
Insoles for High Heels and Flats
For added comfort and support, there are always insoles. Editor Alyssa Bailey—and Kate Middleton!—rely on these from shoe designer Alice Bow to make any pair of heels "ultra wearable for the long haul," according to Bailey.
This content is created and maintained by a third party, and imported onto this page to help users provide their email addresses. You may be able to find more information about this and similar content at piano.io
Advertisement – Continue Reading Below