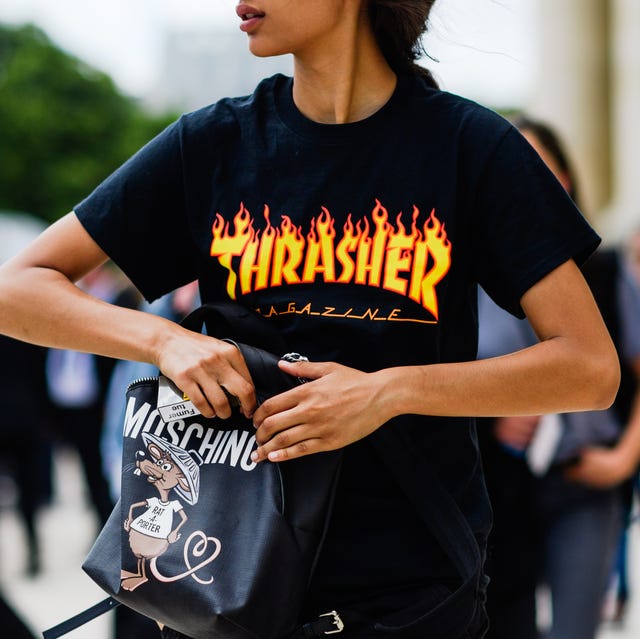 Tyler Joe
The t-shirt has become our security blanket over the past two years. It's is a closet staple that can go a long way, but that means you have to replace them often once they become worn out and stained. Use this time at home to comb through your closet and throw away any gross, stretched, and worn-out tees can't bear to wear in public, even if you're not going anywhere (although we suggest repurposing them as cleaning clothes!). We narrowed it down to the 21 styles we love the most. From the best basic crewneck to a style so thick you can actually go braless, invest in our roundup ahead.
Advertisement – Continue Reading Below
OUR #1 FAVORITE
The Organic Cotton Box-Cut Tee
The Everlane cotton tee is the Goldilocks fit: not-too-loose but not-too-tight shirt and it looks good with everything. It's thin yet opaque, breathable, and comes in a range of colors and prints. If you're looking for a tee that is basic in the best way possible, this is your gold standard.
It's All In The Details
Sydney Short-Sleeve Cropped Crew Neck T-Shirt
This quick-to-ship option from Amazon's The Drop label features a fun back seam detailing, making it a tad different from your other favorite white tees.
The Fitted Pick
Stretch Cotton Tee
The SKIMS hype is in full swing. Whether you're obsessed with its shapewear or are eagerly awaiting the arrival of its swim line on your doorstep, the Kim Kardashian-founded label also makes really great basics. This fitted tee is as tight and soft as it gets, making it great for everyday wear.
This Wide Neckline Style
Tee Rex
Available in sizes 00 to 40, Universal Standard has enough t-shirts styles to dress your whole crew. We're partial to this style though, made of Peruvian cotton featuring an elongated cap sleeve.
All Tied Up
Knotted Crew Tee
The resurgence of Abercombie and Fitch is alive and well. Need further proof? Look to this knotted tee that'll take all the effort out of tying your own knot.
The Classic Cut
Heritage Cotton 1950s Boxy Tee
Beloved by celebs from Gigi Hadid to Cindy Crawford, Re/Done is known for its sleek takes on classic staples. This boxy tee is part of its collaboration with Hanes and we want one in every color.
The Slub Style
Whisper Cotton Rib-Crewneck Tee
Like the name suggests, the fabric of Madewell's tee is as soft as a whisper. These lightweight shirts are a best-seller for its daily wearability with a slouchy, comfortable fit.
The $8 Icon
ComfortSoft Crewneck T-Shirt
You can't talk about t-shirts without throwing it back to Hanes. We'll always associate the iconic white tee with this affordable brand (specifically one from the men's or boys' section), but we're extra fond of this new update in summery blue.
Viral Muscle Tee
White Padded Shoulder Eva T-Shirt
If this statement shirt looks familiar, it's probably because every Instagram influencer has been spotted wearing it. With a padded shoulder and boxy shape, it's a modern update to the classic white tee.
The Tie Dye
University Tee
The tie dye trend continues to go strong. It's an easy at-home activity to repurpose old tees, but this John Elliot style is a great alternative if you're not into a DIY moment. His shirts are individually, cut, sewn, and hand-dyed, so each one is completely unique.
Best Bodysuit T-Shirt
Classic Collection Ludlow Thong Bodysuit
Here's a t-shirt for the person who always keeps it tucked in. Alix' bodysuits are soft and give you that perfectly seamless fit.
The Workout Tee
Everyday Shortsleeve
This is the shirt you can wear whether you worked out or not. The best part about this Outdoor Voices tee is that it wicks away sweat like your favorite performance gear, but it looks and feels like a normal shirt.
The Vintage Inspired Concert T-shirt
Beach Boys Tee
MadeWorn band tees give you that vintage look without the hunt. Each tee is meticulously constructed, distressed, and hand-sanded to replicate authentic thrift store finds, featuring your favorite bands and artists. For IG Live concerts or dancing at Club Quarantine, slip into one of these.
For an Evening Look
Easy Scoopneck T-Shirt
The scoop neckline is notorious for being difficult. The collar has to fall just right, the fit should be slim, but it can't be so baggy that it loses its U-shape. Frame's Le Scoop checks all of the above boxes.
This Layering Pick
Alex Slim Tee
Reformation makes a bulk-free tee that fits great under a sharp blazer and tucks seamlessly into your favorite jeans. It's ideal for layering and it is conveniently offered in a range of solid shades.
The Ethical Pick
Organic Cotton T-shirt with C-FIBER™
Pangaia is a brand that should be on your radar for its ethical practices. This tee is made with its PPRMINT™ oil, that's packed with antibacterial and antimicrobial properties so your T-shirts stay fresh for longer,
The Fashion Graphic Tee
Spray Palm printed cotton-jersey T-shirt
We all need one tee that feels more elevated than the rest. Paradised's cool graphic tees add that designer touch without feeling trite.
The Boyfriend Look
The Tokyo Crop Tee
Cotton Citizen's tee is what you always want your boyfriend's t-shirts to look like, but better. The cotton is so soft, you'll want to live in it.
For High-Waisted Jeans
Pima Boxy Crop Tee
Finally, a cropped t-shirt for those with broad shoulders. The Richer Poorer cropped tee is a wide, boxy fit in a lightweight cotton weave that feels sturdy. These details are necessary for a t-shirt that bares your stomach.
Our Favorite V-Neck
V-Neck Jersey T-Shirt
This longline v-neck doesn't dip too far down: It falls just low enough to be universally flattering and works well with layering necklaces.
The Heavyweight
U Crew Neck Short-Sleeve T-Shirt
If you like a little weight to your basic tee, look no further. This Uniqlo shirt is fully opaque, so you can wear it with colored bras, bralettes, or no bra at all. The cut is tailored without being form-fitting, and its wallet-friendly price can't be beat.
This content is created and maintained by a third party, and imported onto this page to help users provide their email addresses. You may be able to find more information about this and similar content at piano.io
Advertisement – Continue Reading Below