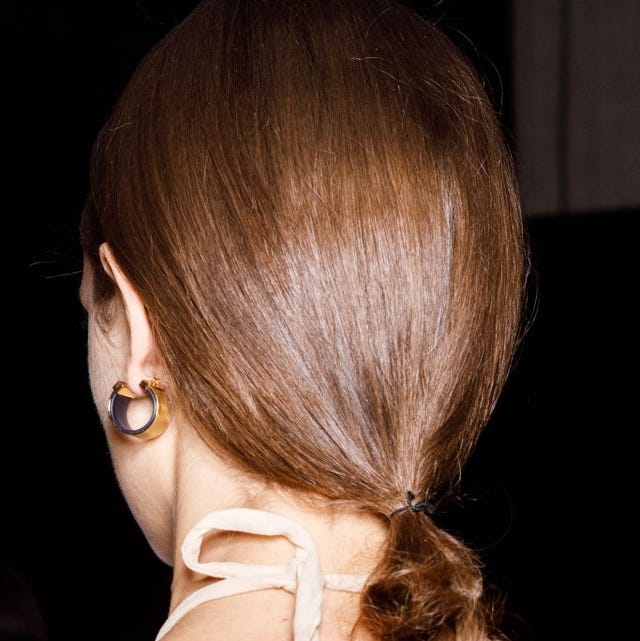 Rosdiana CiaravoloGetty Images
As someone with bleached, curly hair, let me tell you: Finding the right products and ingredients to fight frizz, soothe split ends, and overall make your hair not look like an electrified bale of hay is a hard task. If you've been using your hydrating masks and moisturizing shampoos, and still not seeing much of a difference, hair oils are always a good call. But more specifically, argan oil could be the thing that changes your entire routine. Curly, straight, fine, frizzy, 4C to 1A—no matter your hair type or texture, it could benefit from using argan oil in your routine.
What is argan oil?
Originally used in an ancient Moroccan beauty traditions, it's become an important ingredient in beauty and hair routines because of its ability to do it all: hydrate, smooth, add shine, and soften. Argan oil, which is harvested from argan seed kernels, is filled with super-nurturers like essential fatty acids, vitamin E, and antioxidants.
Why is argan oil good for your hair?
Actress, entrepreneur, and Patron Saint of Gorgeous, Bouncy Curls and red lipstick, Tracee Ellis Ross loves " data-vars-ga-product-id="38e642d8-3ef5-4c7e-acc5-f587c8e0d171″ data-vars-ga-product-price="0.00″ data-vars-ga-product-sem3-brand="" data-vars-ga-product-sem3-category data-vars-ga-product-sem3-id data-affiliate-network data-vars-ga-media-type>argan oil so much that she launched her own version of it in her curl-centric haircare line, " data-vars-ga-product-id="47f4a57d-2076-4874-b9ae-ac99e647ee40″ data-vars-ga-product-price="0.00″ data-vars-ga-product-sem3-brand="" data-vars-ga-product-sem3-category data-vars-ga-product-sem3-id data-affiliate-network data-vars-ga-media-type>Pattern Beauty. "I like to use the argan oil on my hair when it's very wet for two reasons," Ellis says about her own miracle-working blend. "One: I think it penetrates the hair cuticle better. Two: it doesn't leave a greasy residue, as some may expect with an oil. I also like to cocktail it with my leave in conditioner also on wet hair for a little extra hydration."
How should I use argan oil?
Justine Marjan, celebrity hairstylist who shapes the tresses of Chrissy Teigen, Ashley Graham, and Laura Harrier, who is also obsessed with the oil. "There are many ways to use argan oil in your hair," Marjan says. "It's amazing as a hair and scalp treatment before washing. You can also work a small amount of it into damp hair before blow drying as a leave-in treatment, or smooth a little through ends on dry hair for shine and hydration."
Below, find the eight argan oils to add to your hair stash.
1
Best For Curls
Argan Oil Hair Serum
If it's good enough for Tracee Ellis Ross' hair, it's good enough. for us! This hair serum is a super shot of hydration and shine and can be used on wet or dry hair.
2
Best For All Hair Types
Moroccanoil Treatment
3
Best For Fine Hair
Renewing + Argan Oil of Morocco Penetrating Oil
People with fine hair can be justifiably wary of hair oils, but this one has all the hydrating and strengthening benefits without the weight and greasy feeling. Just a few drops will make a massive difference with flyaways and dry ends.
4
Best For Face + Hair
Multi-Tasking 100% Argan Oil for Smooth Hair and Skin
Argan oil isn't just great for your hair, it works wonders on the skin as well. If you're looking for a 2-in-1 product, this bottle can do just that. Tap a few drops onto your skin, then run the excess through your strands for head-to-toe smoothness.
5
Best For Organic Option
100% Pure Argan Oil
When it comes to argan oil, hairstylist Justine Marjan prefers organic—just like this one that you can use it on skin, hair, wherever you're in need of hydration.
6
Best For A Budget
100% Organic Cold-Pressed Moroccan Argan Oil
This bottle of pure argan oil not only won't break the bank, but it will stop your hair from breaking, too. The dropper also makes it easy to apply to your scalp, for a full hair oiling ritual.
7
Best For Thick Hair
All Soft Argan-6 Oil
People with thick, dry hair know the struggle with frizz is all too real. This blend of argan oils is capable of handling massive amounts of hair, and the sizable bottle means you won't run out any time soon.
8
Best For Damaged Hair
Farewell Frizz Rosehip, Argan & Coconut Oil Blend
With a blend of rosehip, argan, and coconut oils, this product is tackling frizz and damage from the inside out. Not only will your hair immediately look and feel less brittle, but the oil can protect your hair from damage, and strengthen it over time.
This content is created and maintained by a third party, and imported onto this page to help users provide their email addresses. You may be able to find more information about this and similar content at piano.io