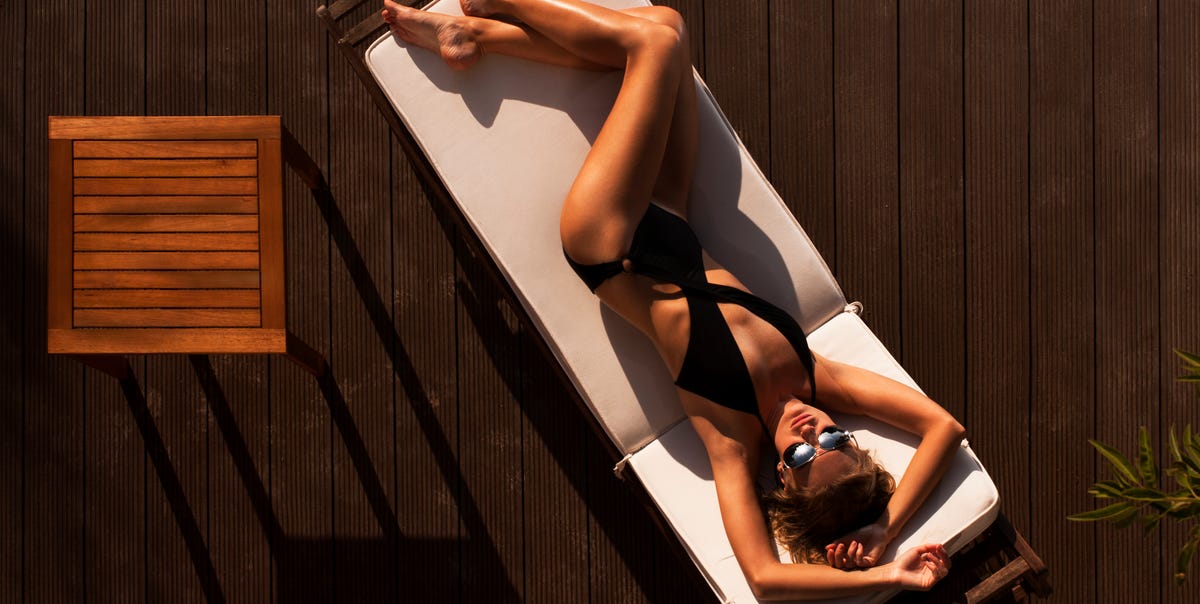 It's no secret that self-tanning can sometimes go terribly, terribly wrong. Sometimes it ends up too dark, extremely orange, or streaky, and you need a quick fix. Or maybe there's extra buildup around the knees, ankles, and fingers—spots notorious for screaming, "THIS IS A FAKE TAN!" But with a few tips and tricks, you can fix those messy spots or start over when things have gone completely awry. Whether you're looking to immediately remove the self-tan after applying, you have a few days to let it wear off, or you need to get if off your face ASAP, we have you covered. And if you're looking for a new, trusted self-tanner, check out some of our faves. Here to explain how to effectively remove your tanning mistakes are experts Sophie Evans, St. Tropez skin finishing expert and celebrity self-tanner; Jules Von Hep, Isle of Paradise founder and celebrity tanning expert; and Alexandra DiMarchi, Tan-Luxe global tanning expert.
What removes self-tanner?
"Exfoliating is the best way to get rid of an old tan," says DiMarchi. There are several products on the market that help dissolve self-tanner, but using a body scrub or exfoliating mitt is the key to removing all of the pigment. Plus, it'll leave your skin extra smooth and prepped for your next tanning sesh. Oils can also help to remove tanner, while hydrating and plumping the skin at the same time. But be careful to not let the oil sit on your skin for longer than five minutes, because it can make the tan set in even more.
Do you need to wait before re-applying self-tanner?
Nope! "Just make sure the remover products are fully rinsed off before applying a fresh layer of self-tan," says Von Hep. However, if the specific tanner you use suggests waiting up to 24 hours, Evans recommends you do so in order to avoid any irritation. Lastly, always remember to moisturize after applying a fresh tan.
Can I remove self-tanner from my face?
Yes, but you should definitely use a different technique on your face than your body. The skin on your face is much more sensitive and has a higher cell turnover rate. In fact, your self-tan will likely only last two to four days on your face. "Generally, to correct a bad face self-tan all you need is to exfoliate well with an exfoliating wipe, mitt, or device to lift off the self-tan or use a good AHA product," Evans explains. If you're looking to expedite the process, gentle facial scrubs, AHA's, and exfoliating tools should be your go to's to buff away a face tan. And of course, slather your face in moisturizer afterwards.
Here, find 9 products to help fade your self-tan in no time.
1
Best Self-Tan Prep
Tan Remover Prep and Maintain Mousse
May require some additional scrubbing
When it comes to self-tanning, St. Tropez is a tried and true brand. After leaving this mousse on for just five minutes, your tan will disappear, whether you just applied it or it's a week old. This product is so gentle, you will be primed and ready for your next tan with no down time. For best results, scrub the product away in the shower with a mitt or exfoliator. "The Prep and Maintain Tan Remover Mousse from St. Tropez will not only detox your skin with the help of bicarbonate soda, urea, and cotton extract, but it will also make your skin the perfect PH balance ready for a fresh new coat of self-tan," says Evans.
2
Best Quick Fix
Hair Removal Lotion with Aloe & Lanolin
Scent may be too strong for some
If you need a super quick fix, Evans recommends using hair removal cream since it will remove all of the self-tan in one quick go. She suggests leaving it on half the time the product says for hair removal. Opt for one that has aloe in it to ensure you are being gentle on the skin.
3
Best For A Faded Tan
Self Tan Eraser
This aloe-infused product is great at quickly fading a lingering tan. Reviewers suggest leaving on for between 10 and 15 minutes, a bit longer than the brand's five minute recommendation. When showering, make sure to scrub the product off with a mitt or loofah to ensure the tan is evenly removed.
4
Best For Dry Skin
Baby Oil
If you need to remove self-tanner from head-to-toe, baby oil is a quick and gentle way to go. Slather it all over and leave on for five minutes. Then, "Jump into a hot bath or shower and exfoliate," says Evans. Since you're rubbing baby oil all over your body, things may get a little messy. Make sure to have a towel nearby for any spills, and rinse your shower afterwards so it's not slippery.
5
Best Add-On Tool
Tan Build-Up Remover and Exfoliating Mitt
No matter what product you are using to remove your tan, the St. Tropez Tan Removal Mitt will always be your trusty sidekick. After using your removal product of choice, buff wet skin with the mitt to make sure all of the unwanted tan is removed. If you've noticed extra dark spots of tan on your palms or between your fingers, dampen the area and scrub away with the mitt. Since the mitt is also exfoliating dead skin, make sure to hydrate afterwards to nourish the moisture barrier. This will leave your skin baby smooth and prepped for your next self-tanning session.
6
Best For Face Tans
Resurface+ AHA/BHA Niacinamide Exfoliating Pads
While this product isn't specifically geared towards tan removal, it's exactly what you need to get off that slightly orange tint that just won't go away. The skin on your face is much more delicate than the skin on your body, so it is important to use a gentle product. Because the skin on the face has such a high cell turnover, the self tan will likely only last a few days, but this product will expedite the process. This AHA exfoliant will not only remove the tan but will brighten the skin and diminish dark spots.
7
Best For Sensitive Skin
Over It Magic Self-Tan Eraser
Works best on a fading tan
For a no-scrub removal, "Just mist all over skin until totally saturated, lather, and leave for five minutes. Then, just wash off in the shower, buffing skin gently until the tan is fully removed," says Von Hep. The formula includes glycolic acid which works to exfoliate away your tan, but it's also filled with avocado, coconut, and chia seed oils that help to hydrate sensitive skin.
8
Best All-in-One
Glyco Water Self-Tan Eraser
Brightening and exfoliating
May require some additional scrubbing
The Tan-Luxe Glyco Water features glycolic acid, which works to exfoliate away the tan while also cleansing the skin. Vitamin C works to brighten the skin and the added aloe vera will leave you feeling extra hydrated. "Tan-Luxe Glyco Water helps to remove existing tan and prep skin for a fresh glow. I love dry exfoliating with a dry brush, washcloth or bath towel," says DiMarchi. To use, simply spray the product on your skin, massage in circular motions, and leave on for five minutes. Rinse away using a mitt or exfoliator, and go forth tan-free.
9
Best Skincare Treat
Squalane + Glycolic Renewal Mask
If you're looking for a nice skincare moment while also fading a too-dark face tan, this glycolic mask from Biossance will be your best friend. DiMarchi loves this mask for lightening your tan and providing a gentle exfoliation. The squalane will keep your skin feeling hydrated and looking glowy.
This content is created and maintained by a third party, and imported onto this page to help users provide their email addresses. You may be able to find more information about this and similar content at piano.io