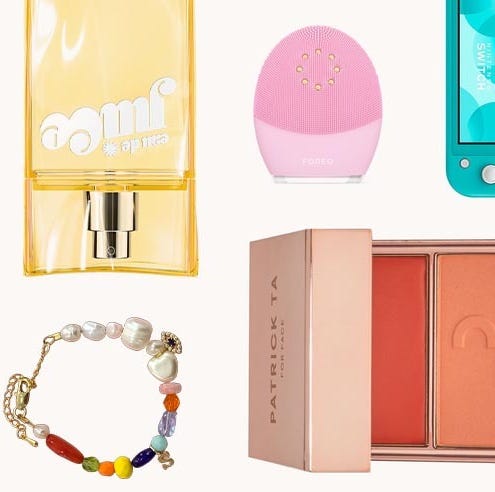 Courtesy
Having once been teenage girls ourselves, we fancy ourselves experts when it comes to teens—or at least when it comes to what kind of gifts they want. The best girls for teenage girls tend to be cute, on-trend, and, you know, cool (duh), and if you're a loss, then we're here to help. From a seventh-grade girl who's just entered her teen years to a 19-year-old college freshman who's about to leave hers, we've rounded up the best gifts for teen girls of all ages and phases. Scroll on for 92 unique and cute gift ideas anyone—even the pickiest teen girls—would want this holiday season.
Advertisement – Continue Reading Below
1
these top-notch headphnes
Beats Solo3 Wireless On-Ear Headphones
Beats
Quality headphones are v important in a teenager's life! She can use these bbs to concentrate on schoolwork, prep for a game, or just relax and jam out to some tunes.
2
this galaxy lighting projector
BlissLights Sky Lite LED Laser Star Projector
With this handy lil projector, she can turn any room into a field of drifting stars and totally switch up the vibe.
3
this customizable felt letter board
Felt Like Sharing Felt Letter Board
Her room will look so trendy with a letter board she can switch up with cute, punny phrases.
4
these trendy slides
Cushionaire Feather Slides
These comfy, waterproof slides are gonna be everywhere this summer, so go ahead and grab a pair (or a few!) while you can.
5
these hair claws
TOCESS Big Hair Claw Clips
These are the viral claw clips that officially relaunched '90s fashion for the younger generation. If she doesn't have them yet (or if she already lost them), consider snagging a set for her basket this year.
6
these rainbow slippers
CRAZY LADY Fuzzy Crossband House Slippers
Your teen will love these super-fun and fuzzy slippers. Choose from more than a dozen fun colors to match her personality.
7
this makeup mirror
GLAMCOR Riki Skinny Vanity Makeup Mirror
GLAMCOR
A good pic is ALL about the lighting, and the same goes for makeup application. This light-up vanity mirror features adjustable LED lights and phone attachments, which makes it equally perfect for doing makeup or filming TikTok videos.
8
this trio of tortoise hair clips
Fsmiling Hair Clips, Set of 3
Need the perfect stocking stuffer? Look no further than this set of three gorg hair clips ('cause you can never have too many hair clips, JSYK).
9
this plush toy
Squishmallows Brandi the Cheetah
Find us a teenage girl who wouldn't want a new Squishmallow friend (or a dozen) stacked up on her bed—we dare you.
10
these cozy tights
Fake Translucent Warm Fleece Pantyhose
HUALONG
If she won't wear a coat this winter, get her some of these trendy "translucent" tights. They're lined with fleece, so at least her legs will be warm.
11
this adorable fridge
Cooluli Skincare Mini Fridge
With both heating and cooling capabilities, this four-liter skincare fridge is highly portable and worth the $$$.
12
these satin pillowcases
Bedsure Satin Pillowcases, Set of 2
This pair of satin pillow cases (which come in just about every color imaginable) is T-R-U-L-Y the best stocking stuffer a girl could receive.
13
this multifunctional clock
SZELAM LED Electric Alarm Clocks
This futuristic alarm is a mirror, clock, and charging station all in one—like, what more could she ask for??
14
this moon lamp
HYODREAM 3D Moon Lamp
Part lamp, part night light, this colorful moon can be turned on and off with a touch. Or, use the remote control to change colors, brightness, and make it flash, strobe, fade, and swirl.
15
this makeup remover
The Original MakeUp Eraser
Makeup Eraser
They should call this the "magical" makeup eraser, because all you need to do is get it wet and wipe your face. It's amazing, and lasts up to five years.
16
this nail art kit
Cool Maker GO Glam Nail Stamper
There are few things more fun than nail art. This kit will let her stamp patterns on any or all of her nails, and contains everything she needs to get started.
17
this stylish record player
Victrola Vintage 3-Speed Bluetooth Suitcase Record Player
A music lover will flip for this portable record player, which you can gift to her along with a few of her fave albums.
18
this eyeshadow palette
One Size Patrick STARRR Visionary Eyeshadow Palette
A gal can never have enough eyeshadow palettes! This one features a bunch of neutral and colorful shades that she can play around with.
19
this multi-purpose hat
HEAD LIGHTZ Beanie with Light
HEAD LIGHTZ
Great for camping trips or even just walking the dog at night, this beanie will keep her warm and safe as it lights her way.
20
this styling brush
Conair InfinitiPro Hot Air Brush, 1.5-Inch
This tool dries, styles, and brushes all in one pass. For the days she wants to give herself a glam blowout, she'll be pumped to have this hot air brush on hand.
21
this beauty fridge
Cooluli Skincare Mini Fridge
Is she obsessed with beauty? Then she knows the perfect place to store nail polishes, lipsticks, serums, and creams is in the fridge, and she'll appreciate having a tiny personal beauty fridge for all her fave products.
22
this essential lap desk
LapGear Lap Desk with Device Ledge
LapGear
She's probably bogged down with tons of homework and just can't find the perf place to relax and study. Help ya girl out by grabbing her this comfy lap desk that will fit her laptop, phone, and more.
23
this beauty trio
Glossier The Dewy Look Set
Glossier and Gen Z go together like peanut butter and jelly, so any product from the beauty brand would be a safe bet, like this top-rated dewy look set, which includes serum, gloss, and cheek color.
24
these adorable succulents
Shop Succulents Pack of 20 Succulents
Succulents are such an easy way to be a plant owner without all the stress and hard work that's so often involved in keeping other types of plants alive. And she'll love to decorate her space with all 20 (!!) of these bbs.
25
this astrology book
The Astrology of You and Me: How to Understand and Improve Every Relationship in Your Life
Quirk Books
If the girl loves astrology and her monthly horoscope just isn't enough, this guidebook will help her navigate any relationship in her life, from family to friends.
26
this set of lights
The Holiday Aisle 320 Light String Window Lighting
Lighting is everything when it comes to decorating. This set of string lights will turn her room into an enchanting world.
27
this lip kit
Kylie Cosmetics Matte Lip Kit
A gal always needs a trustee lipstick on deck—and any shade in Kylie's lip kit collection won't disappoint.
28
these cool press-ons
Kiss Mirror Mirror Majestic Nail Kit
Kiss
Manis can cost a lot of dough these days! Save her some coin (and time) by getting her these fire press-ons. How adorable is the design on them though?!
29
these tinted lip balms
Fresh Sugar Hydrating Lip Value Set
fresh
These cult-favorite balms will leave her lips so smooth (and protected from the sun, which is always a bonus!).
30
this body mist
Eau de Juice Extra Concentrated Body Mist
Give the gift of smelling ah-mazing all day long.
31
this fancy skincare set
Sunday Riley Wake Up With Me Complete Brightening Morning Routine Kit
Sunday Riley
If your teen, in particular, considers herself a skincare junkie, spoil her with this Sunday Riley set that's full of essentials.
32
these adorable eye masks
KNC Beauty Collagen-Infused Eye Mask 5-Pack
Eye masks just don't have the same effect if they're not some sort of adorable shape. I don't make the rules! This pack includes ones that look like shooting stars.
33
this water bottle
Hydro Flask Wide Mouth Water Bottle
She doesn't have to be a VSCO girl to love reusable water bottles. This one helps your drinks stay the perfect temp and has a wider opening for easy cleaning.
34
this handheld game console
Nintendo Switch Lite
If she doesn't have a Nintendo Switch, chances are she's been wishing for one.
35
these top-notch headphones
Beats by Dr. Dre Solo3 Wireless On-Ear Headphones
Quality headphones are v important in a teenager's life! She can use these bbs to concentrate on schoolwork, prep for a game, or just relax and jam out to some tunes.
36
this gorgeous nail polish
ZOYA Happy Holo-days Quad
ZOYA
Her outfit isn't complete without a fresh mani. She'll obsess over this stunning set of deep purples and blues that come in both solid and shimmery shades.
37
this facial cleaning brush
FOREO LUNA 3 Plus
FOREO
Is she really into her beauty regimen? Then a cleansing brush that she can use with her fave face wash is totally for her. This product is tailored to different skin types and eliminates dead cells so she's left glowing.
38
this mini Polaroid camera
Fujifilm instax Mini 9 Instant Camera
If she's always the person in her friend group who documents every party, sleepover, vacation, etc., then she'll definitely put an instant-print camera to good use.
39
this neon sign art
Caicaiduo 'Good Vibes Only' Neon Sign
Caicaiduo
A neon sign is much more exciting way to add light to a room than a regular table lamp. A teen girl would appreciate a fun design or saying like this one.
40
this smol speaker
Amazon Echo Dot (3rd Gen)
Her Spotify playlist will sound SO much better on a speaker. She can use it whether she is by herself and wants to listen to her jams out loud or hosting friends for a get-together.
41
these blue-light-blocking glasses
PRIVÉ REVAUX Bomer x Benzo Collection Kents Blue Light Glasses
She's prob staring at screens so much more now than ever, so save her eyes with this chic pair of blue-light-blocking glasses.
42
this mini crossbody bag
Lululemon All Night Festival Bag Micro
Introducing: her new go-to mini bag, which is like a fanny pack, but way cooler.
43
this personalized ring
BYCHARI Gold-Filled Initial Ring-
BYCHARI
If she has a thing for dainty gold jewelry that she can stack and layer, she'll appreciate a delicate gold-filled ring with her initial on it.
44
this jewelry organizer
Umbra Tesora 3-Tier Jewelry Stand
Umbra
This three-tier jewelry organizer can hold earrings, necklaces of varying lengths, rings, bracelets—pretty much anything she can fit on it. And the combination of concrete and copper is a cool touch.
45
these retro sunnies
Souk + Sepia Delmas Sunglasses
Gen Z can't get enough of retro skinny shades, and this dainty pair (which comes in tonssss of different color options) is so chic…and cheap!
46
these viral crossover leggings
Aerie Offline Real Me High Waisted Crossover Leggings
Aerie
Why did these leggings blow up on TikTok, you ask? Because they are so! Dang! Awesome! They're also fast drying, lightweight, and available in tons of cute colors.
47
this art print
Marabou Design Magnifique Foil Stamped Wall Art
MARABOU DESIGN
This fun hand-lettered Parisian art print will look très chic in her bedroom (and you can get it custom framed for an extra $10!).
48
this customized chain
Adinas Jewels Block Name Necklace
Adina's Jewels
This Insta-famous jewelry brand is best known for their dainty chains, and this block name necklace is sure to become her fave new accessory.
49
this pastel pj set
Printfresh Retro Stripes Pajama Set
Printfresh
Printfresh jammies are alllll over Insta rn for a reason, and if you get her this cozy cotton set, she'll never wanna take it off.
50
this nifty portable charger
Multitasky Macaron Power Bank Duo
This cute macaron-shaped portable charger has a built-in mirror so she can check her makeup while her phone juices up—plus, it also works as a (*drum roll pls*) hand warmer!! Ingenious, no?
51
these minimalist earrings
Ten Wilde 18k Tiny Gold Hoops
You can't go wrong with a pair of delicate gold hoop earrings, which can easily be dressed up or down and go with just about any ensemble.
52
this fuzzy zip-up
Athleta Tugga Sherpa Jacket
Athleta
Sherpa jackets are a MUST for chillier weather, and this high-collar zip-up (which comes in four different color options) is so, so chic.
53
this it bag
Coach Pillow Tabby Shoulder Bag 18
Coach
Looking to spoil the ~youth~ in your life with something designer? Well, this is the bag of the moment—just ask TikTok—and it's the perfect finishing touch to any 'fit.
54
this metallic weekend bag
Calpak Luka Duffel
Calpak
She'll for sure be the most stylish girl at the sleepover if she shows up with this trendy quilted metallic duffle bag, which has enough space to store all her stuff.
55
this vibe-y collage set
caiandjo Modern Muse Collage Kit
She can give her space a makeover without using any paint thanks to this collage kit, which includes 50 curated prints.
56
this groovy phone case
Alisa Galitsyna Retro 70s Color Palette III iPhone Case
She may not have lived through the '70s, but she'll def still be feeling this retro striped phone case (which is available in a bunch of different sizes to fit every iPhone model).
57
this fun throw
PB Teen Cozy Pom Recycled Sherpa Throw
This pom-pom blanket will not only keep her so warm, but it'll also look so chic on her bed (and you can even get it personalized!).
58
these trendy sweats
Daydreamer Sunny People Boyfriend Sweatpants
She's most def living in sweatpants. Add to her collection by snagging her these luxe boyfriend joggers, which are chic and comfortable.
59
these cold brew essentials
Chamberlain Coffee Cold Brew Starter Pack
All Emma Chamberlain fans will absolutely freak over this cold brew gift box from the influencer's brand.
60
this printed bucket hat
Princess Polly Highland Bucket Hat
Cool teens wear fun and funky bucket hats. Period!
61
this fruity candle
Mala the Brand Cereal Candle
A candle that smells e-x-a-c-t-l-y like Fruit Loops? Who wouldn't love?!
62
these comfy clogs
Crocs Classic Clogs
If ya look around, you'll see that Crocs are v popular amongst the ~teens~. With that said, I'm more than positive your young and free giftee will adore a pair of the rubber clogs.
63
this cool top
ASOS Curve Set Halter Neck Top
A color contrast shirt will bring an edge to an outfit without trying too hard.
64
this agate-like serving platter
Anthropologie Composite Agate Cheese Board
Maybe she found a love for charcuterie! Nab her this luxe option, which she'll wanna keep out even when she's not hosting.
65
this hair waver
Mermade Hair 32mm Pro Waver Heat Styling Tool
The crimped/wavy hair of the early 2000s is 100 percent a lewk again, and I don't doubt that the teen in your life is loving the trend. With this waver, she'll be able to rock the Y2K style easily.
66
this milky cleanser
Bread Beauty Supply Hair Wash Gentle Milky Hair Cleanser
BREAD BEAUTY SUPPLY
A cleanser that has everything she needs for wash days will ensure her curls are always poppin'.
67
these soft scrunchies
Grace Eleyae Satin Scrunchie Color Pack
Upgrade her flimsy black hair ties with these strong (and extremely pretty!) satin scrunchies.
68
these chic leggings
Spanx Faux Suede Leggings
Spanx
Bless her with these ultra-soft suede leggings that she can dress up or down.
69
these sneakers
Cariuma Off-White Canvas High Tops
Classic white sneakers go with everything, and these extra-cushiony and eco-friendly shoes will be her most comfortable pair yet.
70
this fab vase
Justina Blakeney Peace Vase
Her shelfie will be drab without this statement vase (and you don't wanna do that to her dear shelfie).
71
this bright throw pillow
Morgan Elise Sevart Howdy Howdy Rectangular Pillow
Society6
Girls love their lively throw pillows! And you know I'm right!!
72
this contour set
FENTY BEAUTY Match Stix Trio
Any makeup-obsessed teen girl will appreciate a contour and shine kit—especially if it's from Rihanna's brand!
73
this fancy tote
Marc Jacobs Small Traveler Canvas Tote
Treat her to this elegant tote that'll fit all the things. She can use it as a book bag or as her purse during a night out in the town.
74
these pretty combs
MalionneHair Ciel and Amélie Comb Set
These colorful combs would look so pretty sitting out on her vanity (and if you don't want the whole set, then you'd be glad to know that each comb is available for purchase separately).
75
these comfy sandals
Flatform Universal Karina
Teva
These platform sandals are quirky, cozy, and will look so good with SO many ensembles.
76
this journal for astrology lovers
Stitch Your Star Sign Notebook
Uncommon Goods
Is she super into astrology? If the answer is yes, then she'll be all over this journal that she can stitch her star sign onto.
77
these boho planters
Yerbamala Macramé Plant Hanger
The Sill
Give her plants a swanky new home by getting her these gorgeous plant hangers.
78
this gorgeous blush compact
Patrick Ta Major Beauty Headlines Double-Take Creme and Powder Blush
Speaking of beauty, this cream and powder blush duo is beyond stunning (and a bestseller!).
79
this comfy sweatsuit
Cosmopolitan Evening Sweat Set
The fancy-ish, "evening sweats" are too cute to pass up.
80
this supes adorbs bracelet
BonBonWhims Custom Pearl Drops Bracelet
Customize this pearly hand-beaded bracelet with a charm or two that fits her personality.
81
these tarot cards
Hearst Home The Cosmo Tarot: The Ultimate Deck and Guidebook
Whether you know someone who's super into reading tarot cards or a beginner who's a little curious about learning how, this deck is a great gift idea for either (and no, we're def not biased).
82
this chunky knit
myraclehandmade Handmade Strawberry Cardigan
Honestly, she's probably seen this chunky knit cardigan all over her Insta feed. Time to surprise her with one.
83
this workout kit
Alo The Ultimate Home Studio Set
If she's alllll about the home workout life, upgrade her routine with this yoga set. It even comes with a subscription to Alo's fitness and meditation program.
84
this cool hoodie
Boys Lie Crave Rose Hoodie
It's trendy, artsy, and totally unique—and it's all rolled up into one perfect hoodie.
85
this wall art
World Market Gold and Glass Honeycomb Wall Shelf
It doesn't matter if her succulents are real or fake, they'll look even better sitting on this gorgeous gold shelf.
86
this pair of jeans
PacSun Eco Light Blue Distressed Mom Jeans
Jeans are cool, but frayed ones like these, my friend, are even cooler.
87
this crossbody bag
Paravel Crossbody Capsule
If she wants her accessories to look a little more polished, then a leather-detailed crossbody will do just the trick. The cylindric silhouette and contrast trim guarantee she can wear it with almost anything.
88
these slippers
Sleeper Shearling Slippers
Sleeper
Ever seen a pair of square-toe slippers this chic? Well, now you have thanks to these colorful shearling ones.
89
these boots
Dr. Martens Jadon Lace-Up Boots
Few boots are as classic and trendy all at once as Doc Martens. This gift is one teen girls will definitely wear more than once.
90
these Insta-worthy heels
Alohas Juniper Wrap Heels
Funky heels are another major fashion trend. And you can show her you're in the know by gifting her a pair of these bbs.
91
this new cleanser
Yellow Beauty Golden Hour Face Wash
This anti-inflammatory turmeric jelly cleanser will leave her skin feeling refreshed, clean, and glowing.
92
these wide-leg leggings
Bleusalt The Kaia Pant
She'll be obsessed with these ultra-comfy pants, which are model Kaia Gerber's go-to (hence the name).
This content is created and maintained by a third party, and imported onto this page to help users provide their email addresses. You may be able to find more information about this and similar content at piano.io
Advertisement – Continue Reading Below