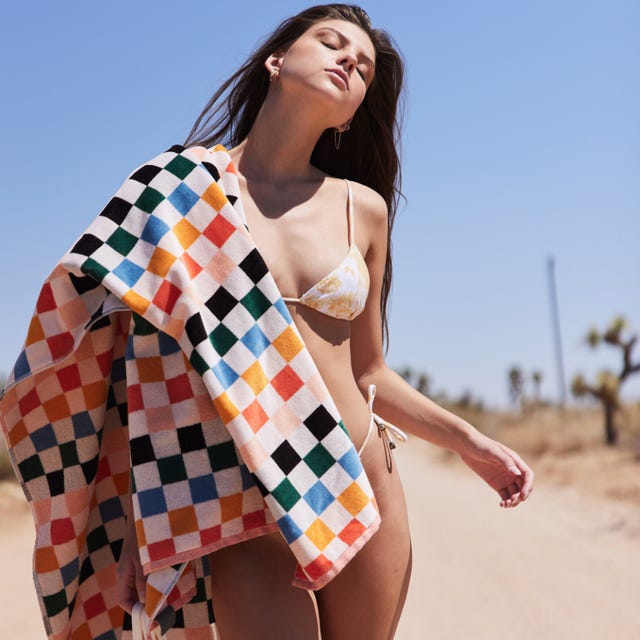 Slowtide
A trip to the beach is only as big of an ordeal as you make it. Some of us head out in a string bikini with little more than a cold beverage in hand. (Who has time for cover-ups, anyway?) For others, a beach day is synonymous with breaking out one of those wheeled wagons—you know the type—and loading up a tote bag chock-full of SPF, sandwiches, and several salacious reads. But the one thing that everybody who's about to enter a body of water really needs is a towel. Regardless of whether you plan on taking a dip or have instead scheduled yourself for some serious sunbathing, you're going to need one. Use it to lay on, dry off, wipe away sand, shade yourself—or even as a makeshift shoulder wrap when that ocean breeze gets a little too chilly.
TLDR; you should have a good beach towel. We'd never expect you to settle for something scratchy or non-absorbent, and certainly not something that isn't nice to look at. And because you really shouldn't ever be seen sporting a bath towel outside of the bathroom, we've rounded up some suitable picks for your next trip to the coast. From luxe monogrammed options to sand-free Turkish towels and oversized styles, here are 10 of the best beach towels for summer.
Advertisement – Continue Reading Below
1
Cabana Stripe Beach Towel
This multi-pack from Amazon is an all-around great value. Plus, it has rave reviews from customers who say the towels are lightweight yet thick and fluffy, durable, and highly absorbent.
If you're one of those "love the beach, hate the sand" types, you need a Turkish towel in your life. The cotton weave makes these towels resistant to sand. Seriously, give it one shake and all the grains will fall away. Game changer.
For anyone looking for maximum absorbency, consider this option made of 100 percent microfiber. Plus, it's the official towel of the Los Angeles County Lifeguard Association—what more do you need to know?
Supporting national parks while lounging on a funky beach towel? Sign me up.
Although Slowtide's sustainable products are a bit of an investment, you definitely get the quality you pay for. Be sure to browse all of the eye-catching styles, which include designs inspired by cultural icons like The Beatles, Keith Haring, and even Coors beer.
6
Slate Organic Beach Towel
This 100 percent cotton weave is oh-so soft to the touch, and best of all, you can personalize it. Add that monogram, stat!
Calling all Brooklinen loyalists: the cult-favorite bedding brand recently expanded its offerings to include beach towels. And just in time for sweet, sweet summer.
8
Striped Beach Towel Bundle
Who doesn't love a good budget-friendly option? This two-pack from Target is as cute as it is affordable.
Reasons to love Instagram-famous brand Tesalate: cute patterns, highly absorbent, easy to fold (and carry), and sand-resistant. Case closed.
10
All Around Giant Circle Towel – Watermelon
Clocking in at a whopping 60 by 60 inches, this round towel is spacious enough to fit all your besties for the perfect beach Instagram. Alexa, play "Watermelon Sugar" by Harry Styles.
This content is created and maintained by a third party, and imported onto this page to help users provide their email addresses. You may be able to find more information about this and similar content at piano.io
Advertisement – Continue Reading Below