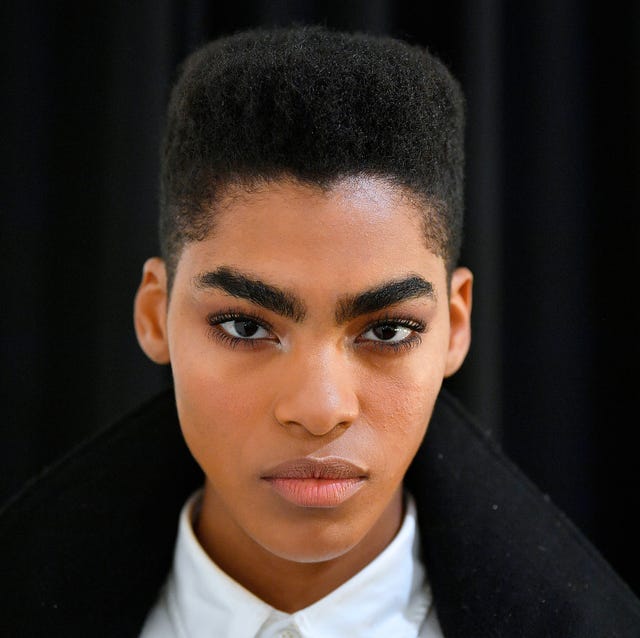 Roy RochlinGetty Images
My dad, a Syrian-Armenian, comes from a long lineage of incredible brows. My mom—who was so red-headed that her eyebrows and eyelashes were literally clear without product—not so much. They came together and created me, and by the luck of the draw, my eyebrows went the way of my mom… basically nonexistent. That is, unless I tint them.
According to News York City-based brow expert Joey Healy, tinting your brows can do incredible things: change the color, make them look fuller, and really frame your face. If you're not able to make it into the West Village brow boutique, Healy shares his Eyebrow Blueprint service, which includes a tint. When it comes to a natural, long-lasting eyebrow tint, Healy's secret is not uniformly dyeing all the hair for the same amount of time so that the less-dense areas catch up to the middle, which typically has more hair to begin with.
And when it comes to shaping, Healy likes to shape both before and after he tints. "First, of all go through and remove the big, excess hairs that you definitely don't want because there is no reason to dye them. When the tinting is finished, I have more work to do because the dye has helped find so many more hairs so it's all about refining."
Healy shares more tips—and more importantly, what you need— below. Keep reading for the top eyebrow tinting products from kits to gels that will give you salon-like results at home.
Advertisement – Continue Reading Below
Best For Professional Results
Cream Hair Tint Brown
Best For Professional Results
This is what Healy actually uses in studio. "I love that you can custom blend it. This is a little bit more professional, but if you want to tint your brows use the real deal & skip the drugstore options."
And is Rogaine (aka a TikTok trend for brow dyeing in a pinch) safe? "Using Rogaine is not recommended for around the eyebrow and is not FDA approved for anywhere but the scalp."
Best Two-In-One Formula
Instant Brow Fix Semi-Permanent Eyebrow Gel
Best Two-In-One Formula
This product is a brow gel immediately, and works to semi-permanently tint as time goes on.
Drugstore Favorite
Ardell Brow Tint – 12ct
Drugstore Favorite
Doesn't always cover grays
This easy-to-used plant based dye lasts up to two weeks.
Best For Full Brows
Gimme Brow+ Tinted Volumizing Eyebrow Gel
Best For Full Brows
10 different shades
Volumizing fibers
A little tricky to work with at first
There are volumizing fibers in this formula that grab onto each hair, making brows look even fuller.
Best For Oily Skin
TattooStudio Tattoo Brow 36HR Pigment Brow Pencil
Best For Oily Skin
Super longwear
Six shades
This creamy, pigmented pencil can help your beauty look last up to 36 hours.
Best Gel Formula
Brow Lacquer
Best Gel Formula
Washes off at the end of the day
The micro-spoolie grabs each hair and coats them in a super-pigmented gel that lasts all day.
Overnight Treatment
The Weekender
Overnight Treatment
Put it on at night, peel it off in the morning, and your brow tint will last up to five days.
Grow Thicker Brows
Strength & Length Serum Infused Brow Gel
Grow Thicker Brows
Spiked with a growing serum
The color may wash off, but the thickening and growing benefits (this gel is spiked with red clover flower) start working in just 8 weeks.
Post-Tint Cleanup Secret
Wipes
Post-Tint Cleanup Secret
Quickly removes dye from skin
May irritate sensitive skin
So you accidentally got a little dye on your skin. Don't fret. "These disposable wipes take the color off of the skin, but not the hairs," says Healy.
What are the benefits of tinting your brows?
If you want fuller-looking eyebrows or are interested in changing the color, tinting your brows can help you achieve this beauty goal.
What is the correct way to tint your eyebrows?
There are multiple ways and methods to tint your brows. However, Healy shares his go-to method: "When our eyebrows are untinted or unfilled, they are usually naturally denser and darker in the center of the brow," he says. "So I like to tint in rounds. I dye the front and the ends to the light, less dense bits. I will let the dye stay on these areas for five to six minutes; then, I will pull the tint through the rest of the brow."
Who can get their eyebrows tinted?
Anyone can get their eyebrows tinted. If you are a brow beginner desiring thicker eyebrows, you may want to opt for eyebrow gel to achieve fuller looking brows before delving into the realm of tint and dye.
How often do you have to get your eyebrows tinted?
About once a month. When you first get your eyebrows tinted, wait 12 hours before washing that area to allow the tint to set better.
This content is created and maintained by a third party, and imported onto this page to help users provide their email addresses. You may be able to find more information about this and similar content at piano.io
Advertisement – Continue Reading Below