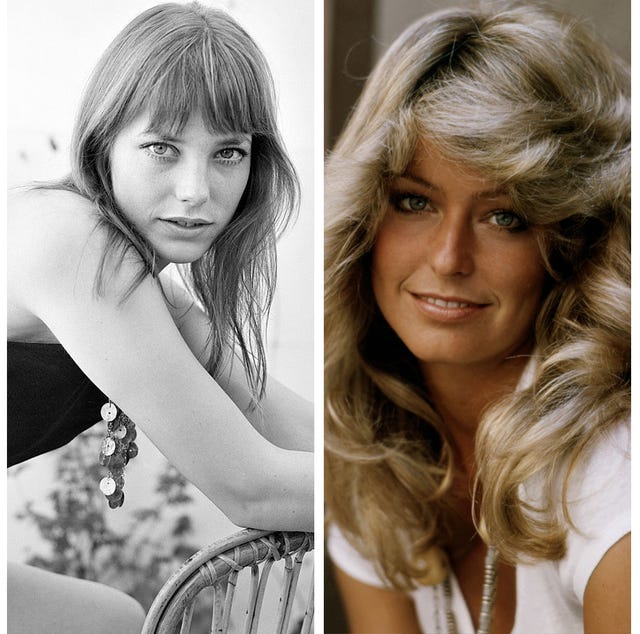 Getty Images
If there's one decade that represents fun and freedom when it comes to style, it's the 1970s. Not only was '70s fashion iconic (and relevant to this day), but there was a beauty revolution as well. Thanks to the civil rights and women's movements, liberation made its way into the way people dressed—and wore their hair. In fact, some of the most iconic hairstyles of all time can be traced back to the decade, and we have these women to thank for leading the way.
Advertisement – Continue Reading Below
1
Farrah Fawcett's Feathered Hair
The Charlie's Angels star's hairstyle was a sensation that defined the decade, and it's come back in style multiple times—most recently in 2021, with a push from TikTok.
2
Diana Ross's … Everything
When it comes to hair icons, few compare to Diana Ross. The singer was and continues to be known for her hairstyles, which range from sleek bobs to voluminous Afros.
3
Jerry Hall's Deep Side Part
The supermodel was the epitome of laid-back glamour with her long blonde mane.
4
Goldie Hawn's Curtain Bangs
Goldie Hawn's hair set trends starting in the '60s and continued to do so with her long curtain bang style that's still referenced in salons to this day.
Grace Jones's '80s flattop is forever in the Hair Hall of Fame, as is her short cut from her modeling days a decade prior.
6
Jane Birkin's Blunt Bangs
Jane Birkin is often cited as a fashion icon—after all, she is the namesake of the Hermès bag—but her low-maintenance haircut is just as memorable.
7
Cher's Long, Straight Strands
Some of the singer's most memorable hairstyles came during the decade, including the extra-long, slick-straight style we know today simply as "Cher hair."
The Queen of Disco had regal curls worthy of the title.
9
Bianca Jagger's Retro Waves
The Nicaraguan-born beauty (and muse to Halston) ushered in a return to Old Hollywood waves.
The boundary-breaking star of films like Foxy Brown embraced her Afro, inspiring many other Black women to do the same.
11
Maureen McCormick's Middle Part
You know her as Marcia Brady, who had hair of gold (like her mother) that garnered jealousy from her onscreen sisters and helped solidify the real-life actress's teen icon status.
12
Debbie Harry's Bottle Blonde
The Blondie singer stayed true to her band name with a platinum style that's synonymous with New Wave style.
13
Jackie Kennedy Onassis's Flip
Married to Aristotle Onassis from 1968 to 1975, the First Lady became "Jackie O," but stayed true to her signature blowout.
14
Stevie Nicks's Hippie Waves
Long, low-maintenance hair has been requisite to the Fleetwood Mac singer's vibe since the beginning, as seen in this 1977 photo.
15
Meryl Streep's Long Haircut
The Internet loves throwback photos of Meryl Streep—and with her long, relaxed blonde hairstyle, it's not hard to see why.
This content is created and maintained by a third party, and imported onto this page to help users provide their email addresses. You may be able to find more information about this and similar content at piano.io
Advertisement – Continue Reading Below