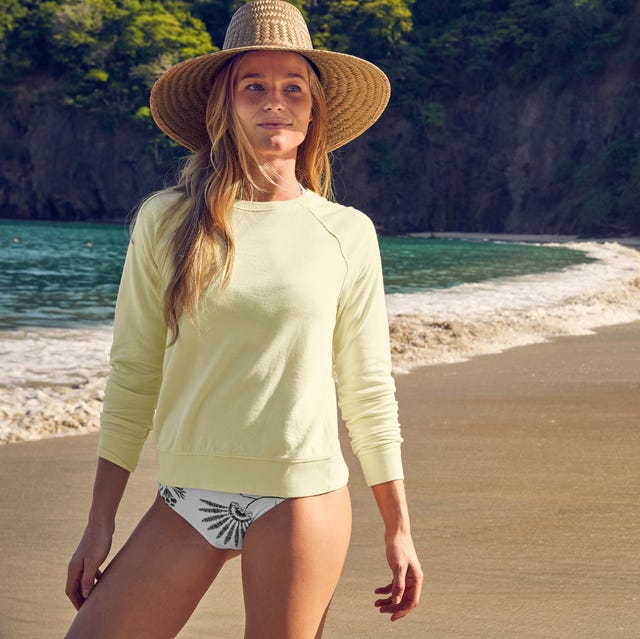 Athleta
Vacation will always be about unwinding, unpacking, and unthinking about the stressors of everyday life. An intriguing catch-22 is coming up regarding that last point though.
While more and more travelers are deciding to book a plane ticket to forget about their own worries and responsibilities, they're opting in regarding those of others. Along with standard vacation fare (like poolside lounges and just-go-ahead-and-order it meals), people are volunteering in local communities and giving back to those not fortunate enough to book a luxe vacation—a whopping 84 percent of millennials said they'd travel abroad with a mind to volunteer, per a Chase study.
Curious about adding a charitable element to your next getaway? We've constructed a blueprint for how to find opportunities, what to pack, and more.
Advertisement – Continue Reading Below
For a getaway that involves leisure and rolling up your sleeves, you need a suitcase that will work hard. A bikini is a must, but so are comfortable, performance pieces appropriate for cleaning, building, or otherwise getting busy.
Athleta Sweatshirt, Pants, and Bikini
Most boutique or luxury hotels should be able to help you figure out where and how to help. A ton of advance notice isn't necessary either; Loisse Herger, founder and owner of O:LV Hotels, suggests guests reach out a week before arrival.
"We'll connect people with a specific company—some have weekly scheduled events. [If there's not] a specified location for them to depart from, we'll arrange transportation."
Ecotourism also touches on physical spaces designed consciously. Find options no matter where you're headed via TripAdvisor's green-friendly organizing. Love a luxe getaway? All of 1 Hotels locations are created mindfully.
Even if you're staying in a big town, the most rewarding experiences are likely in a smaller area further out.
"I'd recommend going to a small town where there's still lots of ways to help with local communities," Herger says. At her San Juan, Puerto Rico-based hotel, that means a few hours outside of the city. "I know of several groups helping communities rebuild their houses, coffee plantations, or other vital aspects of their livelihoods that were destroyed during Hurricane Maria."
More of a last-minute type? Volunteering can be quick and easy: If you're somewhere tropical, check out the #5minutebeachcleanup and help out the environment while you're enjoying the sun and sand.
After you've volunteered and checked in for the return flight home, take a physical memory with you via a purchase from a local designer or artisan. Supporting the local economy with your dollar can make as big of an impact as anything else (and has the added benefit of reminding future you how good giving back can feel).
This content is created and maintained by a third party, and imported onto this page to help users provide their email addresses. You may be able to find more information about this and similar content at piano.io
Advertisement – Continue Reading Below