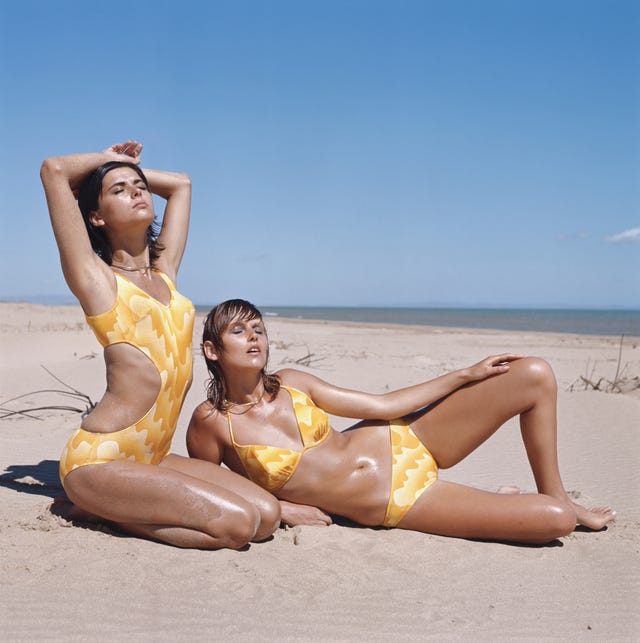 Archive PhotosGetty Images
The latest in-office and at-home hair removal tools promise to reduce hair growth, resulting in fewer ingrowns from removal. But which device is best? Beauty editor Margaux Anbouba grabbed a Sharpie, split her bikini line in half, and put the question to the test.
IN OFFICE:

DEVICE: Lumenis Splendor X ($300–$400 per session, but price varies depending on location)
WHERE: Lemmon Avenue Plastic Surgery & Laser Center, Dallas.
INNOVATION: With its two customizable pigment-targeting lasers, the Nd:YAG and the Alexandrite, the Splendor X can treat a wide range of skin tones and hair colors—which definitely appealed to me, as a Syrian American who's prone to hyperpigmentation. In addition, the device's square head may help reduce the risk of skin irritation because it doesn't necessitate the Venn diagram–like overlap (and overtreatment) you can sometimes get with a round laser head.
EXPERIENCE: Each session took less than five minutes, and because of a skin-cooling fan, I never experienced any burning sensation. At one point, I even told the tech to turn up the laser. After each session, my bikini area did look a bit pink, but it wasn't sore to the touch.
RESULTS: My technician recommended that I get a series of six treatments, spaced about a month apart, and then return as needed for maintenance once or twice a year. I've gotten three treatments so far and have seen a significant reduction in growth—and the hair that is still sprouting is much finer than before.
TIP: Aim to shave one to two days prior to each appointment so there's a bit of stubble visible during your session. This enables the technician to target still-active hair follicles.
AT HOME:
DEVICE: The JOVS Venus Pro
WHERE: My bathtub ledge, while streaming NPR's Up First.
INNOVATION: I'm a frequent traveler, so I appreciate the portability of the Venus Pro, which is about the size of a blow-dryer. The small size belies its power: It uses potent intense pulsed light (IPL) to zap hair and boasts six custom power modes and six interchangeable heads to allow for easier, safer targeting of specific body parts. I used the attachment for the bikini line.
EXPERIENCE: The intensity of the IPL technology in the Venus Pro is not as strong as you'd experience in-office—so you're able to treat more frequently. While you may use the device as often as three times a week for the first two weeks, I settled on 10 minutes every Tuesday. I started my first session at level one, which felt like gentle tapping, and dialed it up to level three, a tolerable flick. The device's cooling feature minimized any discomfort, and the 180-degree rotating head made targeting my entire bikini line a cinch.
RESULTS: After 12 weekly sessions, my hair growth is considerably sparser—comparable to three sessions of the Splendor X—and I have no ingrown hairs.
TIP: This device works best on freshly shaved skin so that the light can go, unimpeded, into the follicle and target the hair there. You should also always wear protective lenses; I slipped on my Lexxolas while I zapped.
PARTING THOUGHTS:
Both hair removal options are effective, and my results were nearly identical. The differences are versatility (Splendor X is more accessible for those with darker skin or fairer hair) and convenience (Venus Pro is tough to top). It took me three months to see noticeable improvement, so starting now is ideal for a summer reveal.
This article appears in the February 2022 issue of ELLE.
This content is created and maintained by a third party, and imported onto this page to help users provide their email addresses. You may be able to find more information about this and similar content at piano.io